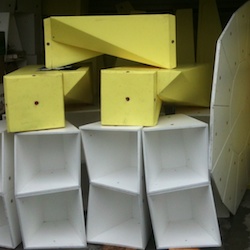 The Uni will go to East NY, Brooklyn and Corona Plaza, Queens this weekend. Great neighborhoods where people are working to improve public space—this is exactly where we want to be.
We're also excited that the first collaboration with library systems began with the Brooklyn Public Library on Borough Hall Plaza in Brooklyn in 2011. We're seeking more partnerships as our reading room continues to roam the city.
Hope to see you this weekend. Please check the "Find the Uni" link above for the latest schedule and details. And, yes, we're watching the weather and will keep you posted here and on Twitter!