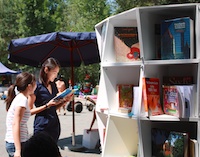 Today ends the remarkable, wildly successful inaugural season of the Uni in Almaty, Kazakhstan. We're honored to have played a role in creating a roving library that spent all summer in Almaty, and congratulations to everyone involved, including the local children's library and US Consulate. We've just learned that the Almaty Uni will return to the streets in 2013 once the Kazakhstan winter passes. We can't wait until Spring.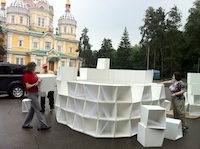 For those of us on the US-based team, Kazakhstan sometimes felt as far away as Mars, especially as we struggled to fabricate and deliver cubes to be reassembled by librarians eleven times zones away. And I hope, like those NASA rovers that kept running years longer than expected, transmissions from Kazakhstan will keep coming in for many years. If librarians, designers, diplomats, and local volunteers can join forces around books over such a distance, then I'm a little more hopeful than I've felt recently watching US embassies engulfed in flames.
You can read more about the Almaty Uni and learn about all of the people involved here. Our sincere thanks to Ambassador Erlan Idrissov of the Republic of Kazakhstan, who made a donation of three, beautiful books, which we've added to the Uni's permanent collection. (The Ambassador blogs here!) You can also follow the future of the Almaty Uni here, at the US Consulate Almaty's Facebook page.
Finally, we had the pleasure and honor to be visited here in New York by the librarian who had the guts and the vision to bring a Uni to Almaty—Bill Middleton, Information Resource Officer for Central Asia and Pakistan, US Consulate Almaty. After working together online for more than a year, we finally shook hands and talked for two hours about nothing but books, learning, and public space. We gave him two of our favorite books about New York for his Uni, including "The Man Who Walked Between the Towers." As we parted ways after a walk on the Hudson River in lower Manhattan, Leslie and I were deeply moved to think of his journey back to Kazakhstan to rejoin the Uni and represent the United States in that part of the world. Like an astronaut of another era, Bill goes forth on our behalf to discover, to share, and to represent America, as a librarian. It has been an honor to hitch a ride with him, and we're excited to dream up new missions. Safe travels Bill.