The Museum of Chinese in America (MOCA) has been telling stories of Chinese America since 1980 when it was founded by community and student activists (as the New York Chinatown History Project). We're pleased to announce that MOCA has donated a cube of books to the Uni collection, including some beautiful exhibit catalogs, bilingual children's picture books, and the acclaimed graphic novel, American Born Chinese. Thanks MOCA!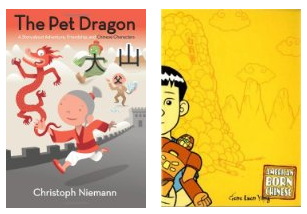 Recently, we visited the museum's space on Centre Street to see the exhibit America through a Chinese Lens. In another gallery, I saw a photo of one of my relatives. I love how MOCA takes the deep family-based connections in the Chinese-American community and moves outward to display, educate, and share those bonds with all New Yorkers. There couldn't be a more important time to build cultural respect and understanding.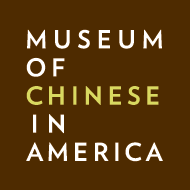 In the Uni, there is DNA from our 2009 project called the Chinatown Storefront Library in Boston's Chinatown. 5000 books, many in Chinese, remain in Boston as part of a new Chinese cultural center there. Today, I'm happy that MOCA has helped recall our own connection to the Chinese American community through a beautiful new Uni cube.
MOCA, thanks for supporting the Uni. We'll carry your cube across New York, and we'll be back to see your exhibits opening this month about comics!