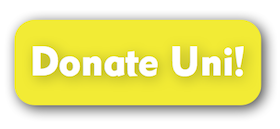 The Uni is part library, part classroom, and entirely portable. We use it to transform public space and to open a new front in the effort to educate, support, and inspire urban kids. The walk home from school is cluttered with opportunities to consume—let's put some books and learning out there instead. Make a year-end donation here, and keep our team rolling. Thanks!
Below is a year-end letter from Leslie, sent by email to our supporters this morning:
---
Dear Friends of the Uni,
Are you coming back next weekend?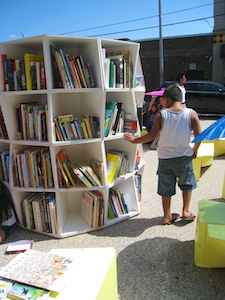 That's what Alberto of Corona, Queens asked me on a Saturday night as we packed up the Uni. Ten years old at most, he was holding a book about seals.
My goal: be able to tell Alberto, yes, the Uni will be back next weekend. Count on it.
What we put at street level matters, especially to kids. In a Queens neighborhood where the Uni visited often this year, we met recently-immigrated parents determined to educate and support their children. We also saw an urban landscape dominated by fast food franchises, cell phone vendors, and video game stores. The contrast is jarring. When the Uni appears in public space, kids and adults are openly excited to be part of something that makes reading and learning prominent and a source of community pride. Together, we transform a piece of sidewalk into a meaningful experience.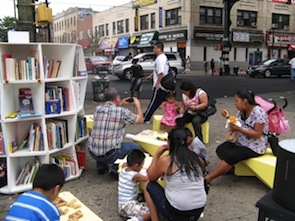 In 2012, the Uni deployed ten times in Brooklyn, Queens, and Manhattan, with a range of partners, including the Brooklyn and Queens Public Libraries. Our volunteer librarians tested new ways to expand a culture of learning beyond the walls of schools and libraries. We added outstanding cubes with the help of institutions like the New York Hall of Science and Museum of Chinese in America. We've now got a waiting list of communities that want us in 2013. The Uni is catching on fast, and we're in it for the long haul.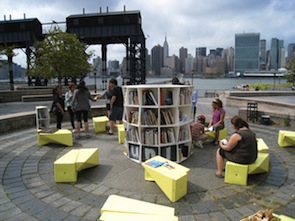 Now is the time to build on our momentum. We're planning fifteen Uni deployments in 2013. To prepare, we're expanding our collection, doubling our team, and forging new partnerships. In 2013, we'll also work with three established NYC organizations to help them launch and operate their own portable reading rooms. As a result, there will be not one but four Unis operating in New York City next year.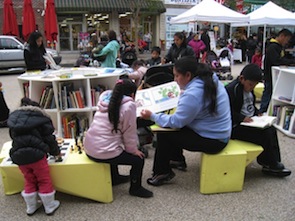 Help us inspire new readers and learners all across New York by making a year-end donation to the Uni Project. We keep costs low, so even small donations ($10, $20, $50) have a significant impact on the ground. Click here to donate.
Thanks for supporting the Uni. Peace in 2013.

Leslie
The Uni Project