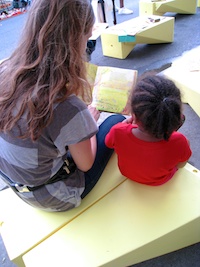 This week, a New England librarian and friend of the Uni sent me a children's picture book about a broken down bus that gets turned into a community center.
We happily read it around the office, and it struck me that she gave the picture book just like others give those battleship-sized biographies of former presidents this time of year. She hoped the book would enrich, entertain, and inspire. And I accepted her gift and read it exactly as she intended, because, at some point along the way, I have completely abandoned the belief that good picture books are only for children.
From the start, the Uni has embraced the picture book, and for good reason. These books work in public space. Our 2012 results show that picture books flew off our shelves many times more often than other genres, and they were read by kids and adults alike. Below, I've posted a statement by a former teacher and volunteer in our Storefront Library about the value and importance of the genre.
See you in the picture book section in 2013.
---
In our modern misguided rush to show achievement, we wrongly assume that reading chapter books early is a sign of an advanced reader and so we push and encourage young children into children's chapter books earlier and earlier. As a result, children often think, as some adults do as well, that picture books are "baby books" and so skip an entire valuable genre of literature. Actually, picture books are essential to the development of an avid and skilled reader. Picture books often have a more advanced vocabulary than the chapter books purposely written with a "controlled vocabulary" for the young market. The illustrations in high quality picture books are often beautiful works of art, colorful, expressive, and tell a story that words cannot express by themselves. They can communicate complex ideas, support a pace that is quick and clever, and so inspire delight in children as well as the wise adult. Indeed, the experience of enjoying picture books read alone, read aloud, or shared together with children is to indulge in one of the greatest joys of a literary life. It is an experience to be encouraged and supported in our schools, libraries, homes, and communities. –Cynthia Yee