Here we go New York—the Uni heads outside this weekend. Join us and help change the landscape for learning in NYC: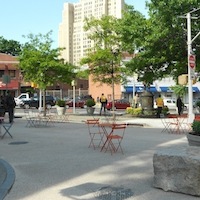 On Friday 4/12 (postponed-rain) the Uni will bring books and learning to a recently pedestrianized plaza in Ft. Greene Brooklyn. Locals have started a series called "FAB Fridays" intended to bring activity to this new public space recently reclaimed from traffic. The Uni will run from 2:30pm – 7:30pm at Fulton St & Lafayette Ave (map). Thanks to Fulton Area Business Alliance for inviting us over! (New date coming soon.)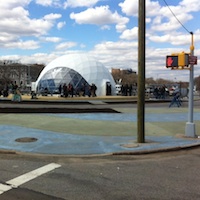 On Saturday 4/13 the Uni will deploy to the Rockaways in Queens, an area still recovering from Hurricane Sandy. We'll set up for residents alongside MoMA PS1's VW Dome 2 as part of an afternoon coordinated by the Queens Museum of Art.  The Uni will run from 3pm – 6pm between Beach 94th and Beach 95th streets (map).
Right now, the Uni is on display at the Queens Museum of Art, and so we'll be deploying directly from the museum itself. There will be an "Item on Loan" sign in the gallery over the weekend.
Now is a great time to get involved: volunteer in the Uni! We can use help of all kinds, and the experience of running an outdoor reading room around New York is unbeatable. See you on the street.