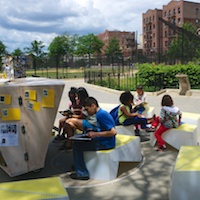 On May 31, the Uni was invited by La Casa Azul Bookstore, and Jumpstart, as well as others with a long history of promoting literacy in the city. The Uni offered a place to sit and read. Volunteers Stephanie Yee and Emily Jacobson read aloud. Nadine Hibbert and boys from George Jackson Academy helped us as well. Local kids circulated between reading, visiting activity tables, and running through the playground.

At one point, I noticed an older boy quietly reading a book about ships. 'If you like ships,' I said, 'you might like this one about the Titanic. It sank.' After quietly reading with us for about 20 minutes, he noticed that other kids had handmade books at an activity table. He disappeared. At the end of the day it started to rain, and I noticed that the book about the Titanic was gone. As we rolled out, the boy ran up to me with our Titanic book in hand. He showed me another book he had written and drawn on his own about the Titanic, complete with a table of contents, chapters, and full page illustrations. He had a big smile on his face and so did I as I returned our Titanic book to the collection.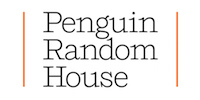 Thanks to HPAC for inviting us, and to Penguin Random House for supporting our work and making our participation in events like this possible. Photos below.