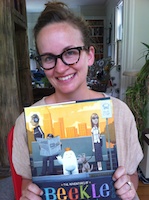 More often than not, the way we move through the world each day falls into familiar patterns. This can be comforting, but it can also put us on a kind of mental auto-pilot. When we disrupt these patterns—say, when we travel to a different place or experience an interruption like a pop-up library—we gain "fresh eyes" for a moment, seeing our environment in a new light.
Researcher, writer, and public curator Diana Limbach Lempel has long been fascinated by this fleeting state of mind, and she aims to bring this "fresh eyes" perspective to the way we experience place—particularly those places that we think we know best.
For the Uni, Diana has curated and donated a wonderful collection of 42 books titled "Neighborhood Explorers." The titles are about gaining perspective, such as a children's book that takes us on a journey to a magical world discovered right at home (Journey, by Aaron Becker) or a field guide that illuminates things in plain sight all around us (Bark: A Field Guide to Trees of the Northeast). Read more about the collection on Diana's blog and explore all the titles on LibraryThing.
We love different voices in the Uni collection, and Diana's is one that we trust. We're excited to bring a similar shelf to the Uni in NYC next spring.