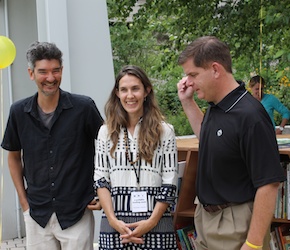 On Saturday, July 19, we were honored to launch a Uni portable reading room for Boston with help from Mayor Martin J. Walsh. The location was downtown's Rose Fitzgerald Kennedy Greenway, where this Uni will remain, popping up at different locations along the park all summer.
The Uni was the first winner of the Mayor's 2014 Public Space Invitational to launch, and we were able to do so thanks to sponsor Robert Half, Howeler + Yoon Architecture, and partners Boston Public Library and Houghton Mifflin Harcourt.
Special thanks to new Uni volunteers from Simmons Graduate School of Library and Information Sciences, and to all of the friends and supporters who came out.
More press and information about the Boston Uni is here. The Mayor's Office press release is here. Leslie was also interviewed by Mayor Walsh—see the video here. Keep an eye out for more dates and details on the Greenway's website.