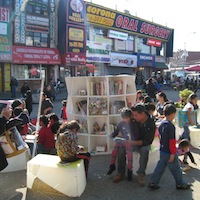 Since 2012, the Uni Project has created open-air reading rooms on Corona Plaza 13 times. Our first deployment was to a strip of sidewalk next to a parking lot that would eventually become this remarkable pedestrian plaza. Over the years, we've brought our Uni tower, debuted our Uni cart, partnered with Queens Library, local institutions, authors, and volunteers to create a well-loved, open-air neighborhood reading room. From the start, our partner has been Queens Museum, and this year our work was made possible in part by funds granted by the Charles H. Revson Foundation through the Neighborhood Plaza Partnership and Penguin Random House.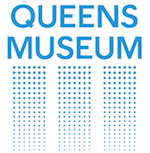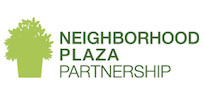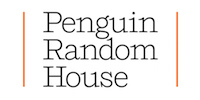 [divider]I love Corona because it gives me hope for New York. I've watched fathers reading to children for hours on what is probably their only day off. I've seen a teenage girl lift up her younger brothers to look through a microscope. Corona is dedicated to learning and family. The hours that Leslie and I have spent on Corona Plaza has shaped our work and sustained our belief that New York can be a place that stands for values that shine brighter than just the lights of midtown.
Below are links to photos from every visit we've made to Corona so far. See you in 2015.
July 27, 2014
June 28, 2014
June 7, 2014
Nov 26, 2013
Nov 2, 2013
Sept 14, 2013
July 13, 2013
June 15, 2013
May 11, 2013
 Nov 22, 2012
Oct 12, 2012
August 26, 2012
July 29, 2012