We wrote most of this post before recent events in Oslo, and then suspended our fundraising outreach for a time while our thoughts were with Norwegian friends. We're returning to work, but we are not turning the page. All cities rely on a special kind of public trust necessary for living so closely together, but in Oslo (and all Norway perhaps) this trust runs especially deep. We have always admired this and sought it for our own community. It is incredibly painful when this trust is broken and children are victims. It makes us determined to build cities where this kind of harm is even more rare. Peace.
—–
This has been an exhilerating week on Let us know.

You leapt out of the gate, and we're already 50% of the way there in less than a week. Thank you for backing us early; the momentum is key, and we're fired up about it. This week, we'll be focused on introducing the Uni on blogs and to the press. Know someone we should chat with? Drop us a line.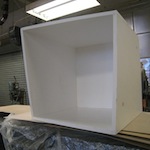 The dedication of the guys in the MIT shop is full-on. Temperatures were high nineties outside and even hotter inside. Alex and David have identified a great new material choice, which will reduce the weight and cost of the cubes, while making them durable and weatherproof. And the material is white. Below is a movie of a test cut of the new material on the CNC machine. These guys love big machines that are controlled by computers. And they love them even more when making something for the public like the Uni.
Want more? Below are images from the MIT shop and studio where you can see the work taking shape, included a steel frame being welded to hold the Uni in place, top and bottom.
Sweat, welding, dust, programming, late nights: this is what it takes to build things, and we're fortunate to have these guys applying their maker's passion to the Uni and the public good.
---
---