Work with Us
Street Lab is a nonprofit that creates and shares programs for public space across New York City. Using custom-designed installations, we pop up in parks, plazas, and other public spaces to offer places to gather around reading, drawing, and creative experiences for all ages. We partner with community-based organizations and with city agencies, and we prioritize underserved locations. We do this work in order to improve the urban environment, strengthen neighborhoods, and bring New Yorkers together. We also send kits around the world so that other cities can do the same.
We're looking to hire great people for these positions:
Program Manager
HOURS: Full-time
SALARY: $42-$48K based on experience, plus benefits and PTO
LOCATION: New York City
DATE POSTED: June 8, 2022
We are hiring a Program Manager who will be part of a team responsible for the successful production of 250+ events on the streets of NYC each year. You will report directly to the Executive Director and work alongside two other Program Managers, sharing responsibility for all aspects of our work on the street including advancing, staffing, logistics, production, and administration. You will take a hands-on approach to your role, ensuring that we offer a high-quality experience for the public and that our programming operation runs smoothly across the city.
Here are the responsibilities of all Program Managers. You will not do all of these tasks on a given day, but you should be ready to take responsibility for any of the following. A special note about your initial role for the 2022 season follows this list. 
Season planning and booking
Intake and respond to all requests for programming
Research and identify potential hosts and partners
Maintain our database of requests, partners, and locations, and keep our staff updated of changes
Anticipate everything needed for a successful season, including gear, signage, and supplies
Assist the Executive Director in curating a schedule and circuit for our programs across the city that aligns with our equity goals and funding sources
Staffing
Interview and authorize hiring of part-time staff (including volunteers)
Onboard, train, and evaluate part-time staff
Participate in developing and implementing employment policies and workflows that create a positive experience for all staff
Assign staff for all events, ensuring all events are covered
Event Planning (for each event)
Identify and resolve all site requirements including load-in limitations, access times, permitting
Anticipate, request, reserve, or rent all program gear, supplies, signage, trucking and deliveries

 

Confirm and coordinate staff, volunteers,

 

partners assigned to event
Draft, post, and update web calendar entry with event details
Coordinate with local groups prior to event, including provision of flyers, blurbs, and photos
Create a "day-of-show" plan which includes reminders and day-sheets that communicate all tasks and special considerations to partners and staff
On-site Production
Directly supervise all staff, volunteers, and partners during event
Meet driver at event site to oversee load-in and help set up
Troubleshoot field operations as needed (emergencies, weather)
Cover shifts for staff as needed, and be prepared to participate in any capacity necessary, including rolling carts into position, setting up, greeting public, cleaning up, and loading out
Take photographs and upload to server
Implement surveys and evaluation
Remote Production Management (serve as "mission control" for others in the field)
Supervise our more experienced staff remotely, completing all of the tasks above under "On-site Production" from a desk.
Administrative
For all tasks above, develop and run systems, tools, workflows and guidelines
Compile weekly program data, such as evaluations, head counts, and time sheets
Attend staff meetings
Attend programming meetings with city agencies and other community groups across the city
Participate in season evaluation, year-end reports, strategic planning, and program design
Your focus for 2022
Here are several responsibilities that we anticipate will be your immediate focus:
Staffing, including managing system for assigning shifts and improving the experience of all team members including volunteers and Street Lab Teens.
Gear inventory and management
Managing events on as many Saturdays and Sundays as possible, through early fall. Not always in the field, but being available to troubleshoot remotely on both days.
Hours are flexible but you will generally need to be available as needed according to our programming schedule, and work some weekend hours. This is an exempt position that does not pay overtime, however we will work with you to create a flexible work schedule that does not exceed 40 hours/week.
Qualifications
This is not a 9-5 desk job! Work hours will include weekends and time on your feet in the heat and sun. The work also requires lots of travel around NYC by public transportation. Everyone at our small organization splits time between an office desk and working in the field. You should be ready and excited to step in and tackle physical tasks and also interact with the public. On a given day, you may be supervising and working alongside front-line staff at our installations, cleaning up program carts, and returning to a desk to send emails. All staff are also invited to participate in the creative side of our work, helping to curate our installations and participating in program design. 
You should be highly motivated and have experience or skills in organizing, staffing, and supervising public events. You must be able to work well with diverse communities and stakeholders across New York City. We are a small, fast-growing nonprofit with a start-up feel. You should be excited about helping the organization grow, pitching in, and working alongside our team to create a new kind of cultural organization for New York City. Specific qualifications:
College or graduate degree
Employment experience in a related field
Experience with and passion for working with NYC communities and neighborhood groups
Strong interpersonal skills and a customer-service orientation
Strong organization, planning, and time management skills; ability to work in fast-paced, stakeholder-focused, team environment
Excellent written and verbal communication skills
Experience with workflows and databases (we use Airtable), facility with digital platforms (we use Slack and Notion), and comfort in a Mac-based office environment
Ability to get around the boroughs, by public transportation and/or bike
Confidence in representing Street Lab and explaining the organization's work to the public
Language skills and knowledge of NYC neighborhoods are a plus
Driver's license and experience driving in NYC a plus
Photography skills a plus
Due to our work with seniors and young children, we require all Program Staff to have received both the initial COVID-19 Vaccination series and a COVID-19 booster shot
To apply, contact Street Lab's Executive Director Leslie Davol with a resume and cover letter/email that describes why you want to work with Street Lab. If interviewed, references will be required.
Program Staff
HOURS: Flexible Part-time
PAY: $20/hour
LOCATION: New York City
EMPLOYMENT DATES: Ongoing, seasonal.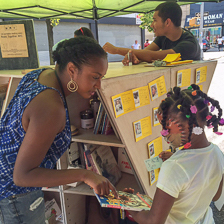 We want New York to be filled with public spaces that inspire, where all residents have places to gather and ways to connect, right in the heart of neighborhoods, and Street Lab is using a pop-up approach to make this vision a reality. In 2021, we offered our programs 280+ times in 70 locations, and we're hiring talented Program Staff who are excited by the challenge of running these pop-up events and programs out on the street. We are looking for friendly, outgoing people, who can work confidently in a range of outdoor locations and are unfazed by some moderate physical labor. You will be on the frontlines of Street Lab's work, and you should be focused on (and enjoy!) engaging people of all ages and backgrounds in our programs, ensuring that everyone feels welcome and included.
The positions are temporary and part time, and coincides with our event season which is Spring through Fall. Shifts are typically 4 – 5 hours long, and field staff typically work 2 or 3 shifts per week during the event season. We work with our staff to create a custom work schedule based on their availability.
Responsibilities: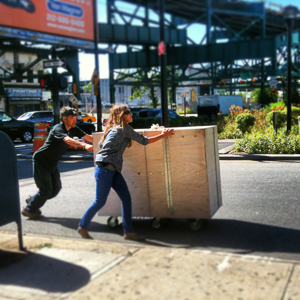 Setting up our installations, deploying street furniture, and packing up at the end of the event
Greeting the public, making people of all ages, backgrounds, and abilities feel welcome and included
Introducing the program materials and activities to participants
Ensuring program material are well organized and attractive
Representing Street Lab and explaining the organization's work to the public.
Communicating with other program staff, the program manager, delivery drivers, community partners, and volunteers to ensure a seamless event
Taking photos and sharing with our Communications Manager
Ensuring COVID-19 protocols are followed
Qualifications: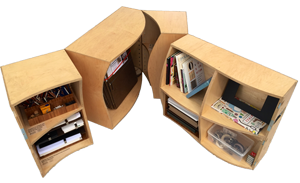 Experience with and passion for interacting with diverse members of the public of all ages, especially children
Excellent customer service skills and a helpful, friendly disposition
Confidence and good verbal communication skills
Job will require occasional heavy lifting and remaining on your feet for long periods
Language skills and knowledge of NYC neighborhoods are a plus.
Driver's license and experience driving in NYC a plus, and could lead to more hours
Due to our work with seniors and young children, we require all Program Staff to have received both the initial COVID-19 Vaccination series and a COVID-19 booster shot
To apply, contact us with a resume and cover letter/email that describes why you want to work with Street Lab. If interviewed, references will be required. Download a PDF of this job description.
Street Lab Teens
Street Lab Teens offers New York City youth a chance to support and shape Street Lab's mission of bringing community-oriented programming to neighborhood public spaces across New York City. Learn more and apply here.
Quotes from our staff:
"I definitely felt like I was making an impact. Whether it was introducing young kids to different areas of science/things I will be studying in college, or reading books to kids who don't have someone at home to read to them, I felt that my presence aided them in several ways. Hearing all the different stories and working with children has also inspired me to do more service work" – Marco
"I want to thank you for allowing me to be part of the Uni Project this summer. It allowed me to travel to different pockets of the city that are very overlooked, some places where most never go, and feel like I had an impact." – Rasheed
"All was well on Saturday. We had about a dozen kids overall, and some stayed all day. Several I recognized from last time I was there, and some kids asked for Greig, so it's nice that we're getting a regular crowd. The kids also have favorite books that they remember from prior weeks. One little boy had been obsessed with a book about frogs, and when I pulled it out for him he said 'Oh no. Now I like funny books, like the book about Mr. Grover.' (He was, hands down, my favorite kid.)" – Emily
"It's a great way to see the city!" – Kelleen
Street Lab does not discriminate against any applicant or employee with regard to hiring, retention, promotion, benefits or compensation because of race, national origin, ethnicity, citizenship, gender, age, marital status, creed, sexual orientation, disability, or any other characteristic protected by law.
See our Diversity and Inclusion Policy and Equal Employment Opportunity Policy.