Work with Us
Street Lab is a nonprofit that creates and shares extraordinary programs for public space across New York City—pop-up reading rooms, open-air drawing studios, and more. We do this work in order to improve the urban environment, strengthen neighborhoods, and bring New Yorkers together. We also send kits around the world so that other cities can do the same.
We're looking to hire great people for these positions:
Street Lab Program Coordinator
EMPLOYMENT DATES: Ongoing, part-time.
HOURS: Occasional, 5-15 hrs a week. PAY: $20/hour.
LOCATION: New York City.
We're seeking friendly, hands-on people to run our pop-up installations and programs in outdoor public spaces across New York City this year. Programs offer public opportunities for creativity, community, physical activity and education, and we're looking for people who can ideally engage people in activities of all kinds. However, in cases where applicants have experience or interest in a specific area, you may be able to take on more hours and responsibility related to a specific program
The positions are temporary and part time, and Program Coordinators typically work 5-15 hours per week, with fewer hours in the winter. Shifts are typically 4-5 hours. We will develop a custom work schedule based on your availability. Work will include lots of time on your feet, and you'll meet New Yorkers in neighborhoods across the city.
As a Program Coordinator, you will be responsible for:
Working with the public: You must be comfortable and pro-active in greeting the public, making people feel welcome and safe, and introducing patrons to the materials and activities in our reading rooms, drawing studios, and more. This position requires a significant amount of communication and interaction with people of all ages, but especially children. Our programs have been re-designed in response to COVID-19 to encourage social distancing and reduce shared materials—you'll be part of a team effort to make sure our staff and the public stay safe together.
Making the program materials look great: You will be responsible for making sure the installation looks attractive, program materials are well organized, and rules followed limiting sharing of materials to reduce COVID risk.
Working with a team: All events are staffed with at least two staff or volunteers, often more. You will need to work with a team and be ready to guide less experienced staff and volunteers.
Getting access to equipment: Program carts and benches will be delivered by truck or stored in a nearby building. If our Program Manager is not present, you will be responsible for coordinating with the driver or local partner to access equipment. (If you can drive, you can pick up additional hours helping transport equipment before/after deployments.)
Set-up/pack-up: You will be responsible for moving the carts and benches by hand into public space. In most cases, other staff and volunteers will be on hand to help roll gear into place, but you should be prepared to take the lead in moving items. Wear sturdy shoes and clothes.
Communicating with community host partners: At each event, we are hosted by a community or neighborhood group. If our Program Manager is not present, you will need to check in with our community partners and make sure their needs are being met.
Data collection/documentation: You will be responsible for recording head-counts, conducting occasional surveys, and taking photos where possible.
Qualifications: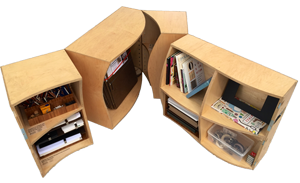 Experience with and passion for interacting with diverse members of the public of all ages, especially children.
Experience in a similar position of responsibility
Strong commitment to community engagement
Ability to anticipate needs of patrons and offer friendly customer service
Excellent communication skills
Confidence in representing Street Lab and explaining our work to the public
Ability to roll bureau-sized stage cases by hand and lift 15lb items to a height of 3-4 feet
Spanish, Chinese, and other language skills and knowledge of NYC neighborhoods a plus
Driver's license and comfort driving around NYC a plus
---
To apply, contact us with a resume and cover letter or email. If interviewed, references will be required.
Street Lab Teens
Street Lab Teens offers New York City youth a chance to support and shape Street Lab's mission of bringing community-oriented programming to neighborhood public spaces across New York City. Learn more and apply here.
Quotes from our staff:
"I definitely felt like I was making an impact. Whether it was introducing young kids to different areas of science/things I will be studying in college, or reading books to kids who don't have someone at home to read to them, I felt that my presence aided them in several ways. Hearing all the different stories and working with children has also inspired me to do more service work" – Marco
"I want to thank you for allowing me to be part of the Uni Project this summer. It allowed me to travel to different pockets of the city that are very overlooked, some places where most never go, and feel like I had an impact." – Rasheed
"All was well on Saturday. We had about a dozen kids overall, and some stayed all day. Several I recognized from last time I was there, and some kids asked for Greig, so it's nice that we're getting a regular crowd. The kids also have favorite books that they remember from prior weeks. One little boy had been obsessed with a book about frogs, and when I pulled it out for him he said 'Oh no. Now I like funny books, like the book about Mr. Grover.' (He was, hands down, my favorite kid.)" – Emily
"It's a great way to see the city!" – Kelleen
Street Lab does not discriminate against any applicant or employee with regard to hiring, retention, promotion, benefits or compensation because of race, national origin, ethnicity, citizenship, gender, age, marital status, creed, sexual orientation, disability, or any other characteristic protected by law.
See our Diversity and Inclusion Policy and Equal Employment Opportunity Policy.