Street Lab transforms each host site, offering visitors a special urban experience—enjoyable, educational, simple, direct, and out-of-the-ordinary. —Betty Chen, NYC Planning Commission
2021 Best of the City Award, Time Out New York.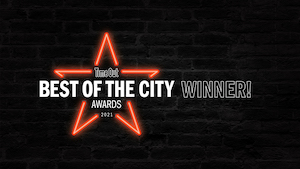 2018 International Award for Public Art (IAPA). Nominee.
2018 Coretta Scott King Book Awards Donation Grant Recipient.
2016 City to City Barcelona FAD Award, "Urban Learning Projects:" City to City. Finalist.
2014 Public Space Invitational awarded by Boston Mayor Martin J. Walsh's Office of New Urban Mechanics.
2014 Architizer A+ Award, Architecture + Learning (to Höweler + Yoon Architecture).
2013 Innovations in Reading Prize from the National Book Foundation.
Presenter, 2013 Gel Conference, NYC.
Featured in the US Pavilion at the 2012 Venice Architecture Biennale (Spontaneous Interventions).
2012 Citation, Small Firms/Small Projects, Boston Society of Architects Design Awards (to Höweler + Yoon Architecture).
 A Few Things I've Learned About Learning—On the streets of New York City
Feb 26, 2016 | Street Lab co-founder Sam Davol on medium.com
"I used to be anxious when we landed on the street… Will people stop and read, or will they just keep streaming by? What have Leslie and I gotten ourselves into? I feel like the guy dressed as the Statue of Liberty trying to wave you inside to do your income taxes. This is embarrassing.
But don't panic. They will come."
Street Lab + WNYC: Reinvention, embracing individuality and a nod to the 'parking gods' in Prospect Lefferts Gardens
Feb 27, 2023 | WNYC
Street Lab brings Mott Haven families out to play
Dec 5, 2022 | Mott Haven Herald
Spin Joins Forces with Street Lab to Open City Streets for Families (Video)
Dec 14, 2020 | Spin Blog
How Boston Could Save Winter by Finally Doing Something Fun with Its Streets
Oct 29, 2020 | Boston Magazine
Opinion: Creating Space in America's Densest City
Oct 23, 2020 | StreetsBlog NYC
Opinion: How to design a street for hands-off play
Sep 21, 2020 | Atlanta Journal-Constitution
Play Streets in New York, a safe haven designed to thrive
Aug 6, 2020 | The Urban Activist
Supporting Play Streets in NYC
July 27, 2020 | Medium—SPIN
NYC Mayor highlights Street Lab and announces 2020 Play Streets
July 24, 2020 | nyc.gov
7 smart and simple ways public spaces are being adapted for social distancing
July 22, 2020 | CityMetric
DrawNow! with Street Lab/The Uni Project!
Sep 26, 2019 | The Drawing Center
Spending the Day with the 2019 Party on Park in East Harlem
Sep 22, 2019 | Gotham to Go
Assembly: Civic Design Guidelines (Chapter 7: Make Space for Activity.)
June 21, 2018 | The Center for Active Design
Weekend Walks in NYC (The Uni Project partners with NYC DOT to being reading rooms to these events.)
April 15, 2018 | NY1
Small Change, Big Impact (A practical guide to changing London's public spaces, p. 35 and p. 58.)
Nov 28, 2017 | Mayor of London: Transport for London
video supplement to Boston's proposal to host Amazon's second headquarters. Oct 2017 | City of Boston
The Uni at Back to School Movie Night in the Bronx
Sept 24, 2017 | Bronx Times
Public Art, Public Creativity
Aug 2, 2017 | Rose Kennedy Greenway Conservancy Blog
So What's A Pop Up Library? One's Coming To Cranston Neighborhoods
July 24, 2017 | Cranston Patch
Uni Project Reading Room Pops Up in Brownsville
June 26, 2017 | BK Reader
Reading and Writing, Riverside
June 14, 2017 | West Side Spirit
What Being a Rock Star Teaches You About Practical Urbanism
April 12, 2017 | CityLab from the Atlantic
Tactical Urbanist's Guide to Materials and Design v.1.0 (p.121)
Dec 11, 2016 | The Street Plans Collaborative
UNI in Shemonaikha!
Sept 16, 2016 | American Corner, East Kazakhstan Regional A.S. Pushkin Library
A Big Gift
Sept 1, 2016 | American Corner, East Kazakhstan Regional A.S. Pushkin Library
Not-for-Profit Brings Library on Wheels to Astoria Playgrounds
July 23, 2016 | NY1
NewCitizens documentary about the Uni from France.
July 22, 2016 | NewCITYzens
Great Public Spaces: Lighter, Quicker, Cheaper. The Uni Project.
June 18, 2016 | Project for Public Space
Pop-Up Reading Room Setting Up in Chelsea
May 25, 2016 | DNAinfo
New York lessons: a word with Sam Davol, co-founder of The Uni Project
May 16, 2016 | Full Fabric Blog
Uni in Sunnyside Queens (video interview)
May 2, 2016 | MechidTV
Activating Public Space With Books
April 13, 2016 | Poets & Writers
Interview with Sam Davol, Uni co-founder
March 31, 2016 | DC Public Library Podcast
A Few Things I've Learned About Learning—On the streets of New York City
Feb 26, 2016 | Bright Magazine on medium.com
The City As A Sequence Of Interiors: An Ecological Approach To The Design Of Public Spaces (Cristina F. Colombo)
Dec 2015 |  Bollettino Del Centro Calza Bini
The Uni: Pop-Up Reading and Art in Public Spaces
Sept 29, 2015 | NY Metro Parents
Pop-Up Libraries & Play Space Coming to Hamilton Heights and East Harlem
July 7, 2015 | DNAinfo
The SoHo Memory Project, A Mobile Historical Society for the Iconic NYC Neighborhood
June 13, 2015 | Untapped Cities
The Memory-Keeper of SoHo
June 12, 2015 | New York Times
Diversity Plaza to Transform Into a Reading Room This Summer
June 2, 2015 | Jackson Heights Post
The SoHo Memory Project, A Mobile Historical Society for the Iconic NYC Neighborhood
May 13, 2015 | Untapped Cities
The Story Behind the Uni Project
Apr 19, 2015 | FDR Four Freedoms Park
New York City's Best Boutique Libraries
Apr 8, 2015 | New York Observer
3 Kinds of Temporary Public Spaces and the Cities Who Love Them
Mar 31, 2015 | Medium
Libraries Are Everywhere
Feb 18, 2015 | Kickstarter
The Uni Project: Bright Lights, Big City, Mobile Reading Rooms
Jan 15, 2015 | Publisher's Weekly
Making a Place for Books and Learning in Almaty, Kazakhstan
Oct 20, 2014 | The Bradley Herald
Mayor's Office Debuts Portable Reading Rooms by Uni Project
Jul 23, 2014 | Boston Magazine
Video–Maker Chats: The Portable Reading Room
Jul 23, 2014 | City of Boston
Mayor Walsh "Rolls Out" The Portable Reading Room
Jul 23, 2014 | City of Boston Press Release
Boston rolls out Uni Portable Reading Room
July 23, 2014 | Metro.us
Boston Gets Its First Pop-up Library
Jul 18, 2014 | Radio Boston/WBUR
Boston's public art gets a lift
Jun 11, 2014 | The Boston Globe, Editorial
A simple way to add art in Boston
Jun 8, 2014 | The Boston Globe, Yvonne Abraham column
Boston's Public Space Invitational winners announced
Jun 5, 2014 | Boston Magazine
9 bright ideas win funding to refresh Boston's public space
Jun 5, 2014 | 90.9 WBUR, The ARTERY
Walsh announced winners of city redesign contest
Jun 5, 2014 | Banker and Tradesman
Coming soon to a public space in Boston near you
Jun 5, 2014 | Curbed
Contest nets new faces for public spaces
Jun 5, 2014 | Boston Herald
Contest aims to enliven public spaces in Boston
Jun 5, 2014 | The Boston Globe
Daring Public Interest Design: 10 Architects Set to Save the World
May 1, 2014 | Architizer
Featured in Campaign for a Commercial-Free Childhood's Countdown to Screen-Free Week
May 1, 2014 | CCFC
Uni Project Brings Pop-Up Reading Rooms To NYC
Apr 16, 2014 | Litreactor
Reading Rooms Will Be Popping Up Around NYC This Spring
Apr 11, 2014 | Galleycat
Goodreads Voice
Apr 7, 2014
Goodreads Newsletter
April 2014.
Tribeca Pediatrics Newsletter and blog
April 2014.
STEM for All: Unconventional Approaches Can Extend Reach of Science and Natural History Museums.
Jan/Feb 2014 | Museum Magazine
Interview With Leslie Davol, Creator Of The Uni Project
Jan 28, 2014 | National Book Foundation
Eyes on the Street: Reading in Ozone Park's New Plaza
November 25, 2013 | Streetsblog NYC
Street Smarts: The Uni Project's Outdoor Neighborhood Reading Room
Feb 12, 2013 | Good
Red Hook residents furious after 2 weeks without lights
Nov 11, 2012 | WABC New York (catch the Uni in this video at 1:20)
Mobile Libraries
Oct 24, 2012 | The Desk Set
The Practice of Civic Engagement: American Councils' Almaty Staff and FLEX Alumni Work to Promote Reading
Oct 9, 2012 | American Councils for International Education
Here's the Uni Project at Corona Plaza
Oct 6 |2012 Library Blog at NY Hall of Science
Pop-Up Library Coming To Gantry Park in Hunters Point
Sept 13, 2012 | DNAinfo.com, NY Neighborhood News
QEDC hosts entertainment, artists at Corona Plaza
Sept 2, 2012 | Queens Times Ledger
Queens' Corona Plaza: A Community Place Rises
August 29, 2012 | Streetfilms.com
Books, Boxes and Bartering
August 26, 2012 | Collaborate, the Social Spaces Blog
De leeszaal die naar je toe komt
August 17, 2012 | LARS Blog
Mobile library brings the books, and librarians, outside
August 10, 2012 | Boston Globe
Cleveland, New York Gain Portable Reading Rooms
August 10, 2012 | Library Journal
Introducing the Uni, NYC's portable reading room
June 27, 2012 | Quill & Quire, Canada
Street Lab assembles temporary reading room at Children's Museum
June 4, 2012 | Boston Globe
Marginalia: Little Libraries in the Urban Margins
May 22, 2012 | Places: Forum for the Design of the Public Realm
6 voorbeelden van crowdfunding in de stad
Oct 24, 2011 | Steden Bouwen
Uni meets Brian Lehrer on CUNY TV 75
Sept 22, 2011 | Brian Lehrer TV
DESIGN NOTEBOOK: On Kickstarter, Designers' Dreams Materialize
Sep 21, 2011 | New York Times
The Uni Project, An Open-Air Reading Room, Aims to Transform Public Space
Sep 9, 2011 | Huffington Post Books
Futuristic Mobile Library to Debut Downtown
Sep 8, 2011 | DNAinfo.com, Manhattan local news | by Olivia Scheck
Uni Arrives in Lower Manhattan
Sep 7, 2011 | Curbed Wire
The Uni: An Education Concept for Public Space.
Aug 24, 2011 | by Claire Lawton| Phoenix New Times
Almost a bookmobile, not quite a library
Aug 23, 2011 | Out of the Jungle, Thoughts on the present and future of legal information, legal research, and legal education.
Reading in Public
Aug 17, 2011 | Architizer – News
Taking Reading Public
Aug 15, 2011 | by Lindsay Borthwick | Pop! Tech – world-changing people, projects and ideas
A new chapter for urban readers
Aug 10, 2011 | by Mark Shanahan & Meredith Goldstein, Globe Staff | The Boston Globe
Structures to build
Aug 9, 2011, by Eric Hellman | Go To Hellman
Video: NYC's Getting An Open Air Reading Room: Gothamist
Aug 8, 2011 | Gothamist
Kickstarter Picks: Barns, Roving Libraries, and a Gowanus Canal Clam Shack
Aug 2, 2011 | Thirteen WNET, Metro Focus
More than just books and buildings
Aug 2, 2011 | Multifarious Librarian
The Uni Portable Reading Room
Aug 1, 2011 | EdLab, Teachers College, Columbia University
The Uni Project: A Portable Reading ROom Designed by Höweler + Yoon for NYC!
Jul 29, 2011 | by Lori Zimmer | Inhabitat
Using the Cube To Bring Back the Book
Jul 28, 2011, by Michael Kelley | Library Journal
Fall Preview: Open-Air Reading Capsule in a Neighborhood Near You
Jul 28, 2011 | by Kelsey Keith | Curbed
The Uni
Jul 27, 2011 | Alternative Library Spaces
Library for Now
Jul 25, 2011 | Incunabular Illumination
The Uni: A Portable Reading Room
Jul 21, 2011 | For the love of Bookshops
Let's put the Logan Square "el" station "plaza" out of its misery
Jul 21, 2011 | Peopling Places
3 things that inspired me this week
Jul 21, 2011, by Jan Homquist | janholmquist
The Uni: a portable reading room for public space
Jul 18, 2011 | Library Bazaar
The Uni: Portable Reading Room for Public Space
Jul 18, 2011 | Bilingual Librarian
View press about the Storefront Library and our other projects prior to 2011 over at Boston Street Lab.