Your tax-deductible contribution to Street Lab directly supports our work in low-income communities. We're grateful for your support.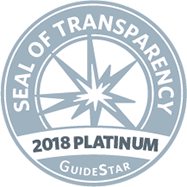 Street Lab is a 501c3 nonprofit with a Platinum rating on Guidestar. 
Street Lab
280 Nevins St Suite 2-9
Brooklyn NY 11217-4845
Checks can be made out to: "Street Lab"
Set up recurring donations
When you make a donation to Street Lab on our web site, our organization pays a 2.2% transaction fee, which reduces the amount of your donation that can be applied directly to our charitable work. To avoid fees, you can send a check by mail, or make a one-time or recurring donation via Facebook which currently charges no fees. Thanks for your support.
A copy of our most recently filed financial report is available from the Charities Registry on the New York State Attorney General's website or, upon request, by contacting the New York State Attorney General, Charities Bureau, 28 Liberty Street, New York, NY 10005, or us at Street Lab, 280 Nevins St Ste 2-9, Brooklyn NY, 11217. You also may obtain information on charitable organizations from the New York State Office of the Attorney General at www.charitiesnys.com or (212) 416-8401.
Individuals:
Violet Donors ($5000+)
Lisa Brown and Daniel Handler
The Rise and Shine Fund at the Community Foundation of SE Michigan
Anne Louise C. Van Nostrand
Blue Donors ($2500+)
Paul and Phoebe Bock Activism Fund
Coombe Family Fund of The Greater Cincinnati Foundation
Laura and Rob Fleder
Judith and Marc Hilton
Karen and Daniel Taylor
Joanne Witty
Green Donors ($1000+)
Tim Albright and Sarah Baker Charitable Gift Fund
Ferriss and Willard Donham
Andrea and Jared Eigerman
Meejin Yoon and Eric Höweler
Lee Moretti Fund
Laurie Dornbrand and Bernard Lo
Zara Mannan
The Red and Grey Fund
D. Dwight Scott and Mary Shannon
Eileen J. Shields, in memory of Phoebe and Paul Bock
Eileen J. Shields, in memory of Helen Fralka and Michael F. Shields
Yellow Donors ($500+)
Anonymous
William Bancroft
Lesley Bodzy, in memory of Phoebe and Paul Bock
The Pamela G. Chin Trust, in honor of Phoebe and Paul Bock
Jane Bock and John Chow
Anna Fleder Connolly
Sylvia and Mark Cord
Angus Davol and Jason Casolari
Anna and Peter Davol
Eloise and Herb Elish
Patsy Glazer
Gail Gordon Fund
Magdalena and Ken Gordon
Betsy Gotbaum
Beatrice Liu
Ann and Michael Loeb
Susan Martin
Eileen J. Shields, in memory of Phoebe and Paul Bock
Susan and Peter Straub
Orange Donors ($250+)
Paula, Tao & Tia Bock, in honor of Paul and Phoebe Bock
Polly Carpenter and George Perkins
Barbara L. Cohen
Douglas Eklund
Samara and John Fangman
Laura Hansen
Siri Striar and Francisco Hernández
Carey King
Ellie Hearne and Will Klebenov
Ikeda/Yee Family in memory of Phoebe and Paul Bock
Ann and Michael Loeb
Stephin Merritt
Alexandra Quinn
Beth and Eric Solie
Lise and Myles Striar Charitable Fund
Maria Striar
The Ronald and Adele Tauber Foundation
Sen Li and John Woo
Jessica Kaplan and Joseph Youcha
Red Donors ($100+)
Susanne Beck
Kathy Li and Norman Bock
Markley Boyer
Nancy Schieffelin and Carl Brauer
Marilyn Breslow
Mariam Brillantes and David Bushman, in memory of Phoebe and Paul Bock
Stewart Desmond
Sharon French and Harpreet Grewal
Mary Sipp Green
Mrs. Joseph Hinkle
Brenden Hussey
Alice Jelin Isenberg
Virginia M. Kee
Nancy and John LeGates
Terry and Geoffrey Lewis
May Family Gift Fund
Sara and Charlie McCabe
M. Smith Family Fund
Linda Alix Merritt
Yukie Ohta
Kristin and Jeremy Osborn
Park Fund, in honor of Jane Bock
Perry Pong
Nancy A Risser
Laura Ryan and Peter Cavanagh
Sitara Sawh
Gemma Solimene, in memory of Phoebe and Paul Bock
Sarina Tcherepnin and James Morris
The Tomford Family
Shari and Robert Thurer
Sally S. Vernon
Susan Wayne
Sandra and Barney Weinstein
Pamela Ho and Randal Wong, in memory of Phoebe and Paul Bock
Stephanie Yee
Contributors
Richard Blum, in memory of Phoebe and Paul Bock
Andrew Chow, in memory of Phoebe and Paul Bock
Marina Metalios, in memory of Phoebe and Paul Bock
Theodore Mielczarek
Anthony Greig Roselli, Jr.
Estaban Salgado
Rica Takashima
Government:
NYC Department of Transportation, NYC Department of Cultural Affairs, Building Healthy Communities/Mayor's Action Plan for Neighborhood Safety through the Mayor's Office of Criminal Justice, Federal CARES Act Paycheck Protection Program, NYC Small Business Services Employee Retention Grant
Foundations and Corporations:
Blackstone Charitable Foundation, Clif Bar Family Foundation, Con Edison, Deutsche Bank, J.M. Kaplan Fund, NYC COVID-19 Response and Impact Fund at The New York Community Trust, NYC Green Relief & Recovery Fund at City Parks Foundation, Shippy Foundation, Spin, The Laura B. Vogler Foundation, West Harlem Development Corporation, WellMet Philanthropy
Founding Sponsors of PLAY
Spin
Founding Sponsors of WRITE
Lisa Brown and Daniel Handler
Founding Sponsors of SOLVE
zen.digital
Founding Sponsors of DRAW
Burning Man, Blick Art Materials, Betty Chen and Peter Coombe, Romy and David Cohen, Laura and Robert Fleder, Evgenia Peretz, Fabiola Salmán, SHoP, Karen and Daniel Taylor
Founding Sponsors of READ
Susanne Beck and Billy Parker, Daniel Handler and Lisa Brown, Leaves of Grass Fund, Sam and Esme Lee, Karen and Daniel Taylor
In-Kind Donations
3Dux/Design, Bill Bancroft Design, Blick Art Materials, Alex Ching, Buro Koray Duman, Design Across Scales Lab Cornell AAP, FileMaker Inc, HBH Design, Inc., Herschel, HYPOTHEkids, Imagination Playground, Lego Foundation, Magna-Tiles, Modern Tribe Software, Morrison & Foerster, LLP, NYC Department of Design and Construction Community and STEAM Initiatives, NYDesigns, NYC Department of Transportation, Open Architecture Collaborative New York, Notion, Pratt Institute, SYNLawn, Tableau Foundation, Texas A&M GeoServices, The Drawing Center, Wackystuff, Inc. makers of FlipBooKit
Book and other Program Materials Donors
826NYC, Asian American Arts Centre, BMW Guggenheim Lab, Karen Benke, Samantha Berger, Blast Books, Jane Bock, Yvonne Brown and Josh Goldfein, Alejandro Bruzzese, Barbara Buff, Candlewick Press, Veronica Chambers, China Institute, Jo Clark, Barbara Cohen – New York Bound Books, Sarah Crichton, Leslie and Sam Davol, Design Trust for Public Space, Kristy Di Cario, Will and Ferriss Donham, The Dornbrand-Lo Family, Abby Drucker, Feminist Press, The Fire!! Press, Furnace Press and Place in History, Joel Greenberg, Beth Greenwald, Chelsea Gunn, Daniel Handler and Lisa Brown, HarperCollins, Ethan Herschenfeld, Terry Hill, Imago USA, Yukiko Ishii, Island Press, Rossana Iturbide, Marni Katz, Embassy of Republic of Kazakhstan (Ambassador Erlan Idrissov), Alexandra Kepner, Karen Kulvin and family, T.J. Lee, Beatrice Liu, Yanyan Liu, Louis Armstrong House Museum, Ken McCarthy, Employees of Merkle, Inc, Amy Morilla and Family, James Morris, Museum of Chinese in America, Museum of Modern Art, National Museum of the American Indian, Smithsonian Institution, NYC Department of Transportation, New York Hall of Science, Jeffrey Oing, Adrienne Onofri, Christine O'Heron, Yukie Ohta, Kristin and Jeremy Osborn, Out Books on Wheels, Jeannie Park, Andrea and Kevin Pivnick, Penguin Random House, Monica Price, Progressive School of Long Island, Deb Putnoi, Reading Group Choices, Kathleen Salley, The Parkhill Willett Family, Ellie Ransom, Rosemary Rivera, Sesame Workshop, Lauren Salem and family, Carla Torres, Uprise Book Project, Lou-Anne Williams.
(In 1704, Isaac Newton noted in his book Optiks that a prism could disassemble white light into separate colors. We've borrowed this idea for our donor levels above.)
Our History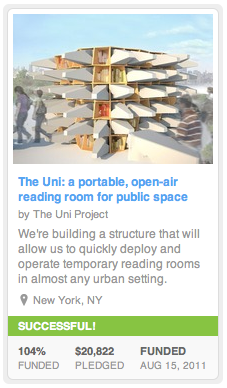 The first Uni was built with the support of 250 individuals in August 2011 via Kickstarter. Thank you to our early supporters!
Founding Sponsors
Susanne Beck and Billy Parker, Daniel Handler and Lisa Brown, Leaves of Grass Fund, Sam and Esme Lee, Karen and Daniel Taylor
Founding Donors
Anonymous, Sarah Baker and Tim Albright, Sarah Anderson, Bernice Broyde, Susannah and Tommy Clark, Barbara L Cohen, Angus Davol and Jason Casolari, Anna and Peter Davol, Ferriss and Willard Donham, Martin Dunn, Andrea and Jared Eigerman, Stephanie and John Fan, Laura and Robert Fleder, Yvonne Brown and Josh Goldfein, Ken and Magda Gordon, Siri Striar and Francisco Hernández, David Kaiser, Elizabeth Schmidt and Eric Liftin, Laurie Dornbrand and Bernard Lo, Ann and Michael Loeb, Hope Nguyen, Allison and Craig Schlanger, Lise and Myles Striar, Adele and Ronald Tauber and Family, Duane Valz, The Venkatraman Family, Yun Soo and Adrian Vermeule.
Founding Contributors
Adam, Ravi Ahmad, Aimee, Alexandra, Lulu Almana, Matt Amory, Derek Attig, Samuel Baker, Casey Bauer, Nicholas Benson, Claudia Bernheim, Suzanne Besser, BibiAndFriendsTV, David Bither, Sheri Bjornson, Shantel Blakely, Jane Bock, Clara Bohrer, BookMortician, Nancy Schieffelin and Carl Brauer, Zana Briski, Nathan Brown, Kathleen Burlingame, Polly Carpenter, Tobias Carroll, Mairead Case, Laura Ryan and Peter Cavanagh, Betsy Cavanaugh, Benjamin Chabot-Hanowell, Chris Chambers-Ju, Arthur Chandler, Vincent Audette-Chapdelaine, Ksenia Cheinman, Amy Cheung, David Cicconi, Brian Clancy, Elizabeth and Robert Clark, Jennifer Clark, Carrie Cleary, Henri Clinch, John Cohen, Kathleen Comeau, Confusedcious, Eric Connally, Jennifer Cooke, Betty Chen and Peter Coombe, Garen Corbett, Mark and Sylvia Cord, Elaine Cory, Laura Costello, Gail Courtney, John Cramer, Elizabeth Currans, DJ Fusion – FuseBox Radio Broadcast, D.J. Trindle, Sophie de Rakoff, Stewart Desmond, Bill Dillon, Priscilla and Brett Donham, Deirdre Donohue, Aaron Dornbrand-Lo, Rainer Dunkel, Evan Didier, Owais Diyan, Meghan Dowell, Doug Eklund, Helen Elder, Elizabeth, Caterina Fake, Fiona, Nicole Fonsh, Tom Frawley, Freemecene, Anthony Fresina, Emma Straub and Mike Fusco, Elizabeth Gardner, Jurn Glazenburg, Claudia Gonson, Laurence Vanleynseele and Jared Green, Mary Sipp Green, Nick Green, Brian Greene, Sharon French and Harpreet Grewal, Alexa Hamilton, Michael Hearst, Eric Hellman, Barbara Herman, Linsey Herman, Orin Herskowitz, Nate Hill, Teresa Hill, Allie Hirsch, Jan Holmquist, Connie Coburn and James Houghton, Gil Hova, Robin Howson, Brenden Hussey, Isaac, Alice and Phillip Isenberg, Joahna Kuiper, Janet Jai, Erica Jablon, Joshua James, Jeannie, Ranti Junus, Karen Kaletka, Khoisan, Victor Kim, Kimberly Kinchen, Erin Kissane, Sam Klein, Sarah Pearce and Ivan Kreilkamp, Juliette LaMontagne, Jeffrey Lange, Nancy and John LeGates, Lenny, Terry and Geoffrey Lewis, Ursula Liang, Stephanie Lin, Beile Lindner, Darlaine Gardetto and Clarence Lo, Theresa Loong, Helen Luan, Pattie Maes, Ben Mahnke, Roxanne Marcil, Kevin J. Maroney, Jayson Mazziotti, Molly McInerney, Robert McInerney, Fran Mentch, William Middleton, Rebecca Miller, Susan Vincent Molinaro, Lee Moreau, Courtney Moy, Ursula Murphy, Mary-Liz Murray, Mark Nowotarski, Meaghan K O'Connor, Fiacre O'Duinn, Yukie Ohta, Kristin and Jeremy Osborn, Amber Pannell, Paul Parkhill, Katherine Perls, Tom Perrotta, Tom Petty, Plainclothes Tracy, Laura Wolf-Powers, Deborah Putnoi, Sheila Quinlan, Richard Rabinowitz, Red Trillium Press, Hallie Rehwaldt, Ann V. Reilly, Nancy A Risser, Chris Robison, Amy Stasuk Rocco, Rockhouse Mountain Productions, Roger, Susan and Malcolm Rogers, Charles Rothbart, Ashley Salzberry, Sally Schwarzlose, John Sell, Erik Selz, Gideon Fink Shapiro, Amy Sloper, Alexa Smith, Jill Smith, Helen Sobolik, Laurie Spivak, Alexandra Quinn and Mark Spolyar, Stephanie, Stephanie, Deb Steytler artist, Patrick Polski Stelmach, Ayres Stiles-Hall, Susan and Peter Straub, Maria Striar, Marie Sundström, Michael T, Leslie Tamaribuchi, Lisa Tauber, Leith ter Meulen, Martin Thörnkvist, Brian Thompson, Shari and Robert Thurer, Timmy, Tina, Alice Tinkley, Sharon Tomasulo, Sophia Tzeng, Sameer Vasta, Victoria, Kevin Walker, Sandy and Barney Weinstein, Jennifer D. Wells, Anita Wharton, Brian Willen, Rebecca Parkhill and Robert Willett, Mita Williams, Cheryl Wolf, John Woo, Noelle Wright, Paola Yanez, Corinne Zimmermann.