Get a kit
Create pop-up libraries, art studios, and more.
Programming kits for public space.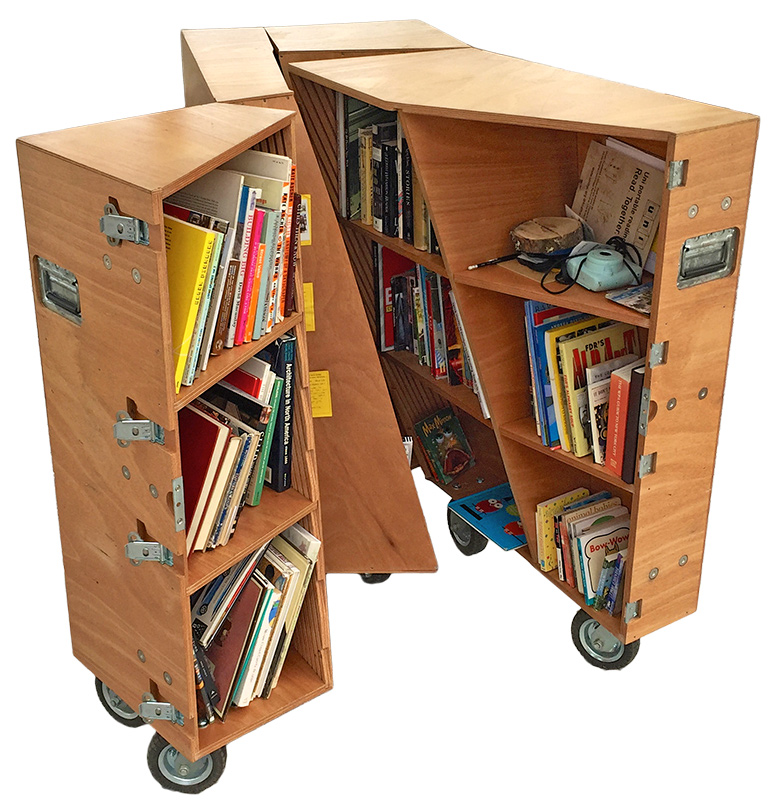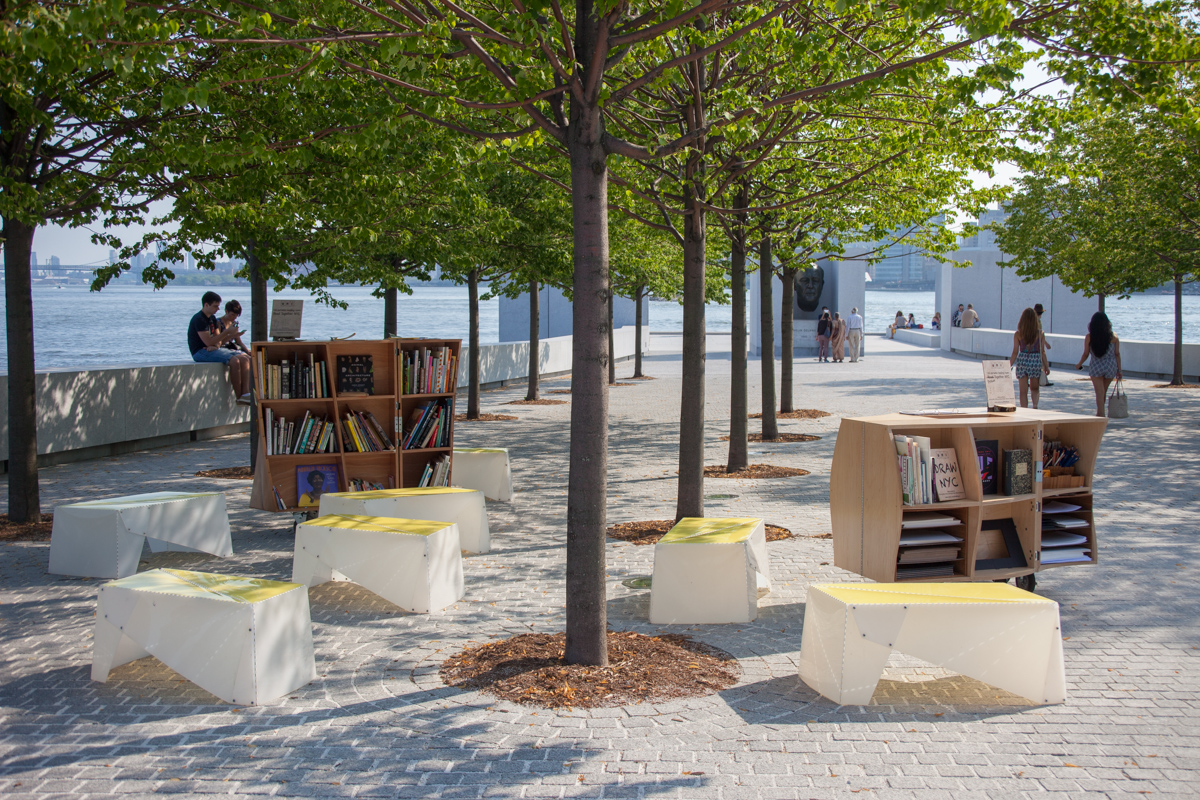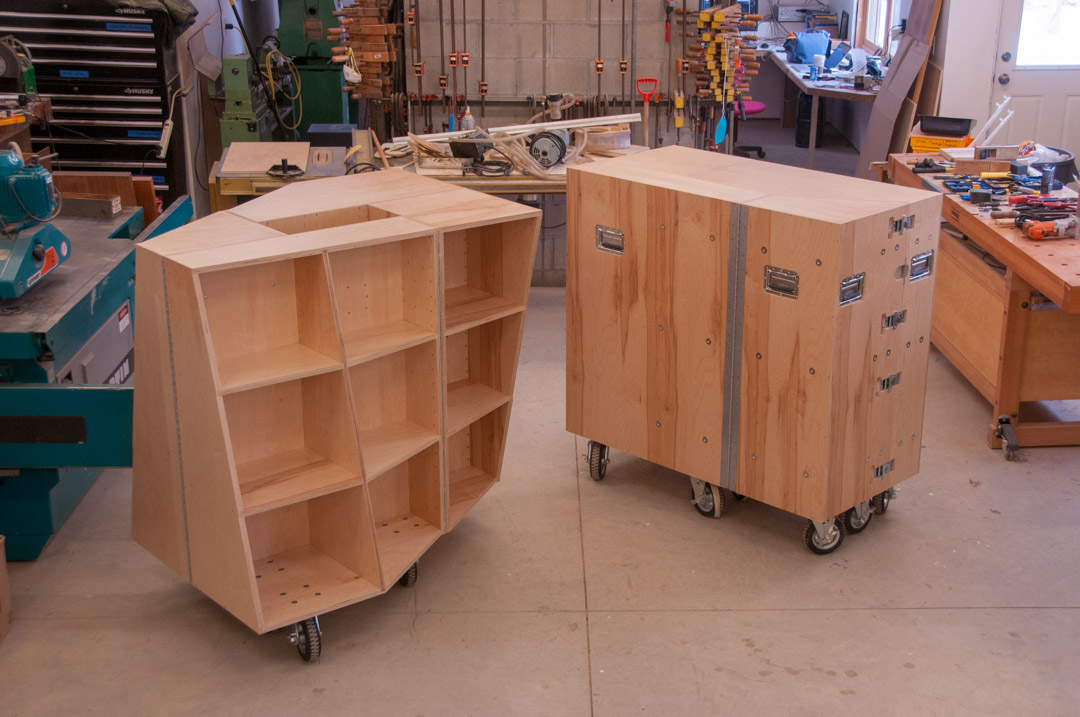 Street Lab is a nonprofit that creates and shares programs for public space in order to improve the urban environment, strengthen neighborhoods, and bring people together. To that end, we've developed award-winning programming kits that can be deployed in almost any location. We deploy this gear in NYC, and we fabricate kits for cities, libraries, and organizations across the globe. The kits are named after our first portable reading room, called the Uni.
One kit features a patented stage case that rolls into place and unfolds to reveal books or an art studio. Another uses a system of cubes to create a 360º library. We also fabricate lightweight, stackable benches. We connect, promote, and support organizations using these designs so we can all share new solutions and best practices.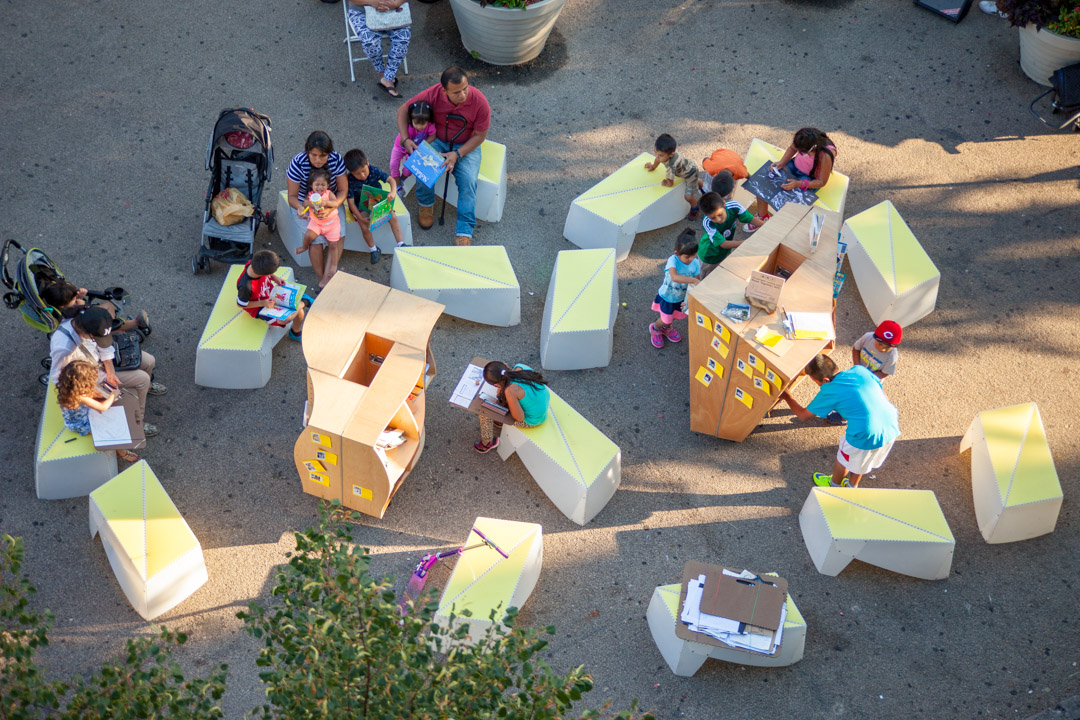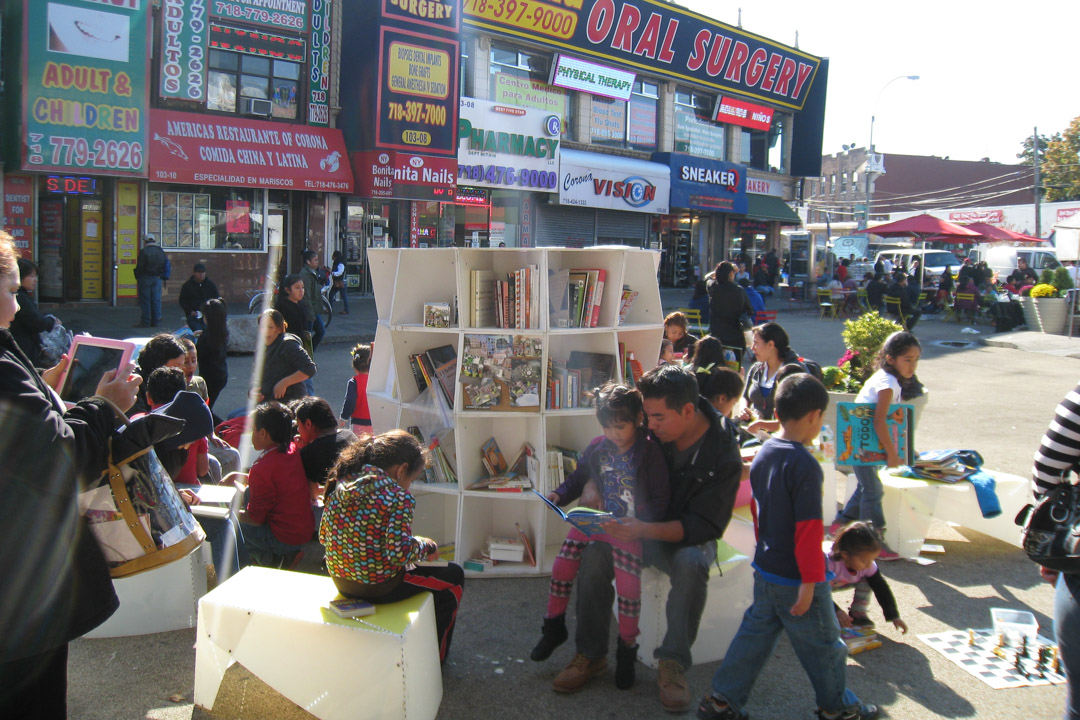 The Uni Tower is a modular structure of cubes that can display books and materials in a 360º configuration. Learn more.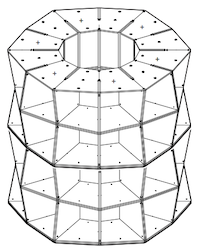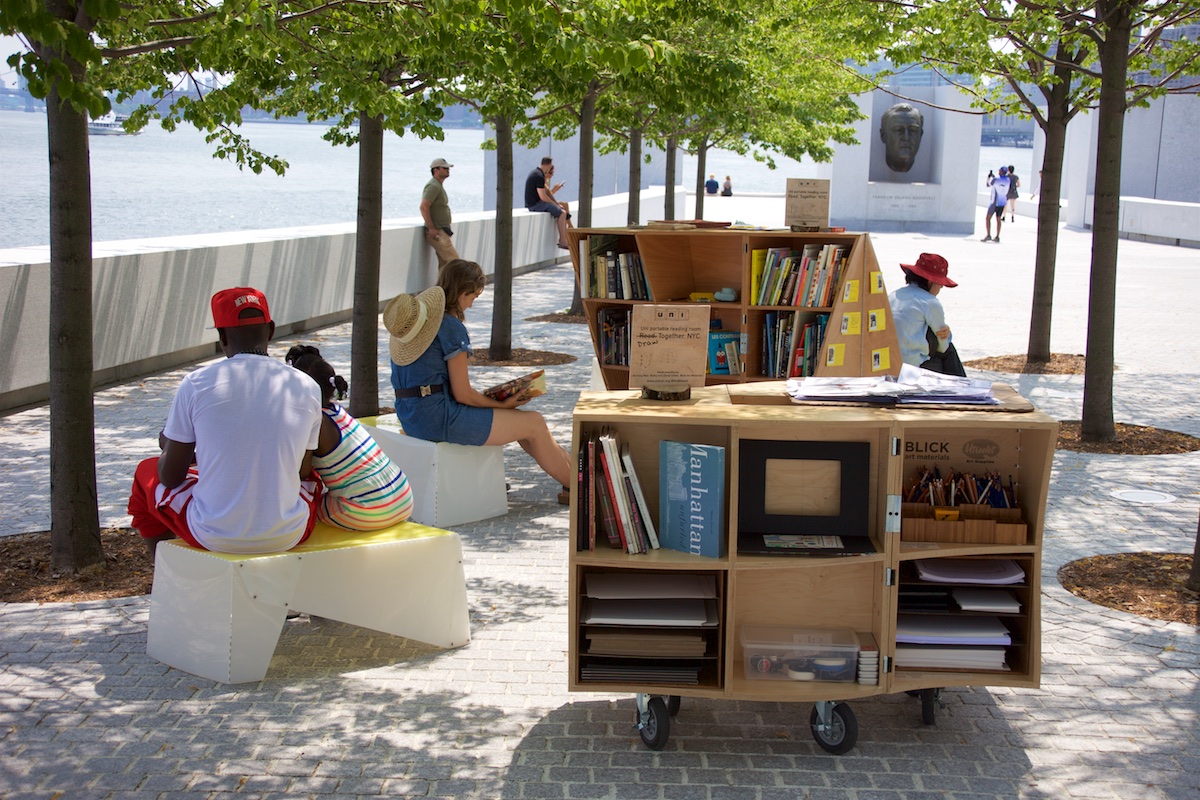 The Uni Cart transports books and activities inside a patented, rolling stage case, which unfolds into a sculptural shelf. Learn more.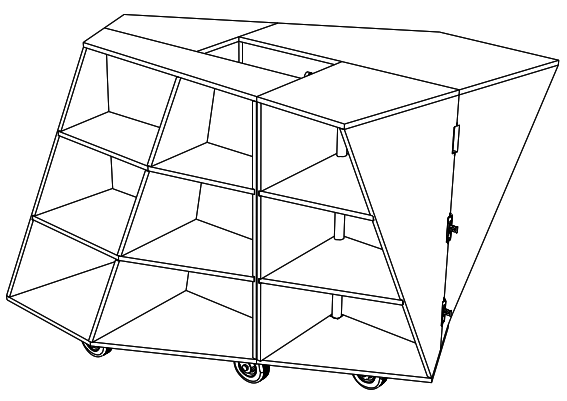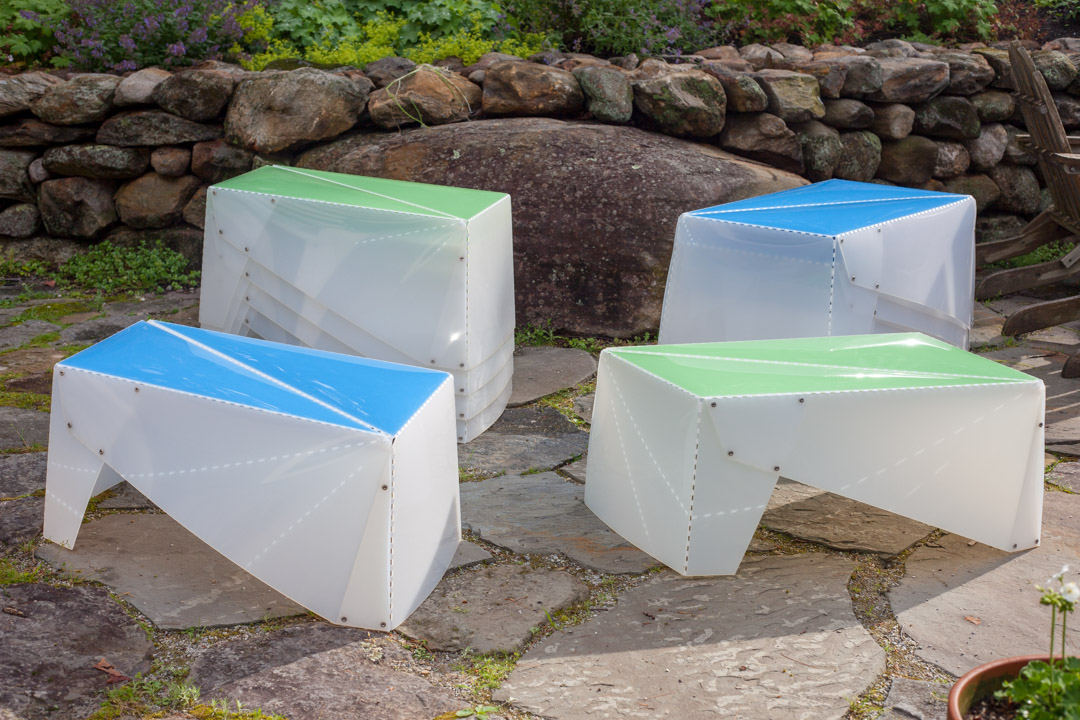 Uni Benches are sturdy, lightweight, and stackable, providing seating for two people side-by-side. Learn more.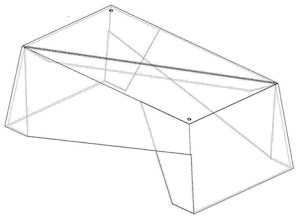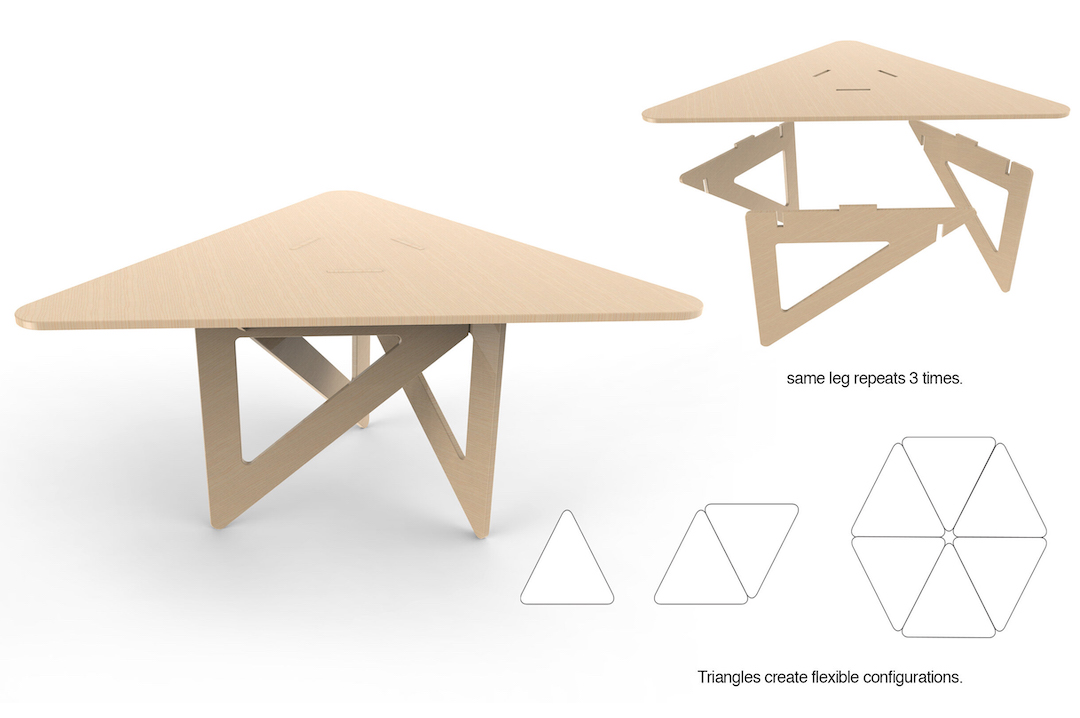 Tri-tables were created for the streets of NYC. They assemble quickly at two different heights, pack flat, and are designed to work with our benches. Learn more.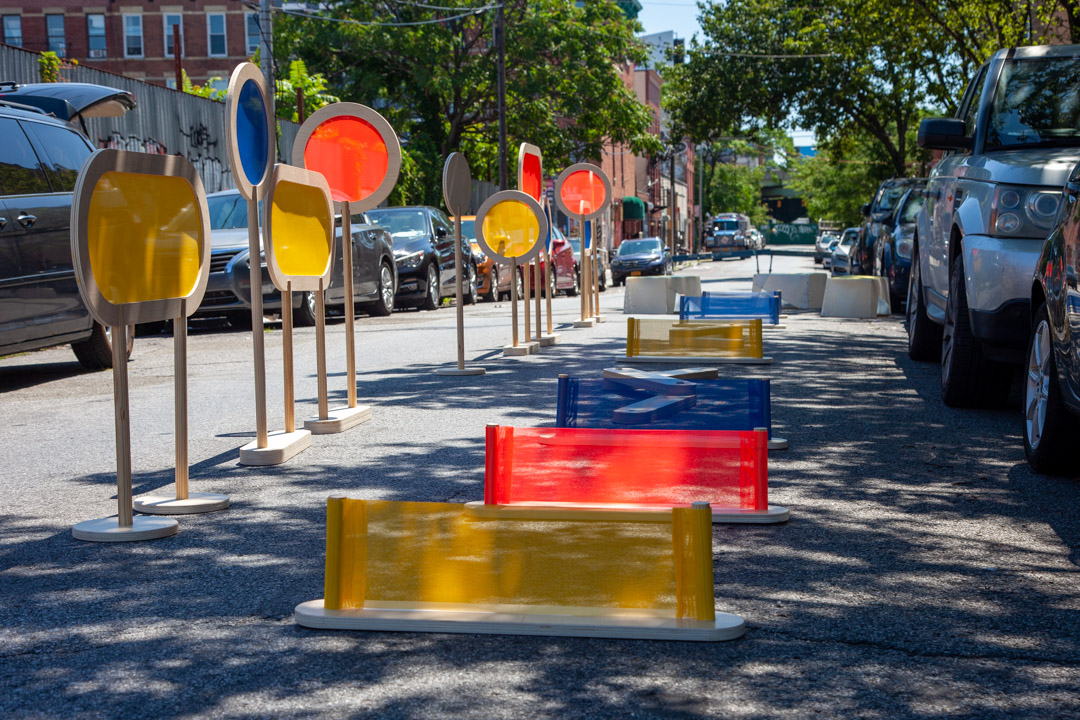 We've updated our no-touch obstacle course and are now fabricating it for other groups. See photos of our 2020 prototype. Contact us to learn more about the 2021 design.
Can you deliver kits that include content (books, art supplies, etc)?
Yes. We have curated and delivered library collections, fully stocked art studios, science exhibits, and library outreach kits for various partners. And if you prefer to choose your own content, we're always available to share our approach to curating programs in NYC.
What project support do you offer?
We're committed helping you create a successful experience for your community—that's part of our mission. To that end, we provide instructions for the care and use of your kit, and we're available by phone and email if you have questions about the planning, promotion, collection development, and operation of your open-air reading room or other programming.
What are dimensions and weights of the kits?
Benches are 14.5"H x 16"W x 30"L and weigh 9lbs each.
Uni cubes (for tower) are approximately 15.5"H x 15.5"W x 15.5"D (tapered side 8″) and weigh 8 lbs each.
The mini cart is 38"H x 25"W x 46"L closed and weighs approximately 170 lbs, empty. Each shelf bay is approximately 14″ tall and 14" wide, providing approximately 168 linear inches of shelf space.
The tall cart is 50"H x 25"W x 50"L closed and weighs approximately 250 lbs, empty. Each shelf bay is approximately 14″ tall and 14" wide, providing approximately 252 linear inches of shelf space.
Do I need a truck?
Not necessarily, but it helps. Here's how we deploy these kits in NYC…
By hand:
On level ground, a fully loaded Uni cart can be rolled into position by one person. All Uni gear is sized to fit through a standard doorway, so the entire kit can be stored indoors and rolled outside by hand.
By minivan:
With seats removed, we deploy 12 cubes, benches, and books to create small, pop-up reading rooms. We also deploy a Mini Cart and benches via minivan, using a small ramp to roll the cart into the side door of the minivan.
By truck or full-size van:
The carts can also be transported in a truck or van using a ramp or lift-gate. When carts are fully loaded with books, this is our preferred method. Contact us anytime for advice about transportation.
What cities already have Uni programming kits?
We've built and shipped Uni infrastructure to the DC Public Library, Seattle Public Library, Brooklyn Public Library, New York Public Library, Rose Fitzgerald Kennedy Greenway Conservancy (Boston MA), Calgary Public Library, The U.S. State Department, and many more partners.
The project has been hailed as a "groundbreaking idea" by Library Journal and was featured in the US Pavilion 2012 Venice Architecture Biennale. It was awarded an Innovations in Reading Prize from the National Book Foundation in 2013 and was a winner of the Mayor of Boston's Public Space Invitational in 2014.
Can you help me prepare a Sole Source Justification Memo?
Yes. In 2011, when The Uni Project decided to launch a portable reading room in New York City, we researched the marketplace and decided to design and build furniture components that met our needs. The result is the Uni Reading Room Cart (US Patent No. D744,773) and the other designs in this proposal. Sample sole source justification memo available.
The Uni cart, tower, and benches are based on original designs by Höweler + Yoon Architecture, created in partnership with the Uni Project. The components are fabricated by independently owned businesses in Essex MA, Brooklyn NY, and Woburn MA, under the supervision of the Uni Project. Key innovations are that the components are lightweight, weatherproof, self-standing, securable in transit and on location, and able to roll easily into position to create an attractive place to gather in public.