Who we are
Street Lab is run by eight full-time staff and 30+ part-time staff during our busiest months.
Board of Directors
Jane Sujen Bock, Angella Brown, Willard Donham, Jared Eigerman, Laura Fleder, Ken Gordon, Judith Hilton, Morgan A. Jones, Zara Mannan
Co-Founder/Executive Director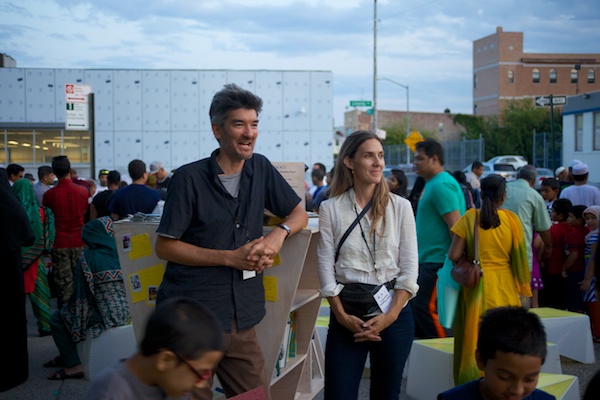 Leslie Davol has over 30 years of experience working in the cultural sector, including serving as Assistant Vice President for memorial, cultural, and civic programs for the Lower Manhattan Development Corporation following September 11, and in various project management roles at the New-York Historical Society. In addition, Leslie has served as a juror and organizer of public art competitions, nonprofit board member, and public member on the New York State Board for Architecture. (Leslie via LinkedIn)
Co-Founder/Director
Prior to co-founding Street Lab, Sam Davol was an attorney with the Legal Aid Society in New York City, working on public interest class action litigation, community legal services, and service innovations using technology. For over 30 years, Sam has also been a professional musician and member of The Magnetic Fields. (Sam via LinkedIn)
Design Lead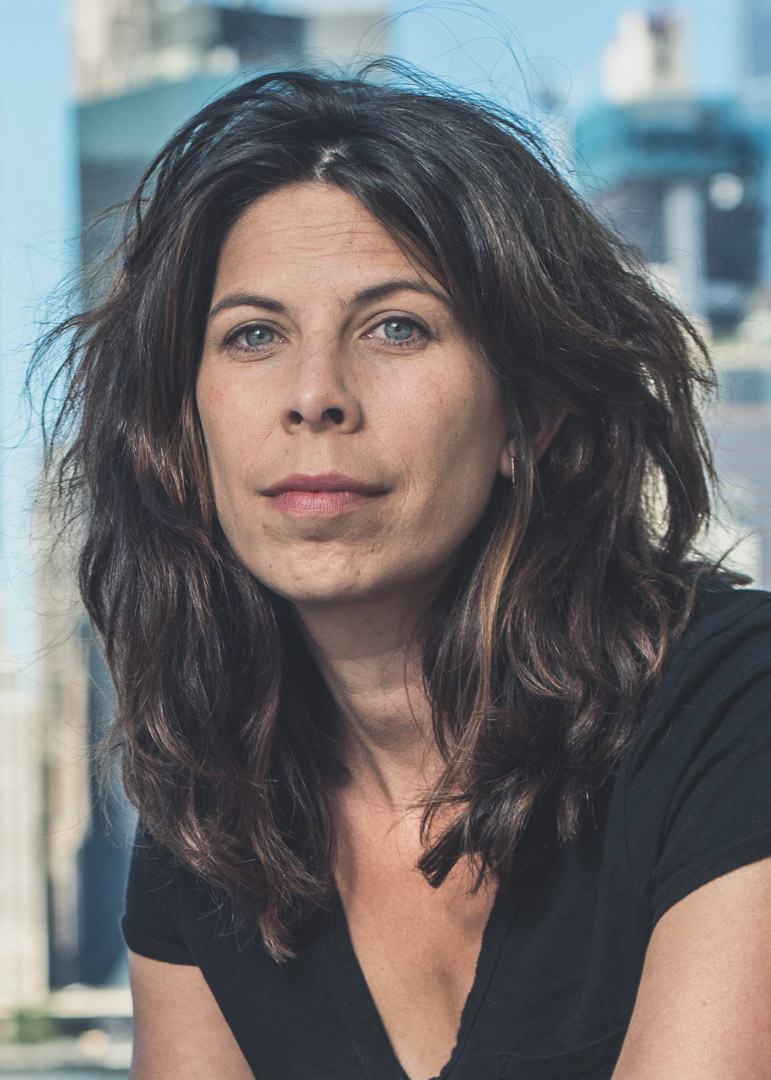 Hannah Berkin-Harper has worked as an industrial designer and educator for over 15 years. She was a Senior Designer in Karim Rashid's studio, creating furniture, products, and interiors for clients all over the world. In 2016, she founded her own studio and began working on projects focused on public space, active design, and environmental sustainability. She has collaborated with Street Lab since 2019, most recently joining the team as Design Lead. Hannah teaches undergraduate and graduate courses at Pratt Institute in the Industrial Design and Interior Design departments. She also conducts research on community participatory design processes and co-design methods. She has an AB in Studio Art from Vassar College and an MID from Pratt Institute.
Program Lead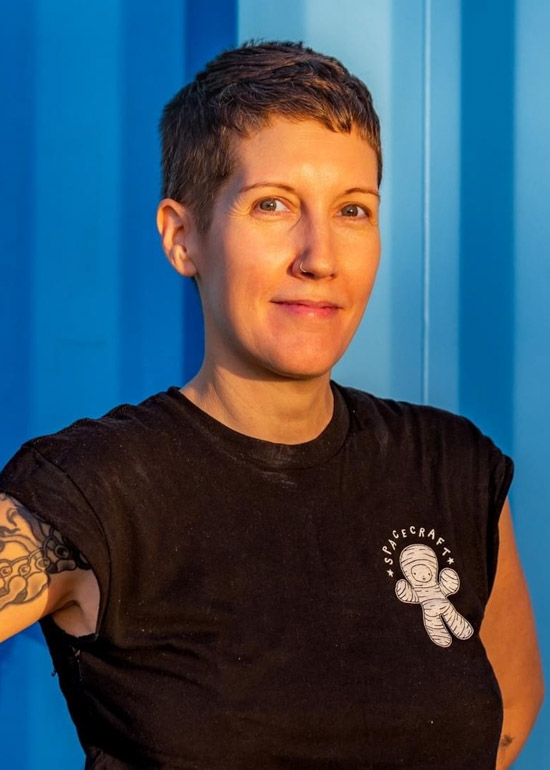 Mitzi Jo Gordon is passionate about building human connections through creativity. She has worked at the intersection of community engagement and public art in the Tampa Bay area during the past 20 years, serving non-profit organizations, independent artist teams, museums, and collective studios. She is founder and curator of the Carmada art car showcase, and served on the team that opened the newly constructed Dali Museum in 2011. Mitzi recently completed a two-year traveling art project called SPACEcraft, sharing free creative activities in shipping container studios across Pinellas County, Florida. She holds a BA in Journalism from New York University, and drove her own bookmobile for nearly a decade.
Program Manager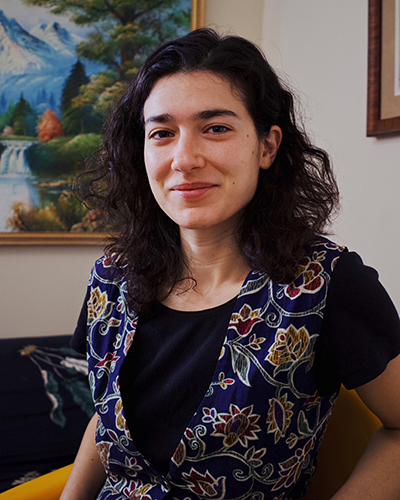 Niri Halperin believes that our built environment should be formed to serve us and that by engaging with the spaces around us, we can shape and transform them. Niri has held various roles in non-profit organizations and B Corps, working behind the scenes and on the ground. She was born and raised in Brooklyn and holds a BA in Anthropology from Brandeis University. Niri loves to ride her bike, make collages, and know what phase the moon is in.
Program Designer
Soledad Tejada wants to help shape cities that invite people to participate. She loves making urban space engaging for everyone, whether it be by developing accessible programs behind the scenes, or drawing chalk murals on the street with New Yorkers. Soledad graduated from Yale University with a BA in American Studies with a concentration in material culture and the built environment. She believes when people love where they live, they lead happier, healthier lives in stronger communities. In her free time you'll find her walking in the park or working on music with her band.
Designer/Design Coordinator
Anushritha Sunil is a human-centered Indian designer, and architect based in New York. She approaches complex global questions by engaging in design research with communities and stakeholders and envisioning directions for change through experimentation and collaboration across disciplines and scales. She holds a Master's degree in Industrial Design from Pratt Institute, New York. She has also worked with communities, non-profits, and organizations in India to help develop and claim the collective memories of public spaces. Using design as a tool to connect, share knowledge, skills, and broaden understanding, she advocates for creating happier and healthier equitable futures.
Fabrication
Bancroft Design, Jaywalk Studio
Moving Services
NYC Department of Transportation
Staff Alumni
Leah Kaplan ('16-'18), Joeyee Yan ('16-'18), Courtney Menard ('18), Sarah Shahata ('18), Stephanie Yee ('14-'17), Egypt Calier ('16-'17), Fay Ku ('17), Mira Etingof ('17), Luyi Wang ('17), Christian Guinanzaca ('16), Rossana Iturbide ('16), Ester Shmulyian ('16), Stephen Wrenn ('16), Daniyar Irgaliyev ('16), Mecca Norfleet ('16), Anthony Lopez ('16), Jean Li Spencer ('16), Michael Gibson ('13-'16), Shamel Rountree ('16), Adynah Irene Johnson ('15), Leigh Hurwitz ('13-'15), Emily Jacobson ('14-'15), Marco Cunqueiro ('15), Jorey Greenland ('15), Greig Roselli ('15), Susan Coyne ('15), Genevieve Irwin ('15), Rasheed Lucas ('14), Tiffany Lin ('14), Alyssa Pintar ('14), Amelia Carver ('13), Nelson DeJesus ('13), Peter Zweifel ('13)
Program Collaborators and Visiting Experts
HYPOTHEkids ('17-18), Washington Square Park Eco Projects ('16-18), Rica Takashima/Aliens in NY ('17), Robert Berkman/Better Living through Mathematics ('13), Andrew Collins ('13)
Volunteers
Emilia Andrade ('15), Lisa Archigian ('16), Chanyuan Bao ('17-'18), Kelly Marie Blanchat ('12-14), William Brockett ('13), Jane Bock ('17-'18), Michelle Bowen ('18), Jamie Burns ('14), Milani Chatterjilen ('18), Evan Chen ('16), Sofia Chelo ('16), Nathanael Cho ('16), Liana Chow ('17-'18), MD Choudhury ('17-'18), Lindsey Danis ('11), Eleanor Davol ('13), Malcolm Davol ('13), Andy Deck ('15), Fatou Diorme ('18), Meghan Dowell ('11-'13), Cathrine Fahmy ('18), Lisa Gomez ('15-16), Kenneth Gordon ('13), Magdalena Gordon ('13), Jorey Greenland ('16), Chelsea Gunn ('11), Nadine Hibbert ('14-'16), Leigh Hurwitz ('12-'16), Emily Jacobson ('12-'16), Allie Janvey ('12), Adynah Irene Johnson ('14), Gloria Lau ('15-18), Marilyn Kahn ('12), Amit Karan ('13), Madeline Kelly ('11), Grace Ko ('16), Victoria Kuhr ('14-'16), Angela Kyle ('13-'14), Kaijie Liao ('17-'18), Tiffany Lin ('14-'15), Natalia Lopez ('13), Steven Lowinger ('18), Dylan Levene ('18), Kelleen Maluski ('12-'16), Daniel Mascola ('15), Sara McCabe ('16), Alexandra McClure ('15-16), Molly McInerny ('11), Nicholas Modugno ('18), Luis Aguilar Moreno ('14), Sara Muche ('18), Diana Narvaez ('14), Pascale Nijhof ('13-'14), Jennifer Nix ('13-'14), Christine O'Heron ('12), Yukie Ohta ('11), Tiffany Minh Peterson ('15-'16), Jessica Pierce ('14), Katherine Plater ('13), Gabriella Radujko ('12), Anna Robinson ('12-'13), Liz Ropers ('14), Greig Roselli ('15-'18), Sitara Sawh ('17-'18), Lisa Savcak ('14-'15), Helen Schubert ('11), Juhi Singhal ('13), Phillíp Solér ('14), Michelle Solis ('16), May Tongnok ('15-'16), Antonio Upia ('18), Constance Vidor ('14), Albert Wang ('17-18), Xavier Williams ('13-14), Whitney Wong ('15), Stephanie Yee ('12-'18), Lauren Zavaglia ('18), Jie Zhao ('15), Patrick Zheng ('16-'18)
Teams from: Wolff Olins, George Jackson Academy, Avenues: The World School, Riley's Way Foundation Youth Advisory Council, The Garden School
Pro bono
Max Dietshe (annual report '15), Breauna Hagan (volunteer plan '15), Stroock, Stroock & Lavan LLP (legal '15), Angela Khermouch (photography '15), Lawyers Alliance for New York (legal '14), Maureen Naff (pitch deck creation '13), Shannon Tomai, Apex Law (legal '12)
Design
Joana Torres (sign kiosk '16), Höweler + Yoon Architecture, LLP, with Prof. J. Meejin Yoon of MIT (Uni carts, tower, benches '11-16, with Eric Höweler, Meejin Yoon, Parker Lee, Ryan Murphy, Thena Tak, James Coleman, David Costanza, Jeremy Jih, and Alexander William Marshall)
Fabrication
Bancroft Design, Jaywalk Studio, Beartown, Höweler + Yoon Architecture, LLP (with Jeremy Jih, David Costanza, Alexander William Marshall, Kelly Shaw, Sung Woo Jang, Max Wong, Joanna Rodriguez-Noyola, James Coleman, Cyrus Dochow, Parker Lee, and Thena Tak)
Drivers/Installers
Mike Gibson ('14-'17), Red Hook on the Road
Past Advisory Panel Members
Stacy Abramson, Ariana Austin, Polly Carpenter, Aimee Good, Nate Hill, Eric Höweler, Leigh Hurwitz, Fred Kent, Gloria Lau, Tiffany Lin, Bill Middleton, Jennifer Polshek, Richard Reyes-Gavilan, Rachel Urkowitz, Meejin Yoon