Street Lab is a nonprofit that creates and shares programs for public space across New York City. We do this work to improve the urban environment, strengthen neighborhoods, and bring New Yorkers together. 300+ times a year, all five boroughs, always in public space. We also send kits around the world to help other cities do the same.
New York City needs a street-level environment that better supports and inspires residents in all corners of the city. The city also needs quicker, more nimble ways to support and improve emerging public spaces and share resources with residents.
Our aim
We envision a city filled with public spaces that inspire, where all residents have safe, comfortable places to gather and connect right in the heart of their neighborhood. We use a pop-up approach to make this vision a reality across New York City.
Our Approach
We provide programming in parks, plazas, and other public spaces across New York City using a pop-up approach, working in support of place-making efforts already underway by local groups. We focus on solutions that communities can't easily implement themselves, and we share these resources across the city. We choose locations based on requests from community groups, and we work in partnership with city agencies, prioritizing underserved areas. Along the way, we enlist the help of architects, fabricators, artists, and educators. We also send kits around the world so that other cities can copy our model.
Our Capacity
We have established a network of over 280 community partners working to improve neighborhoods across New York City, and we have identified over 530 public spaces that these groups are working to improve. Our operation is nimble, and we have already worked in 250 of these locations since 2011. We have award-winning programs at the ready, and new programs in development. We are capable of custom solutions requiring design and fabrication, and we can incorporate other programming partners. We have friendly and experienced staff who are fluent in different languages and skilled at welcoming all kinds of people. Finally, we have funders who support our work across the city.
How we measure impact
We assess our impact using head counts, surveys, and interviews of residents to determine whether our programs encourage community gathering, increase people's sense of community safety, and make public spaces more welcoming and accessible to all, especially children, women, and families. We also look for markers that indicate people love the experience and walk away feeling good about themselves, their community, and the city. These outcomes have positive implications for a number of long-standing urban issues, including educational achievement gaps, social isolation, and community fragmentation.
History and Accomplishments
Street Lab was founded in 2006 in Boston, where we created pop-up programs for neighborhoods, including a film series called Films at the Gate and the Storefront Library. In 2011 we launched the Uni Project, an effort focused on pop-up reading rooms, and moved the organization to NYC under that name.
Since that time we've provided more than 1690 days of programming in 359 public spaces across the city, engaging more than 75,000 New Yorkers. We've established ongoing partnerships with both NYC Department of Transportation, NYC Small Business Services, and NYC Department of Parks and Recreation and have worked with 250+ different local groups. Annually, we now reach about 55 neighborhoods, providing 350+ days of programming, and 76% of that work serves low to moderate income communities. We've also made 60+ kits for other cities that want to copy our model.
The range of programs we offer has expanded as well, and we now offer pop-up drawing stations, portable museum exhibits, design activities, and soon, small scale music-making and performance. Some of our programming partners include the SoHo Memory Project, the Harlem-based science-education organization HYPOTHEkids, The Drawing Center, the Central Park Zoo, and all three of the city's public libraries. As a result of our growth, we are re-introducing the organization's original name of Street Lab in 2018 to reflect our expanding scope of programs and services.
Street Lab's portable library was hailed as a "groundbreaking idea" by Library Journal in 2011, and libraries from around the world began to contact us to make them reading room kits. In 2012, Street Lab was featured in the U.S. exhibition "Spontaneous Interventions" at the Architecture Biennale in Venice. In 2013, Street Lab's Uni Project was awarded the National Book Foundation's Innovations in Reading Prize. In 2014, Street Lab was a winner of Boston's Public Space Invitational. In 2018, we began a residency at NYDesigns.
What's next
Cities everywhere are facing pressures that threaten their social fabric. There is tremendous potential in the far-flung communities of New York City, but also the possibility of disillusionment and disintegration as the city grows ever larger. Street Lab is pioneering new kinds of portable amenities that can serve multiple neighborhoods, improving the quality of life and making communities feel valued and connected to the city at large. In the years ahead, we want to reach father into the boroughs, continue to offer new programs, and put small-scale kits in the hands of partners to implement locally on their own. The result will be an urban landscape transformed and a city recognized for pioneering a new approach to activating public space and building community.
Who
Street Lab was founded by Leslie and Sam Davol, who run the organization with a team of six full-time staff and 30+ part-time staff during our busiest months. The organization has a nine-member board and is funded by individuals, foundations, corporations, and government, including the NYC Department of Cultural Affairs and New York State Council on the Arts. In addition, the organization earns revenue from program fees and from the sale of kits.
Financial Information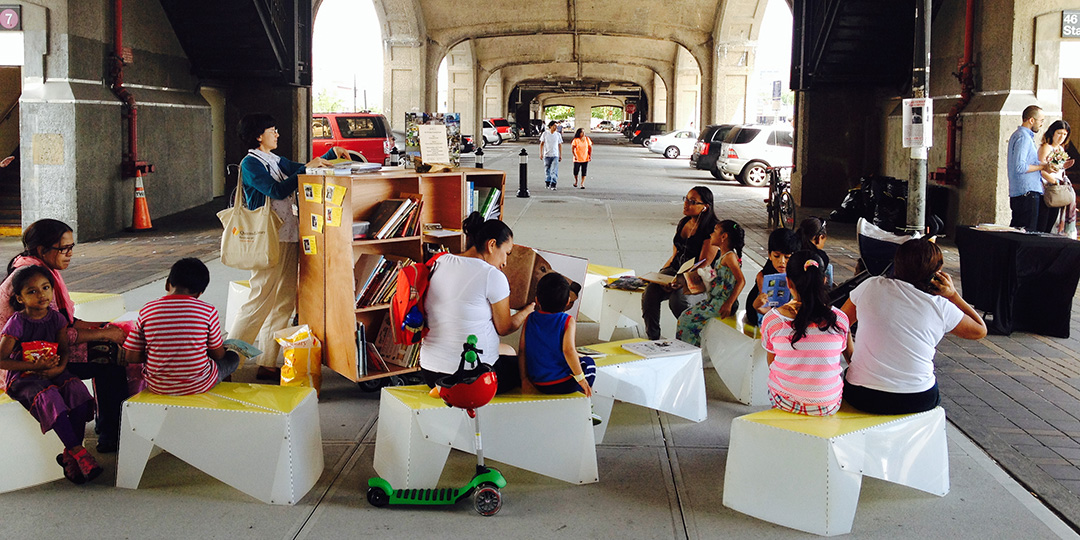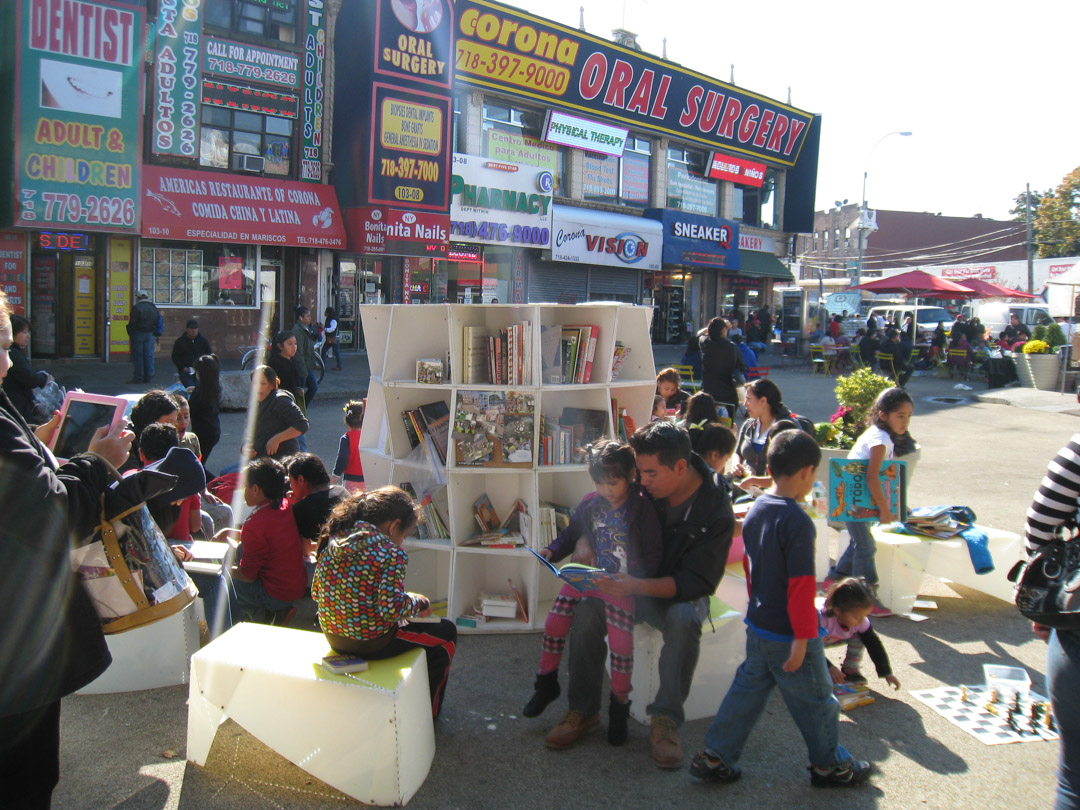 Street Lab was founded in 2006 in Boston and moved to NYC in 2011. Through 2018 we were know primarily as the Uni Project, which was the name of our portable reading room.
"That's the most beautiful thing I've ever seen!" – passerby on bike, Parkside Plaza, Brooklyn
"You actually see everybody hanging out together, and it seems like nobody has any animosity." – teen at playstreet, Morrisania, Bronx
"It makes me feel like I can do anything"
– Siqlani, 10, E. Harlem playstreet
"Do you have to go? This is the best company I've had all week." – 12 yr old boy at the Uni with his two brothers at Ozone Park Plaza, Queens
"You are doing a great thing here. You should do this all over." – passerby at Marcy Plaza, Bedford-Stuyvesant, Brooklyn
"Your program is excellent. The only request would be more days!" – Darma Diaz, with BACDYS, manager of Ozone Park Plaza
"The programming the Uni provides to communities, parks and plazas is unique and special in that it caters to young people, which in turn brings parents and entire families. We are sorely lacking in that kind of participation on our largely male-dominated space, and the Uni brings a community feel to our space." – Eirik Gislason, Friends of Diversity Plaza
"My staff had a positive experience having the opportunity to engage with the community patrons outside of the branch setting. The idea of having books and information accessible beyond the four walls of the library setting allows us to reach a new audience of patrons that are not aware of what we offer. This is definitely something I would participate in again."
– Melissa Davis, Library Manager, Clasons Point Branch, NYPL, Soundview, Bronx
Street Lab transforms each host site, offering visitors a special urban experience—enjoyable, educational, simple, direct, and out-of-the-ordinary. —Betty Chen, NYC Planning Commission