We've made lots of progress on multiple fronts here at the Uni. We'll keep it brief and break it down by category:
Kickstarter
Two weeks in and two weeks to go on Kickstarter. We're up to $12,000 and growing steadily, especially in the small donation range. During week two, we shifted focus from our address book to reaching new folks through press, blogs, and other outlets. We'll continue on, and we appreciate your help spreading the word. Fundraiser ends August 15.
For those of you who have already donated, a special word of thanks. Your support gives the team confidence about our work and optimism about the ideals that got us into this. The Uni is intended to be a practical tool that conveys stubborn idealism about what can be achieved in our cities around books and learning. Your contributions are building the Uni and stoking that idealism. We excited to be embarking on this journey with you.
The Library World
We've been rapidly reconnecting with library people who we met in our Storefront Library, and we're making new friends too. Here's a terrific article in Library Journal and more library-related hits this week via Jan Holmquist, Library Bazaar, Bilingual Librarian, Alternative Library Spaces, Incunabular Illumination, and For the love of bookshops.
We've also been fielding requests from people who want the Uni in their city. After we build and make a successful Uni 1.0, we think the Uni can be replicated, but that's a bridge to cross later. Here's a call for the Uni in a Chicago neighborhood.
Design/Fabrication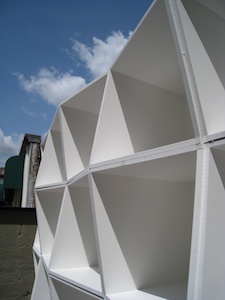 In order to stay on schedule, we decided to order an initial batch of materials to build the base structure. The guys have leapt on the boards and pushed fabrication forward. See new images of freshly cut, white Uni cubes stacked eight feet high.
We've also developed a great working relationship with Reynolds Advanced Materials in Brighton, MA, where we will soon order Smooth-Cast 65D liquid plastic, to be used in a zero-waste roto-molding fabrication process for the covers and seating elements. The plastic is our single biggest expense, and we're waiting until we get closer to our fundraising goal to pull the trigger.
In the mean time, Costanza and Alex at MIT have fine-tuned their DIY roto-mold machine. A new program for the controller will allow them to make the seating lighter weight, more user-friendly to lift and carry, and save materials overall. Below is movie from the shop showing the machine at work.
Books
Uni Librarian Chelsea Gunn, who will be joined by other librarians next week, has embarked on the intake process for donated books. Read more about our vision for the book collection. Over the weekend, this same link will also include our re-tooled online book catalog and wish list, which will go live shortly.
That's all for now. Thanks for your support.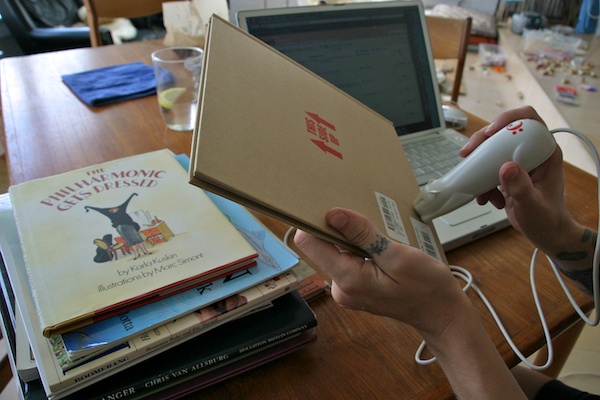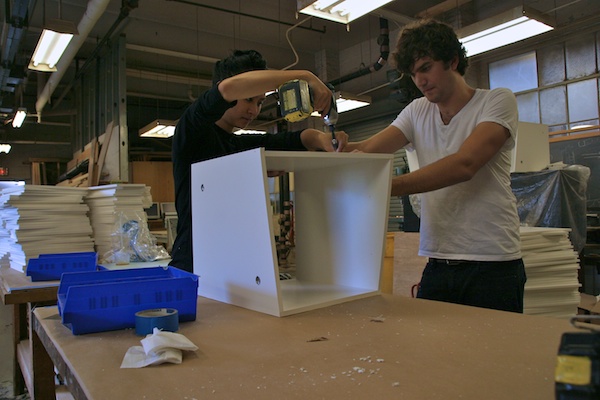 See lots more images on Flickr, or check out a video below of Alex showing off the roto-molding machine controls: