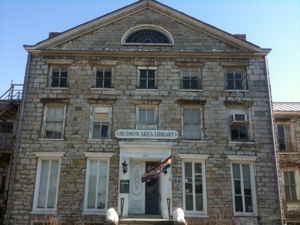 I'm strange about libraries. They move me.
It's one part love of what they do, one part love of what they represent, and one part frustration with the consumer culture everywhere else.
Here's a beautiful library that I visited a few days ago in Hudson, NY. A rusting book drop, lions out front with drooping heads, a foot stool for kids at the drinking fountain. It sits on a hill opposite the courthouse at the other side of town. I love libraries in storefronts, but I also love libraries set way up on the hill. What we put in public space, and where we locate it, says everything about what we believe in.
Hudson NY, I will be coming back, and I look forward to seeing your library prosper. /Sam
(I'm visiting libraries for several months, on tour. Photos on Flickr below and link here.)