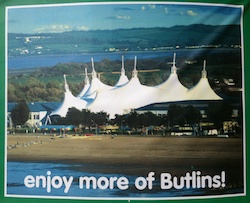 [Another post from Sam visiting libraries on tour—explanation here.]
Music festivals are large, complex, temporary communities. For a few days, we arrange ourselves by wristband and color-coded stages to do what we love: play and hear music. This week, I'm traveling around with a cello to visit two—one in Minehead, UK and another in Austin, TX.
Here in Minehead, the festival is held (with a wink) at Butlins Holiday Center, a self-contained, highly commercial amusement park/resort with fast food chains, water slides, paintball, and video arcades. It's tacky, but it works. There are accommodations for the night, multiple stages, bars, and bathrooms.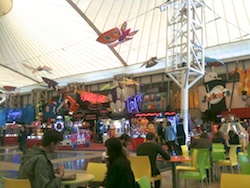 I sense that the musicians and fans find the resort environment amusing but meaningless. I don't think many of us connected with Butlins or the surrounding town. The gig, of course, is about music—not placemaking.
Do our gathering places always need to feel meaningful or beloved? Not necessarily. But it happens to be what I look for. I want to care about the places where I live, work, and visit. It leads to other good things, I think.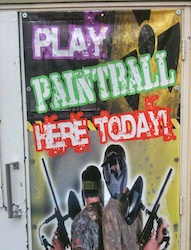 My version of Butlins Holiday Center might have included a local history museum. And a mini-library with a picture books on British amusement parks and recreation through the years. I need something to take the edge off this cheap, repetitive commercialism.
Bravo to the festival's "Book Club" which encouraged people to gather between shows to discuss books like John Cage's Silence. And bravo to the curator of the festival for hijacking the TVs in our rooms so they all streamed a mix of eclectic music documentaries. Although not about the local place, those efforts pointed in a general direction I like, which is a culture of learning.
Still, there's a part of me yearning for a more significant effort to roll back the garbage which makes so many places meaningless—for example, the row of food chains where I'm sitting to write this post (free wifi). It's early morning, and the departing fans are streaming past me, backpacks on, towards the parking lot. Last night they gazed intently at us on stage. Now they look right through me under the colorful burger signs. They've already moved on from this place.