The cubes are cleaned up and ready to go. Resource efficient, we used a light rain shower to remove the winter dust. A downspout, sponge, and a towel is all you need to clean a Uni.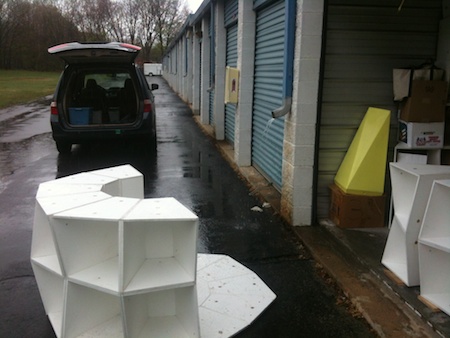 The Uni will come out on Saturday, April 28, 2012, from 11am – 2pm, at Sara D. Roosevelt Park on the Lower East Side (Broome St b/w Forsyth and Chrystie) in New York City. We'll be there as part of a kid-oriented "Read-A- Palooza" festival sponsored by early education and literacy organization, Jumpstart. Lots of books to read and fun activities. Join us.
Please note that our Boston office address has changed. A larger transition is also underway which will eventually relocate our base of operation from Boston to New York, while continuing to do work in both cities. Stay tuned.