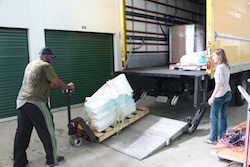 A new Uni is en route to Almaty, Kazakhstan via air cargo. This Uni will be used to create a roving, outdoor reading room in Almaty's parks and plazas through a collaboration between the U.S. Embassy in Almaty and a local children's library. Thank you Bill Middleton, Information Resource Officer for Central Asia and Pakistan at the U.S. Consulate Almaty for being a steadfast partner over many months as we worked together to reach this milestone.
We're proud that our team has designed, built, and exported a tool for doing good in public space abroad. Starting 96 hours from now, we shift gears, and our program staff will be on-call via video conference to support librarians working eleven time zones away as they launch their new Uni. A message to our colleagues in Almaty: your US-based team will be working as hard as if we were next to you in the street in Kazakhstan. There's a new clock on the office wall set to Almaty time. We're excited to help make your new Uni a success.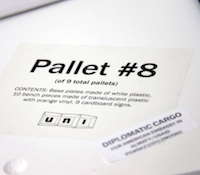 In future posts, we'll have more to say about HY Architecture's terrific new design and Bill Bancroft's outstanding fabrication work. But for now, here are a few images of the last 48 hours packing and shipping. Thank you Bill, John, and Travis at Bill Bancroft Furniture. Thank you David Costanza, Kelly Shaw, Sung Woo Jang, Max Wong , Joanna Rodriguez-Noyola of HY Architecture. Cheers.