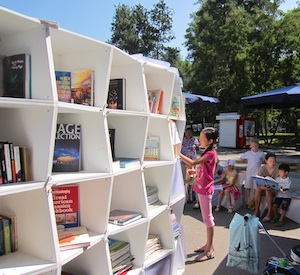 On July 5, a new Uni went into service in Almaty, Kazakhstan. We never expected the Uni Project to go so far, so fast, and we're thrilled that our kit of cubes, benches, and covers shipped out safely, and is now a roving, outdoor reading room in Panfilov Park, a busy place in the center of Almaty. The Uni will be open and operating in the park every day for two weeks; then it will begin moving to a new site in the city every week through mid-September.
The Uni in Almaty is a collaboration between the US Consulate in Almaty and the Children's Library of Almaty. It is staffed by a team of Kazakhstani students, who have participated in US government-funded exchange programs for study abroad in the US. Their work is being supervised by experienced librarians from the Children's Library. The Uni's collection of over 500 books in Russian, English and Kazakh comes from the Children's Library's own shelves, and from donations by the US Consulate.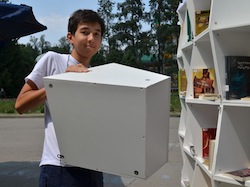 How did this come about? Last fall, during our Kickstarter campaign, we were contacted by Bill Middleton, a foreign service librarian with the U.S. Department of State, who serves as Information Resource Officer for Central Asia. He was taken by the Uni Project and was eager to try it in Almaty, where public spaces are heavily used in summer after bitter-cold winters. Like us, he saw the Uni as a way to promote reading, highlight the role local libraries, and give people a place and a reason to gather around books and learning.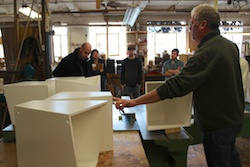 In order to create a Uni that could be shipped abroad and run by others, we worked with Höweler + Yoon Architecture on an updated design. Then we brought on Massachusetts-based fabricator and furniture-maker Bill Bancroft, who made and packed the cubes for shipping. At the same time, Beartown a fabrication company in Corning, New York, made the lightweight benches and covers.
Here are photos just in from the first few days of Uni Almaty. Stay tuned for more as the Uni in Almaty begins to roam.
---
Uni Almaty Day 1:
---
Uni Almaty Day 2:
---
Video of Uni Almaty from Kazakh Radio: