Now that the Uni office is up and running after a week-long blackout, we're ready to put the Uni into service for other New Yorkers hit by the storm. The Uni was not created primarily for disaster relief and rebuilding, but it sure was built to be ready for it. Here's our plan:
On Saturday, we'll go to Queens to participate in a storm relief event. And on Sunday, we'll head to Red Hook, Brooklyn, to serve a waterfront community that's struggling after massive flooding. Yesterday, the New York City Housing Authority confirmed that a majority of Red Hook's public housing residents were still without heat, water, and electricity.
We'll deploy in Red Hook alongside a field hospital, a food truck, and other mobile solutions for residents which are staged in Coffey Park. We're going in partnership with the Brooklyn Public Library—BPL staff did the advance work for our visit as part of their own efforts to serve Red Hook, which included a recent opening of branches as warming stations.
We'll be at Coffey Park from 12PM-4PM, and the weather looks to be sunny, clear, and even warm. A good day to step outside and experience a library. See you there!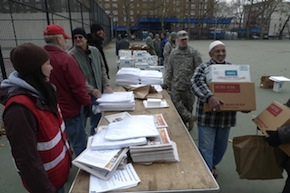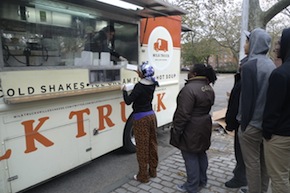 ---
Photos: DNAinfo.com
Update: Educator/mathematician Robert Berkman, who created a math cube for Uni will join us in person on Sunday in Red Hook. Thanks Robert!