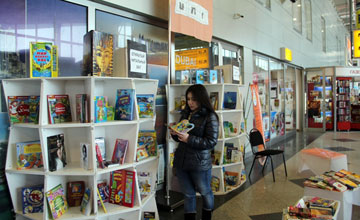 The team behind the Uni in Almaty has done it again. Unwilling to close the portable reading room during the bitter cold Kazakh winter, they deployed in a popular shopping mall and now the Almaty International Airport.
This photo from a Uni Almaty has done great work abroad, and it has also served as a model for the Uni Project as we expand our work here in NYC to help other organizations develop and operate pop-up installations around books and learning.
One of the inspirations for the original Uni was the Airport Library at Schiphol Amsterdam Airport, an initiative of the Dutch public libraries. So I'm heading over to Twitter right now, to let @airprtlibrarian know that we've followed in her footsteps!
---
Almaty International Airport has launched a project of the U.S. Consulate General "Mobile Library Uni" (translation via Google Translate.)
LONDON. March 12. KAZINFORM – The U.S. Consulate General in Almaty and the State Children's Library  S. Begalina announce the launch of the "Mobile Library Uni" at the international airport south of the capital. Almaty Airport is the second place after the shopping center this year MEGA project Uni, which was originally launched in the summer and covered seven public places in Almaty.
Uni – is traveling public reading room, which has more than 500 books, from children's books and encyclopedias to world famous novels in Kazakh, Russian and English. Mobile library books in the library were transferred to them. S.Begalina consulate general and the U.S. in Almaty. The purpose of the project – to attract readers, especially the younger generation and to increase their interest in books and reading in public.
"We were pleased with the success of the project Uni last summer in Almaty, so we continue the project this year. Uni mobile library is very easy to construct and move, and through this project we promote education and reading in public places throughout the city during the year ", – said the Consul General Michael Snowden.
Uni mobile library open to the public from 11 to 15 March, from 9:00 to 18:00 at the Almaty airport, on the second floor. This will allow passengers awaiting their flight, enjoy reading books.
Project Uni, developed in the U.S. non-profit organization Street Lab, Inc., Aims to temporarily transform the space available in the city in a public reading room, emphasizing the importance of books in their daily lives and their availability. Students at the Massachusetts Institute of Technology have been part of the team that developed the Uni to create mobile libraries with open shelves that can be easily assembled and disassembled. Almaty is the first city in the world outside the United States, where the project Uni will be a long time. It was first launched in the summer of 2012, and quickly attracted the interest of the public, becoming more and more popular among young readers.