Big week ahead for the Uni Project: Uni cubes arriving in Seattle, on Governors Island, and in three different NYC neighborhoods in just five days.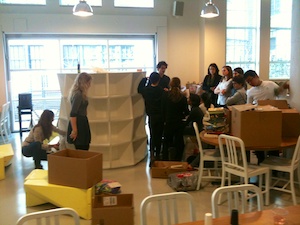 I want to highlight something special happening in the middle of all that: On Wednesday and Saturday, the Uni will land in the Manhattan neighborhood of Chelsea as the result of an inspired effort led by middle and high school students at here.
For both of these deployments, the students have forged new partnerships among local schools and community members and also created some wonderful new cubes to share with the public. Their work is paving the way for more partnerships between the Uni and students across New York City.
I've had the honor to meet with some of the students along the way, and I'm excited that we'll be working side by side in the Uni this week. Eighth grade student leaders Alma, Sabrina, Gianna, and Dominique deserve special credit for their persistence and creativity in managing the project. Looking ahead, we're excited that Avenues will be working with the Uni Project to continue developing a student-led model for local community building—this is an area of great promise for students and the city as well.
Thanks to Ivan Cestero, Avenues Community Engagement Director and 9th Grade History Teacher for leading this effort in what is only Avenues' first year of existence. Thanks also to these wonderful community members for contributing content, providing contacts, and helping bring the Uni to Chelsea:
Lesley Doyel, longtime resident and teacher of an afterschool class called Hands On History: Chelsea Then and Now at PS11.
Bob Arnold, known as "Ranger Bob" of Park Chelsea