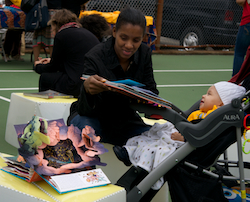 On Thursday, June 6, the Uni went to Bedford-Stuyvesant, Brooklyn, to create a reading room on an outdoor tennis court at the Seventh Annual "Discover Your Neighborhood Resource and Safety Expo" organized by the Bedford-Stuyvesant Youth, Education and Safety Task Force. Hundreds of Bed Stuy residents came out, and there was a home-grown food court, a health pavilion, and farmers' market. The Uni was right at home in Bed Stuy, a venerable neighborhood where you'll meet people who believe deeply in community. Leslie talked with a photographer who said the Uni made him recall the bookmobile that visited his town in Barbados as a child.
Here's what organizer Brenda Fryson said beautifully about the Uni:
"UNI was a star in our Children's Village. I know you touched some lives, and that is the critical intent of the Expo….to bring services to our neighbors, and to let them see that they can navigate systems and access the help that they need. If you looked at the reading scores in District 16 (one of our target areas for this event), you will see how vital it is to bring back the sheer love of reading for both children and parents. The UNI Project helped, and I wish I could somehow lift up the importance of the first four words of this sentence. It is all about the help."
Thanks to Amelia Carver who is joining us this summer from MIT, and Peter Zweifel our Uni installer from Parsons. The Uni will be back in Bed Stuy, no doubt.