The Uni Project aims to have an outstanding collection of books for New Yorkers to encounter and read on the street. Independent bookstores know books, and they know New Yorkers, and we're enlisting their help.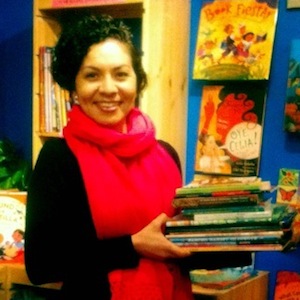 I first heard about Aurora Anaya-Cerda and her amazing bookstore La Casa Azul from Alexandra Maria Garcia, an early Uni volunteer. I had the opportunity to meet Aurora and visit La Casa Azul in 2012 at an educators' open house. Sitting in the bookstore's brightly colored lower level that also serves as a community space, eating sweets made by Aurora's mother, we learned about how Aurora raised funds to open La Casa Azul through a crowdfunding campaign on Indiegogo (for which she was just honored as a Crowdfunding "Champion of Change" by the White House). We discussed the need for culturally relevant books and Aurora's vision for a bookstore that can contribute to communities. La Casa Azul is East Harlem's only independent bookstore, and the only bookstore in New York that features art and writing by Latino writers.
We're happy to announce that The Uni Project has purchased books to create a wonderful cube curated by La Casa Azul, using funds from our National Book Foundation Innovations in Reading Prize. Using the prize money in this way seems just right!
La Casa Azul will also join us at two of our deployments in East Harlem coming up this summer. Special thanks to Amelia Carver, who visited the store on behalf of the uni to purchase the books and snap these photos: