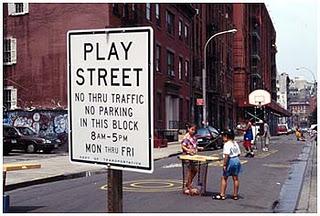 Gather together, play together, read together: the Uni is going to Play Streets!
Play Streets are an old tradition in New York City. They are exactly what they sound like—streets closed off to traffic to allow for safe play. Play streets are currently growing in NYC, driven in part by support from the city and organizers who see them as an opportunity for much more than just play. "Play Streets offer a safe place for children who are not able to attend a summer program,"  says Lonnie Hardy, a Play Street organizer in Morrisania, Bronx.
This July and August, thanks to a partnership with Transportation Alternatives, we'll deploy the Uni ten times to Play Streets across the city. Some of these play streets have been going for decades and others are just getting started. Some include farmers' markets and some have basketball. We are excited to add books and learning to the mix, and see what happens.
Locations are in West Harlem (Manhattan), East Harlem (Manhattan), Morrisania (Bronx), East New York (Brooklyn) and Jamaica (Queens). Detailed schedule here.