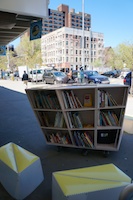 Today, we began a week-long residency on the Lower East Side, transforming a stretch of sidewalk into an outdoor reading room on a beautiful sunny day. Walking by the Uni, one teen was overhead to remark to his headphone-wearing friends, "Books!"
The Uni quickly became a new neighborhood gathering spot. The first visitor was Traffic Officer Bill, who enjoyed the wildly-popular photo book "Humans of New York," noting that he deals with these people every day. Bill once worked as a typesetter, and he told Leslie how he loves reading aloud with his grandson.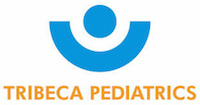 Our sponsor for the week is Tribeca Pediatrics, a practice serving 17 neighborhoods around the city, including this one at 409 Grand St. Our host is the 50+ year-old Seward Park Coop, which is helping us store our reading room kit overnight.
We'll update during the week. Join us and celebrate national screen-free week!