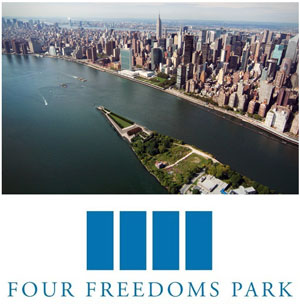 By now we've set up Uni reading rooms on sidewalks, streets, plazas, and parks across New York City. Most of the time, our challenge is to create an oasis—a place to pause, reflect and engage the mind—in what is otherwise a dense environment designed for quick transactions and constant motion.
On May 10th and 11th, the Uni Project was called upon to do something slightly different: create an open-air reading room for FDR Four Freedoms Park, the memorial to President Franklin D. Roosevelt. This stunning park on the southern tip of Roosevelt Island is an oasis itself, drawing New Yorkers and visitors from around the world to reflect upon FDR and his famous 1941 "Four Freedoms" speech, while offering a vista of the city across the water. In this special place, we were asked to offer a reading room that matched the contemplative environment and respected the memorial's architectural design by Louis Kahn.
The Uni reading room worked beautifully on all fronts. We drew on parts of our collection suited for the moment, including books on New York history and the waterfront. And we provided a place of repose mid-way down the processional walkway leading to the dramatic bust of FDR and his words engraved in stone.
Thanks to volunteers Stephanie Yee, Emily Jacobson, and Tori Kuhr. Thanks also to Diana Narvaez and boys from George Jackson Academy, who joined us on the island. And special thanks to our host, the Four Freedoms Park Conservancy, for inviting us—we're excited to keep working together.