Truth be told, Sam and I, who founded and run the Uni, are in our forties. And most of our wonderful volunteers are over the age of 25. Yet many of our patrons are kids under 10.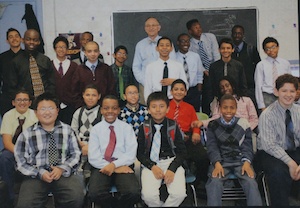 Last week's deployments on the Lower East Side and at Four Freedoms Park marked the start of a wonderful new relationship that will help bridge that age gap and introduce some new faces helping out at Uni reading rooms this summer. George Jackson Academy (GJA) is an independent, needs-blind middle school for bright boys from low-income families. Located in the East Village, GJA serves boys hailing from across the city. This summer, GJA boys will volunteer at Uni reading rooms, reading aloud some of their own work, and reading aloud to other kids in neighborhoods across New York.
GJA boys have already made an impact—they helped us come up with a simple way to get patrons interested in our collection: mini-book reviews written on the spot and posted on the sides of our cart.
The Uni Project and GJA were brought together by The Project for the Advancement of Our Common Humanity (PACH), which is sponsoring some of our reading rooms this season. PACH sees something special in the Uni Project: an opportunity to get young New Yorkers turned on to books, of course, but also an opportunity to allow New Yorkers from all walks of life to connect with each other in public space, pausing to browse, read, and even strike up a conversation.
Next week, you can join us on the street with boys from George Jackson as they read aloud some of their own work in Tompkins Square Park and Washington Square Park. Details and schedule here. We're excited to see what we can accomplish for New York City working with these boys and with PACH.
(Class photo credit: Niobe Way, co-founder PACH and Prof. of Applied Psychology, NYU.)