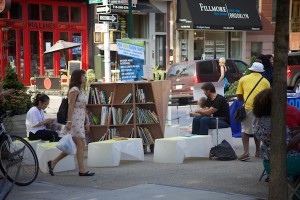 September 5 marked the end of a run of monthly Uni reading rooms at two busy plazas in Brooklyn. Starting in April, we began popping-up at Putnam Triangle Plaza in Clinton Hill, and then at Fowler Square Plaza in Fort Greene, as part of a series of community events called FAB Fridays, created by the Fulton Area Business Alliance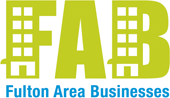 We'd been to both plazas with FAB (Clinton Hill and Ft Greene) back in 2013. This year, our participation was also made possible by a grant from Tribeca Pediatrics' We Care for Your Kids Foundation.

We started each event off by ourselves, staking out a place for people to gather around books. Later in the evening, other organizations and FAB Alliance staff joined us, offering all manner of activities— croquet, hula hoops, art, music, and more.
These plazas will shortly undergo permanent upgrades, and we're eager to see what impact our reading rooms have on future use and infrastructure design. Thanks to Phillip Kellogg and the terrific staff of FAB Alliance for this ongoing partnership. (Click on each photo below to see gallery from each day.)
September 5, 2014
August 8, 2014
July 11, 2014
June 13, 2014
April 25, 2014