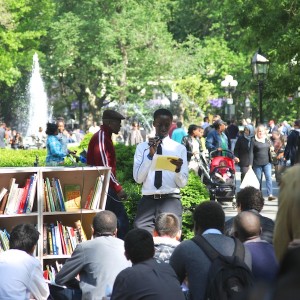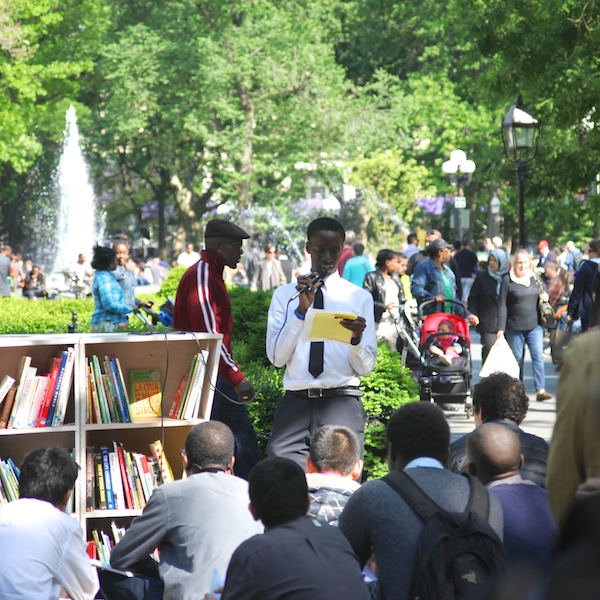 The Uni is about more than books—it's about creating a place where people can gather around books. When we roll out the reading room, people start to acknowledge each other, connect. Sometimes they even read poetry out loud. You don't see many headphones in the Uni.
For three days in May, the Uni created open-air reading rooms in Tompkins Square Park and Washington Square Park. For decades, both places played an important role in the history of ideas and expression in the city, and we were proud to keep the flame alive in our small way.
And these parks did not disappoint. People were welcoming, even chatty. A woman shared her life story when she found a book about her neighborhood. A chance comment about the Department of Sanitation's magazine ("Sweep") inspired a Uni patron to reveal herself to be the 1980s producer of public art by the Department of Sanitation's artist-in-residence Mierle Ukeles. The book Humans of New York was enormously popular, and it was discovered to feature a boy who was visiting the Uni. Take away the Uni, and these conversations and discoveries disappear too.

In both parks, we worked with boys from volunteered in our reading rooms across the city this summer.
Below are links to photo galleries. Thanks to everyone. I'd love to see a portable reading room that roamed East, West, and Greenwich Village all year. Keep things happening.
May 27 Tompkins Square Park
May 28 Washington Square Park
May 29 Tompkins Square Park