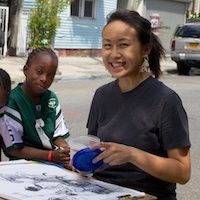 This summer, illustrator and Parsons student Tiffany Lin was our artist-in-residence.
We first met Tiffany as part of a class that created handmade books for the Uni on Governors' Island. Tiffany made a scrolling book called LOOK UP! that told the story of a girl trying to get the attention of her cell phone-addicted parents. That got our attention.
We decided to ask Tiffany to try something new: describe the impact of our work at NYC play streets through sketches, like a courtroom artist. We set her up with a board, and she began drawing what she saw at our pop-up reading rooms. The kids loved hanging around, watching her work. They told her what to draw, asked her questions, cracked a few jokes. Then, as kids will do if you simply give them time and space, they asked to try drawing. And Tiffany let them draw.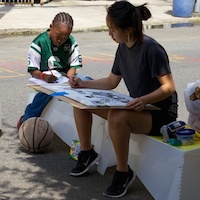 This is the moment I care about: when a kid sees something interesting—say a comic book, microscope, or charcoal—and he gets the urge to read, use, or try it himself. Folks, this is what the Uni is about. This is our "curriculum" and there is only one test: will a kid pick up a book or activity with a sense of curiosity and feeling of independence that lets him own the act of learning.
We're teaching kids to fish here.
Tiffany's work is skillfully executed, delightful, and full of expression—see for yourself below. And the way she connected with kids at play streets was beautiful. We're lucky to have her on our team. Respect.