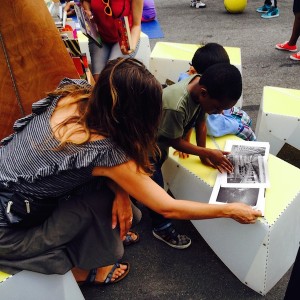 This summer, we created regular pop-up reading rooms at six different play streets in Harlem, the Bronx, and Brooklyn.
Play streets are just what they sound like—streets closed to traffic so kids can play and get physical exercise. In NYC, the Uni Project is adding reading and learning to the mix. Learn more about our effort here.
Sam and I were at most of our play street deployments this summer, helping run the Uni and evaluating our impact. What sticks in my mind most are specific kids and conversations. It was a gift to be able to hang out with these kids outside in the middle of neighborhoods, reading books, and hearing what they have to say. Maybe it's just because I'm getting older, but I see so much potential in these young New Yorkers. I want the Uni to give them a chance to indulge their curiosity and engage in learning with no expectations, no requirements, no tests. I want them to own their own learning, even just for a moment.
Thank you to our librarians/site managers, Rasheed Lucas and Leigh Hurwitz. Thanks to Tiffany Lin, our first artist-in-residence! Thanks to Alyssa Pintar, for interviewing kids. Thank you to all our volunteers, especially Constance Vidor, Nadine Hibbert, and 7th graders from George Jackson Academy. And thanks to our play street partners, Harvest Home and Lonnie Hardy of Caldwell Programs, and their outstanding teen staff.
Here are a few quotes from our interviews:
"I realized I like war books. Like, things that have to do with the past. I'm really interested in that." — Girl, 15
"[Being here] just makes me feel comfortable—like I'm reading, like I'm a beautiful person." – Shayla, 7
"Are you bringing out the Uni library today? Yes? Booyah!" – Ivan, 10
Booyah! We've got big plans for 2015 play streets. If you want to get involved, especially if you are an educator, let's talk.
—Leslie
---
Uni Reading Room, East Harlem Play Street, 2014
Uni Reading Room, West Harlem Play Street, 2014
Uni Reading Room, Jennings Play Street, Bronx, 2014
Uni Reading Room, Rivera Ave Play Street, Bronx, 2014
Uni Reading Room, Irving Play Street, Bronx, 2014
Uni Reading Room, Forest Ave Play Street, Bronx, 2014