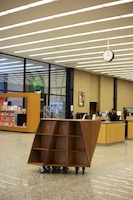 Leslie and I are excited for the DC Public Library. They have ambitious plans across the city, including transformation of their Mies-designed MLK branch into a vibrant hub of community and downtown culture. And, as of last Friday, they also have a Uni portable reading room.
DCPL's Executive Director Rich Reyes-Gavilan has been a friend and partner for some years. When he heard about our new design direction (a kit that unfolds from a rock stage case), he asked to be first in line. This winter, we've been working hard to create something to make the city of DC proud. Photos below tell part of the story.
Thank you to HY Architecture and Bill Bancroft Furniture for taking our cart from idea to reality. Thank you to the terrific staff at DCPL letting us play a role in your adventures on the streets of DC. We salute your library, and we'll be there during the journey ahead. Respect!