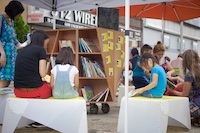 Four times in the summer of 2015, the Uni Project created an open-air reading room at Diversity Plaza in Jackson Heights, Queens. During two of these visits, we also turned the plaza into an open-air drawing studio with our new DRAW cart and artists-in-residence.
The Uni is at its best with strong community partners on the ground. Diversity Plaza and Jackson Heights provided exactly that—thank you to everyone who helped make 2015 a success. Four photo galleries below, and we're excited to return next year!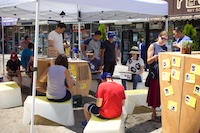 The Uni at Diversity Plaza was made possible by funds granted by the Charles H. Revson Foundation through the Aritsts-in-Residence Genevieve Irwin and Susan Coyne. Special thanks to Eirik Gislason for offering local storage.
An article at Project for Public Space about the challenge of making Diversity Plaza more welcoming to women and families.

An article in the Jackson Heights Post about the Uni on the plaza.[hr]
July 11, 2015
July 18, 2015
July 25, 2015
August 1, 2015