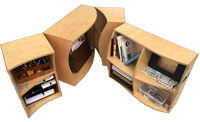 DRAW NYC is our new effort to let people gather in public and draw. Implemented on the same circuit as our open-air reading rooms, we're offering people access to high-quality art materials and opportunities to draw in public space across New York City. Burning Man has funded a custom-designed cart, Blick Art has provided materials, and a growing roster of artists are contributing prompts and serving as artists-in-residence.
To show you how it works, we're taking over a storefront for two days so you can stop by and:
Explore our new carts.
Try drawing challenges created by authors, illustrators and artists.
See drawings created by New Yorkers during our 2015 pilot run.
Meet Uni Project founders and staff.
Draw!

Monday, Oct 19, 1-8pm, and Tuesday Oct 20, 1-6pm.
103 Allen St (Google map)
Southwest corner of Delancey and Allen. Near BD, F, JZ subways.
Pop-up storefront made possible by miLES.
See you on the LES!