Dear Friends of the Uni,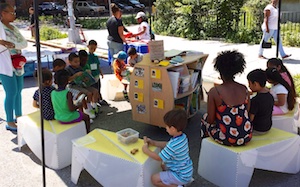 We're signing off for 2015 with a request: please consider a donation to the Uni Project! Your support will help bring our unique, open-air reading rooms to more New Yorkers. Our donors believe in the power of reading and learning to lift people up and bring us together. Small donations appreciated—we'll add your name to our traveling donor wall!
This year, with your help, we created nearly 100 reading rooms in all five boroughs of New York City for the first time. From midtown Manhattan to new public spaces in the Bronx, Queens, Brooklyn, and Staten Island, we offered New Yorkers a chance to gather around the act of learning on a kind of stage, for all to see and enjoy.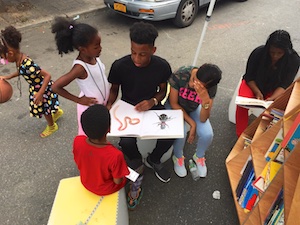 We also launched a new program called DRAW NYC that operates on the same circuit as our reading rooms, offering a way to gather around drawing. In 2016, SOLVE NYC will expand our model to math, problem solving, and spatial reasoning puzzles. This is our niche: bringing the act of learning to public space and making education an attractive, visible, enjoyable part of urban life.
New exciting partnerships are in the works for 2016. We believe that we're making a difference and making the city a better place for all.
Thank you for your support. See you on the street.

Leslie and Sam
The Uni Project
Donate to the Uni Project