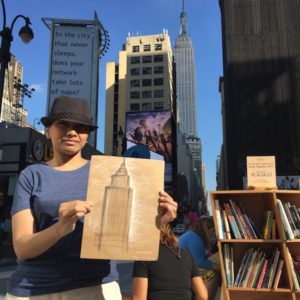 Leslie and I were stunned to learn that a new friend and fellow New Yorker passed away unexpectedly on Friday. May Tongnok was many things, including a dedicated volunteer at the Uni Project. We will miss her deeply.
May hailed from Nakhon Si Thammarat in Thailand, and she studied at SoA+D School of Architecture and Design. She recently moved to Queens and began volunteering with the Uni in 2015.
It says something about May that she joined Leslie and me at our final 2015 deployment on Halloween in Brownsville. The weather is always brisk at the end and start of the Uni season, so Leslie and I usually handle these outlier deployments alone. And then, May offered to join us at our first 2016 deployment, until Leslie insisted she stay home because the weather was so windy and cold. She relented, signing off "OK Leslie, see you next time!"
According to a friend, one of May's dreams was to work with the Uni in New York City after hearing about us from afar. Thinking of May, we'll keep trying to create something beautiful in New York, no matter how temporary or fleeting our moment on these streets may be.
Our 2016 season is dedicated to May Tongnok. Peace.