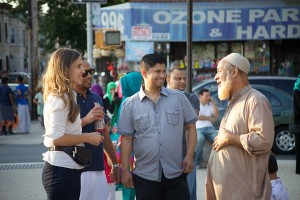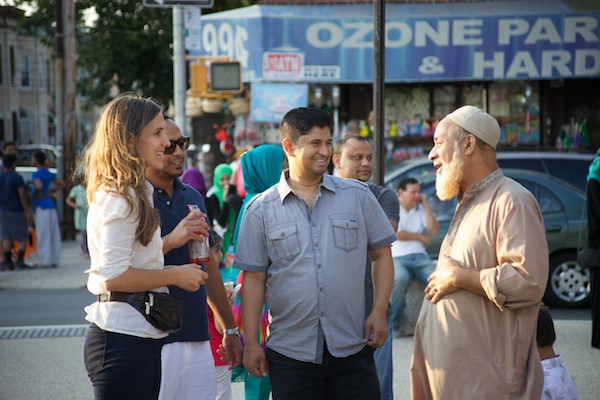 Recent events in Ozone Park have us thinking about the neighborhood. Here are photos of a beautiful evening on Liberty Ave in 2014 with our friends at Bangladeshi American Community Development and Youth Services Corporation. Taken from our original blog post here. [hr]
Uni returns to Ozone Park and creates evening reading room
August 7, 2014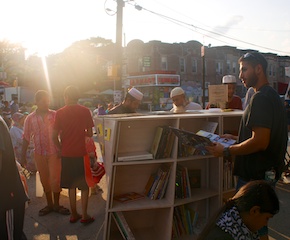 On Thursday, we returned to a plaza that straddles the border of Queens and Brooklyn to create an evening reading room with the Bangladeshi American Community Development and Youth Services Corporation. We augmented our collection with Bengali children's books curated by Kelley Hanahan from Queens Library at Ozone Park.
Our benches filled right up as families gathered. Several kids volunteered to wear a lanyard and help out, speaking Bengali and English, straightening our shelves, and showing other kids how to use the microscope. Parents told us how much they want books because the nearest library branches are far to walk. Civic leaders told us that free public events are rare in Ozone Park, and we quickly drew a crowd of curious onlookers.
As the sun set, the Uni seemed at home, sitting in the heart of this diverse crowd, silently offering up books. On older man ran his hand along the double-curved side panel, examining a subtle but extraordinary feature of the cart that many ignore. As we folded up the cart, I told him we were headed to the Bronx. He nodded and gave the closed Uni a little pat on top. Onward.
Thanks to new volunteer, Phillip Soler. Our participation was made possible by funds granted by the Charles H. Revson Foundation through the Neighborhood Plaza Partnership.