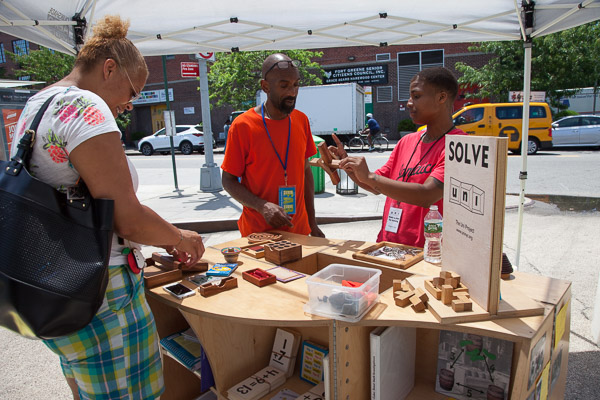 SOLVE NYC is a hands-on puzzle station, with unique, hand-made, and unusual puzzles of all kinds. Designed for New Yorkers of all ages and always free, elements include:
Tangrams and other puzzles that challenge people's math and spatial reasoning abilities;
printed cards with activities conceived by mathematicians, scientists, and other organizations;
puzzle books;
a custom-designed cart that stores, moves, and displays the collection (which can be closed and locked in place), and eight benches for seating;
staff to set up and run the program (one program staff member and one manager);
an option for other organizations to participate by adding special collections and activities.
Here's what happens: people see the puzzles on display and approach, drawn in by their curiosity. As they explore and attempt each puzzle, groups of people gather around and cheer them on. People love the experience of challenging themselves and engaging in something that is hands-on and non-digital. This program has been on the street since 2017.