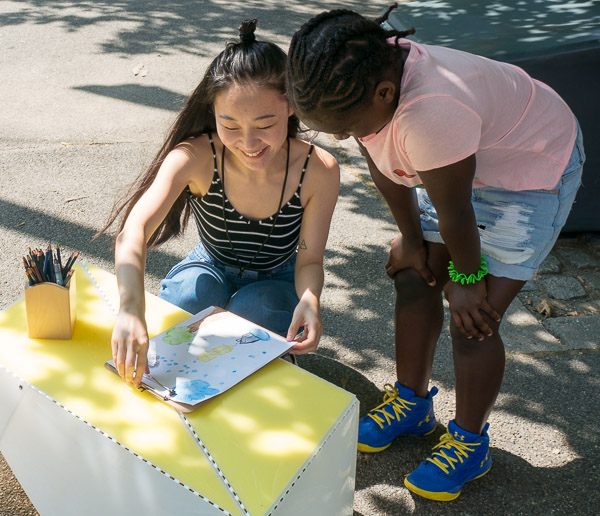 We have an Artist-in-Residence program here at Street Lab where we invite local artists to come on-site and inspire people participating in our DRAW program in parks, playgrounds, and other public spaces across NYC. This year we had the pleasure of hosting Luyi Wang, an illustrator based in New York who uses a wonderful collaging technique that taps into the childish imagination in all of us.
At each deployment, Luyi brought paper and glue sticks and sat down on the pavement to work. Participants loved her technique and were often inspired to sit alongside and start collaging themselves. Luyi says that her favorite moments at the Uni were when she could inspire others in this manner. "I feel like some moments could change something, maybe one moment could change someone's life." Although we bring artists like Luyi on-site to inspire young New Yorkers in particular, Luyi reminds us that children also inspire her by showing her "how they see the world."
Luyi was awarded a Silver Medal from the Society of Illustrators for a piece she completed while in residence with Street Lab in 2017—congratulations! Photos of Luyi with Street Lab in Harlem, the Lower East Side, and Corona, are below.
What Street Lab does is truly beautiful and meaningful because it changes a public space into a learning space.
-Luyi Wang, Artist in Residence