Homework Hub in Chinatown, supporting NYC Students
As part of our COVID response in 2020, we launched pop-up, open-air meeting places for NYC students called Homework Hubs. Thanks to support from the Paul and Phoebe Bock Activism Fund and individuals who made donations in Paul and Phoebe Bock's memory, we were able to bring this program to Chinatown this winter, using outdoor restaurant seating and heat lamps provided by Chinatown Partnership. Students and families could gather around learning, getting homework help, and trying a hand at our Street Marker program as well. Snacks from local businesses were provided to all.
We'll be back in 2021, stay tuned!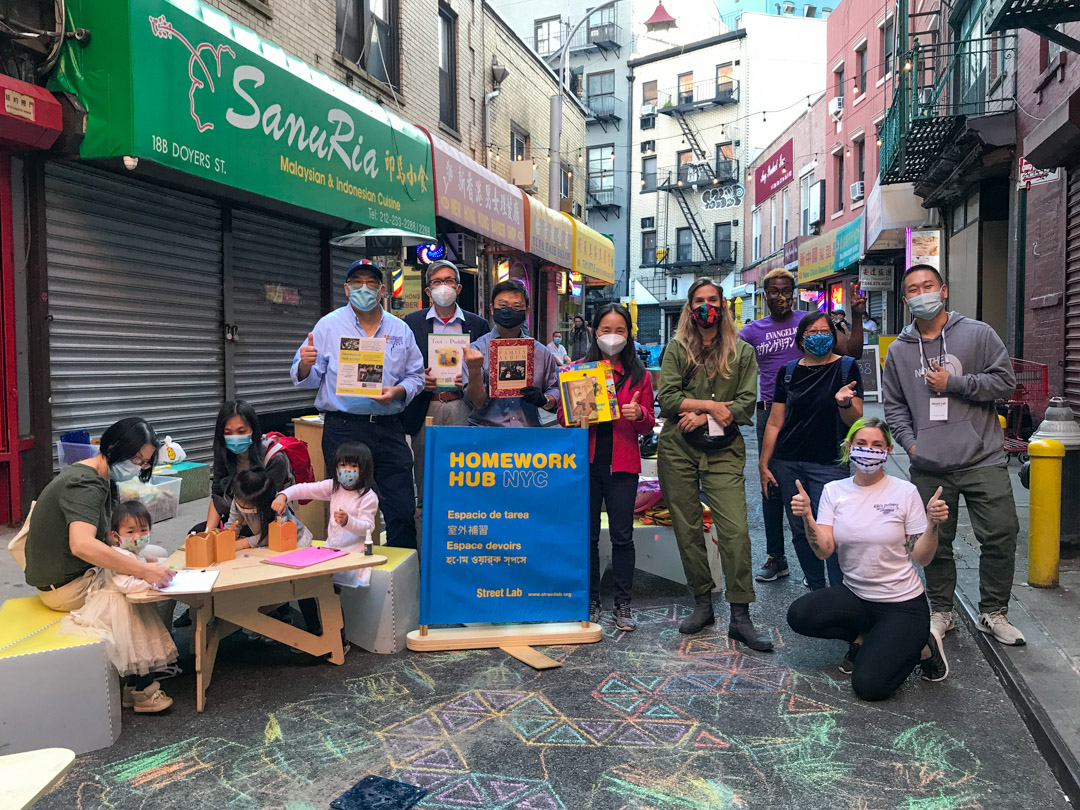 Made possible in Chinatown by:
Paul and Phoebe Bock Activism Fund

About Paul and Phoebe Bock:
Paul and Phoebe Bock grew up during the Depression, Paul in his family's Baltimore hand laundry and Phoebe in Honolulu, the youngest of 12 children. Fifth grade was an important year for both: Phoebe wore shoes for the first time when admitted to a "standard English" school, and Paul discovered the existence of libraries ­– which allowed him into a world beyond his neighborhood street gang.
Paul became a Navy pilot, an engineer, a research scientist, and a professor. After WWII, he and Phoebe married. Phoebe was the first Chinese American to teach in Baltimore public schools and developed a multiethnic curriculum as an English teacher in Connecticut.
Phoebe and Paul were social activists, protesting for civil rights and against wars and racism. In their 70s, they co-hosted a weekly radio show, "Breaking the Silence: the Asian American Forum." They were devoted to the Chinatown community, and they encouraged every child they met to Read, Draw, Build, and Explore, just as they did all their lives.