Street Lab Teens reflect on their summer experience
This summer, we launched a new program called Street Lab Teens. It offered ten New York City public high school students a chance to work with Street Lab and bring community-oriented programming to neighborhoods across the city. Please read on as Anaya and Ashly, (2021 Street Lab Teens) share their experience and some of their photos. (We added some lovely photos of them, too!) Thank you, Anaya, Ashly, and all our 2021 Street Lab Teens, for helping NYC neighborhoods bounce back this summer. We're excited to see where your futures take you. Keep in touch!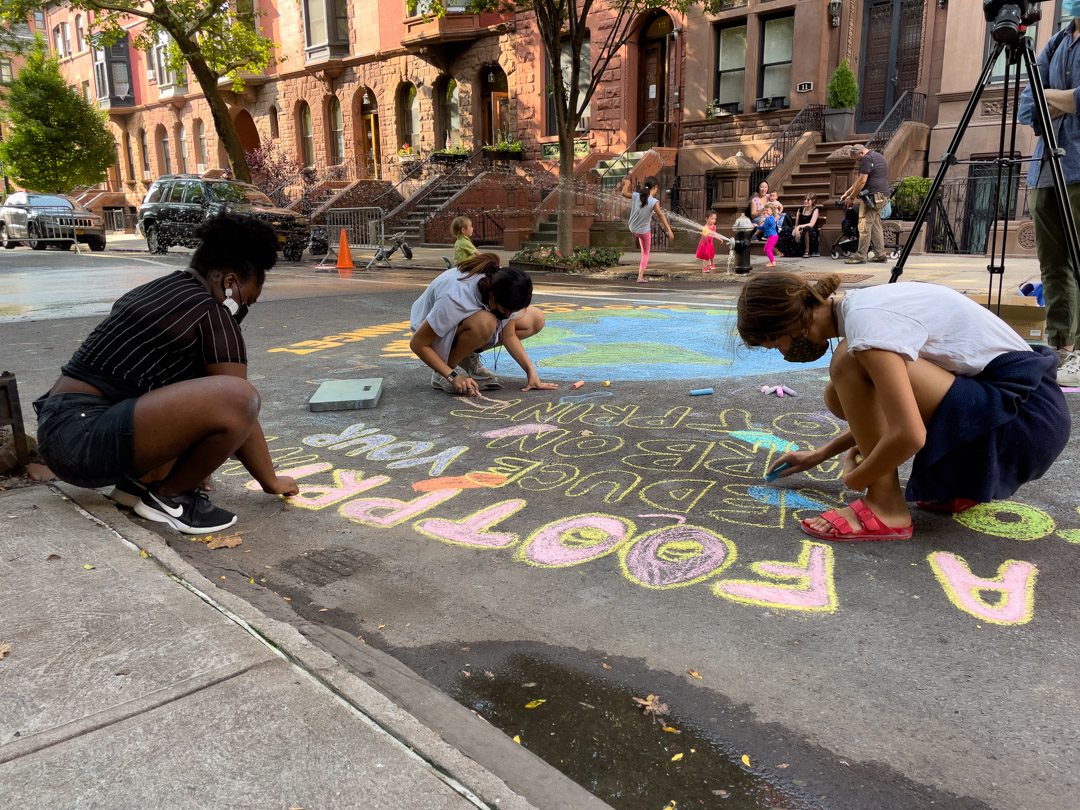 One of my favorite aspects of working with Street Lab was interacting with different communities and seeing kids and adults connect, which wasn't possible due to Covid. During my installations, I got to work alongside Ashly Lopez, and we created murals that were creative and spread a positive message. On West 120th Street in Harlem, Ashly and I drew eco-friendly drawings and statements to bring awareness about climate change. We used the circle-making tool to create the outline for an Earth. Underneath the Earth, we wrote the phrase, "System Change Not Climate Change." Adjacent to the Earth, we created an interactive activity titled, "Add a Footprint to Reduce Your Carbon Footprint." During this activity, people of all ages participated. I particularly enjoyed this because we got to bring activism to the streets in a friendly way. We also introduced the conflict of climate change to kids in an engaging and exciting way, which I found really special.
Collaborating with Anaya was amazing. I was able to get to know her well while working with Street Lab. So many people came by the space-themed mural we drew on Vanderbilt Avenue and some people even came twice to draw with chalk. Seeing people add to the drawing made me feel good.
Anaya and I were able to get along well while drawing, especially since we had similar ideas. If we didn't, we tried to combine our ideas. Working with Street Lab, I felt more creative and could figure out more of my creative side. By taking photos, I was able to capture how people felt when drawing in the streets and how not only children joined but also adults (and animals!). This was a fantastic experience, and I hope the people who joined us had a fantastic experience as well.