Street Lab Teens taking the lead on the street
Sixteen talented public high school students just wrapped up their work with us, closing a remarkable season of Street Lab Teens where they helped lead Street Lab activations across the city. They collaborated beautifully with each other and our community partners, inspiring us, and reinforcing our belief that the young people of New York City are a source of hope.
In 2022, we doubled the size of the Teen program and added a special focus—we asked the students to show how Open Streets, which temporarily close streets to cars, can be good for small businesses and residents alike. This year, Teens worked on four businesses corridors, forming bonds with each other, interviewing business owners on the block, and activating Open Streets with our Street Marker program. In Harlem, Teens spoke with the owners of Boulevard Bistro and sampled biscuits. In Bed Stuy, Teens spoke with the mother and daughter team behind Tumbleweed General Store. In Sunset Park, they talked with the owner of bar/café Judy's and store Tortillería La Malinche and learned about small business life on the 5th Ave corridor. In Woodside, Teens spoke with P'Noi, the owner of Thai Thai Grocery, turning her stories into chalk murals on the Open Street. The work of the Teens in Woodside became a precursor to a new Street Lab program called "Meet a Small Business," which is being rolled out in 2023 with support from NYC Small Business Services.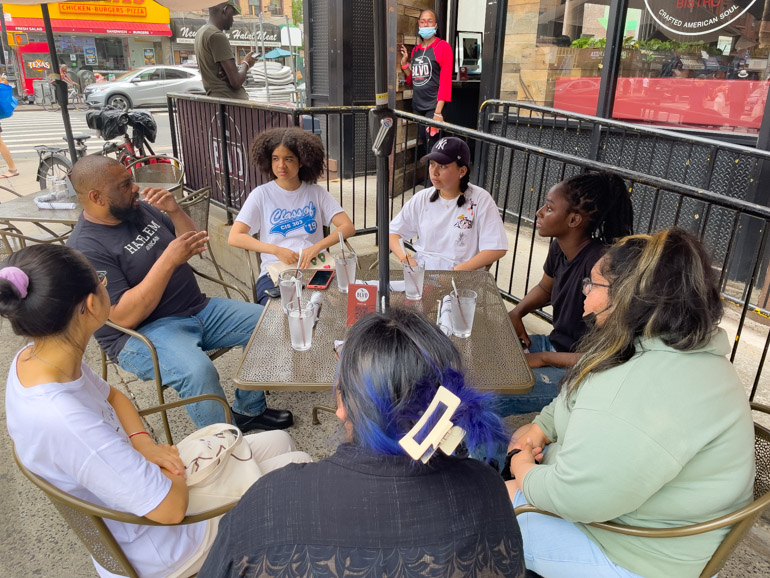 In the second half of the summer, Teens fanned out into more neighborhoods, creating dramatic chalk murals on Open Streets, and connecting with even more people on the street. They helped us support Fresh Air Fund summer camp programs on the street in Jackson Heights, and they helped us nurture a new Open Street in Kensington, creating murals alongside a performance by the Bangladeshi Institute of Performing Arts' Children Chorus. Teens told us that seeing these different parts of the city, and making connections outside of their own neighborhood was a highlight.
Thank you Aayan, Abbiegale, Ailisa, Annie, Bianca, Divine, Fanta, Hala, Hang, Laura, Lily, Mina, Mya, Sky, Valerie, and Yuke—we're excited to keep in touch and see where your paths lead, maybe even back to Street Lab! And thanks to our Street Lab Program Staff Jara, Elizabeth and Chris who mentored teens in the field, to Street Lab Program Designer Soledad Tejada who led the program, and to the J. M. Kaplan Fund and ABNY Foundation for their support of this program in 2022. Applications for 2023 will be posted in March next year!
At 120th St, I stopped to speak to a woman and her family for nearly an hour, teaching them to write on the typewriter while also finding connection in our background as Dominicans and our culture's conflicted relationship with our neighboring country. It wasn't the conversation I was expecting to have that day at all, but it was my favorite day on the job.
On one of my most recent shifts, a little boy walked up to me and asked me to help him draw some emojis so I taught him how to draw one in chalk and when he did it himself, he was surprised at how well it turned out. I'm so glad I was able to teach him something new and his reaction was just the best.
I learned how to interact with people genuinely instead of having shallow conversations. Also communicating with people that don't speak the same language as you but who have mutual passions.
One of my favorite memories is the children's choir that came to one of the deployments. It was really fun to watch them and I think other children enjoyed it as well.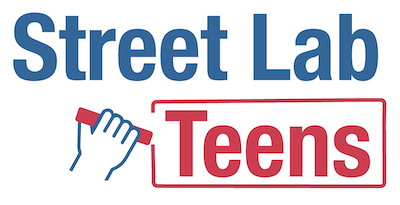 …[F]rom the beginning the togetherness aspect of the program was one I respected. I haven't seen neighborhoods brought together since I was young and with Covid only a year ago I felt like it was definitely good for the kids and their families. There are moments during most deployments where I think, "Wow, they are really enjoying this." When the kids thank the program, the staff, when the parents ask when it will happen again.
From this program, I've gotten to visit way more places than I would've been learning in a classroom at school. Being able to be a Street Lab Teen allowed me to view New York in a whole new light that I didn't see before. Without this program, I never would've been able to see as many parts of New York as I have now.