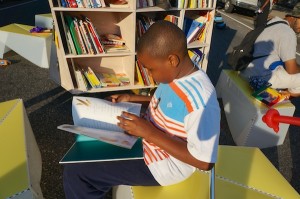 Three times in 2014, the Uni Project created an open-air reading room on Pitkin Avenue near Zion Triangle Plaza in Brownsville, Brooklyn, to help draw people out, meet each other, read together, and have fun. We'll return for a fourth and final visit on Halloween. Our host is Pitkin Avenue BID, a remarkable community organization that created a series of Summer Plaza events with open hydrants, live music, a climbing wall, concerts, and outdoor movies. Several of our visits extended into the evening in an effort to support families in a neighborhood that has struggled at times with violence on its streets.
Each visit, we partnered with the Brownsville Branch of the Brooklyn Public Library, displaying popular books from the BPL collection and other materials. At times, BPL outreach librarian Leigh Hurwitz (also a longtime Uni volunteer and site manager) joined us to sign up people up for library cards. Our participation was made possible in part by Penguin Random House and funds granted by the Charles H. Revson Foundation through the Neighborhood Plaza Partnership.
Below are photos from our Brownsville deployments in 2014. Leslie and I and our staff have been struck by the depth of conversations we've had with children and families at the Uni here. Brownsville is a strong community with smart kids who face tough challenges. Having a chance to create these reading rooms has been an honor. We'll be back in 2015.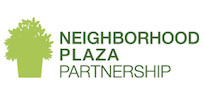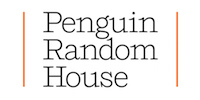 ---
June 27, 2014
June 22, 2014
June 15, 2014
Coming up: October 31, 2014