Drawing Comparisons—a photo-essay inspired by Helen Levitt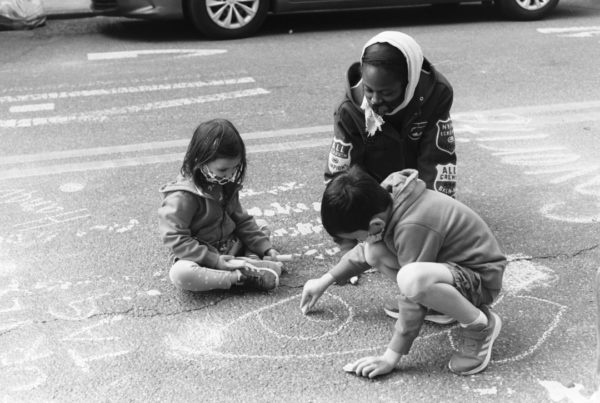 My favorite place in the Lower East Side is… – the boy eyed the chalk prompt written in the middle of Avenue B, "What about my favorite place to hang out with my friends? Can I write that?"
"Sure," I answered.
He dropped to his knees. S – T – S, he chalked carefully.
"What's that?" I asked.
"Sauer, Tompkins, Stuy Town."
New York City kids have long used chalk to reclaim space for art and play. Documented by street photographers – notably Helen Levitt – urban chalk drawing has been a source of creativity, community, and expression. A native New Yorker, Levitt frequented the Lower East Side, using her 35mm camera to capture the childhood gossip, jealousy and dreams she found scrawled across the landscape. "Olga stinks," the opening photo of Levitt's In the Street: Chalk Drawings and Messages, New York City, 1938-1948 reads. Further on, is a simple drawing of a circle with a dot in the middle and an instruction: "Button to Secret Passage – Press."
This May on Avenue B, as I watched kids doodle in the late afternoon sun, I couldn't help but feel amused and amazed by the similarities to the past I saw. Scrawled across the pavement were the products of today's kids wants and complaints: "HAMBURGERS + FRIES + KETCHUP" one drawing read. "Shool sucks," a hastily scrawled note protested. (I heard the boy ask his caretaker casually – "How do you spell school? But where does the C go?") Another child sat quietly, moving chalk across the pavement like a fingertip in the sand to make scattered smiley faces and houses with triangle roofs.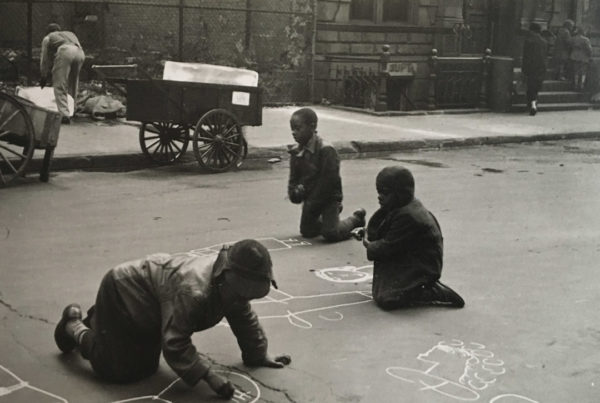 Levitt captured children claiming the street as canvas and playground in the 1940s, which is something we strive to make a place for again with Street Lab. With my camera in hand, my perspective zoomed in to the many individual moments happening up and down the street, and I was reminded of the power of play to bring about reflection. I watched as a young boy and his babysitter sat and drew under the prompt, When I was younger I played…. Dandy Shandy, she explained, was a game, kind of a cross between dodgeball and monkey in the middle, that she played when she was his age in Jamaica. As the boy listened, he worked on his own answer to the prompt. A scribble of red, a dot of green, and a couple of numbers. It took me a second to get it. Red light, green light, 1-2-3.
Street Lab's Program Designer Soledad Tejada wrote the essay above and captured the images below. On the left are photos by Helen Levitt taken from 1938 to 1948 of children's chalking across New York, and on the right are photos taken by Soledad this spring at the Avenue B Open Street, where Street Lab celebrated LES History Month with chalk prompts, a live jazz band and our PLAY obstacle course, in collaboration with FAB NYC and the Loisaida Open Streets Community Coalition, with support from Con Edison. Street Lab cultural programs like our Street Marker program are supported citywide by public funds from the New York City Department of Cultural Affairs in partnership with the City Council.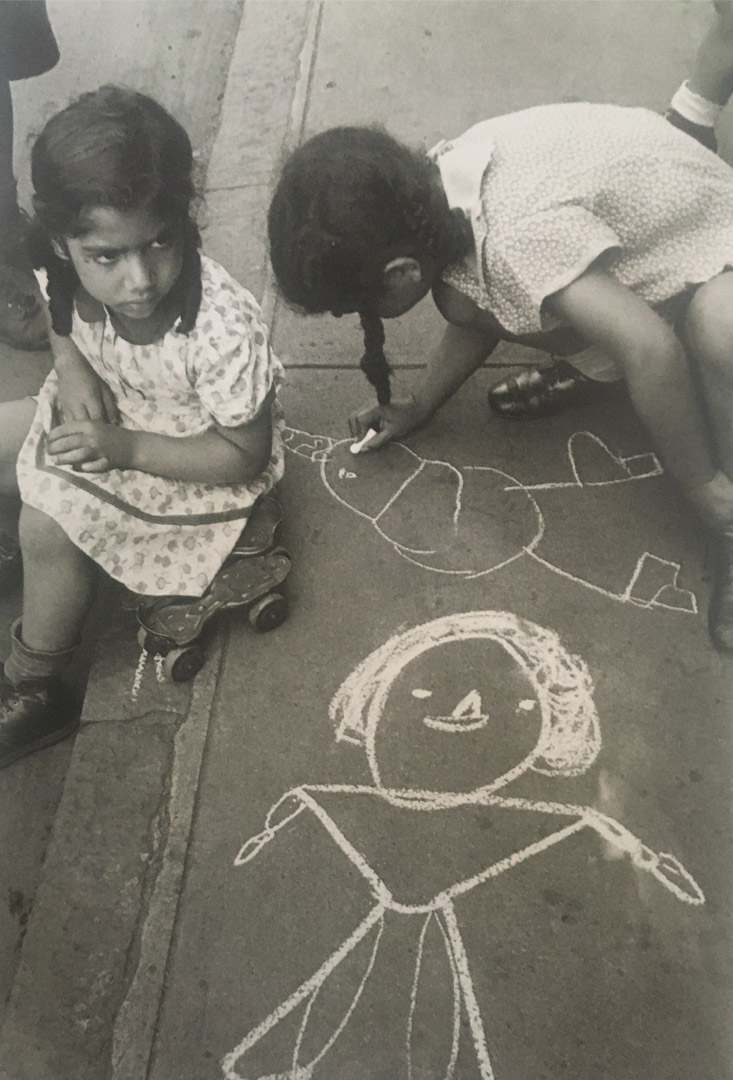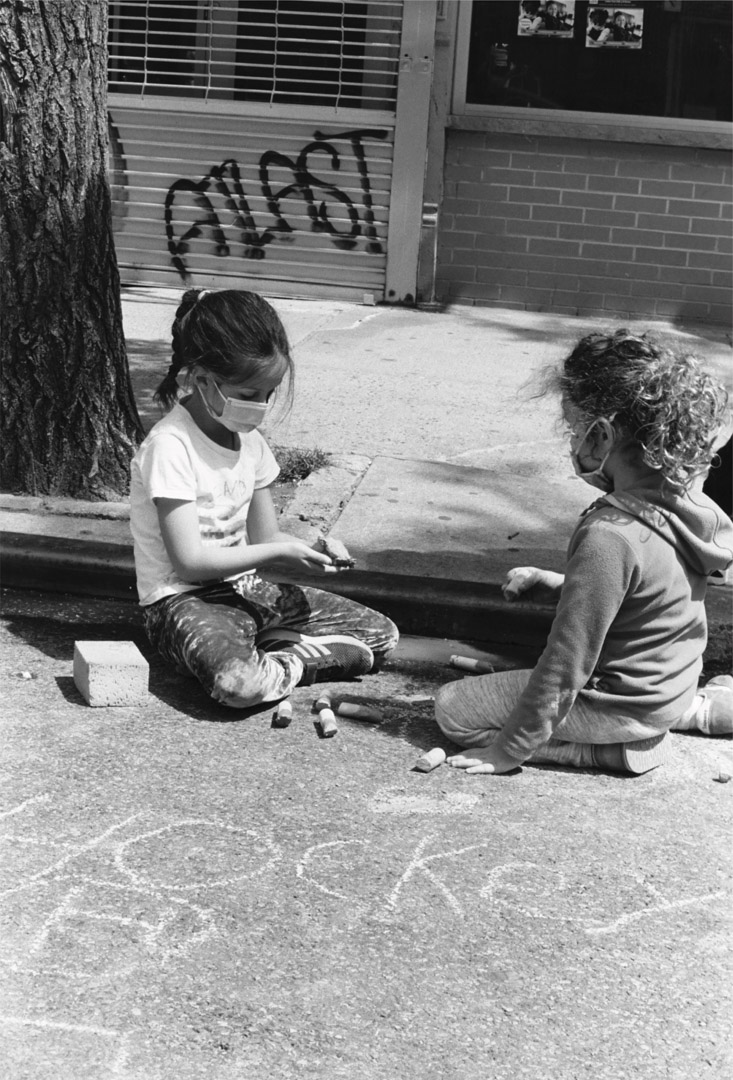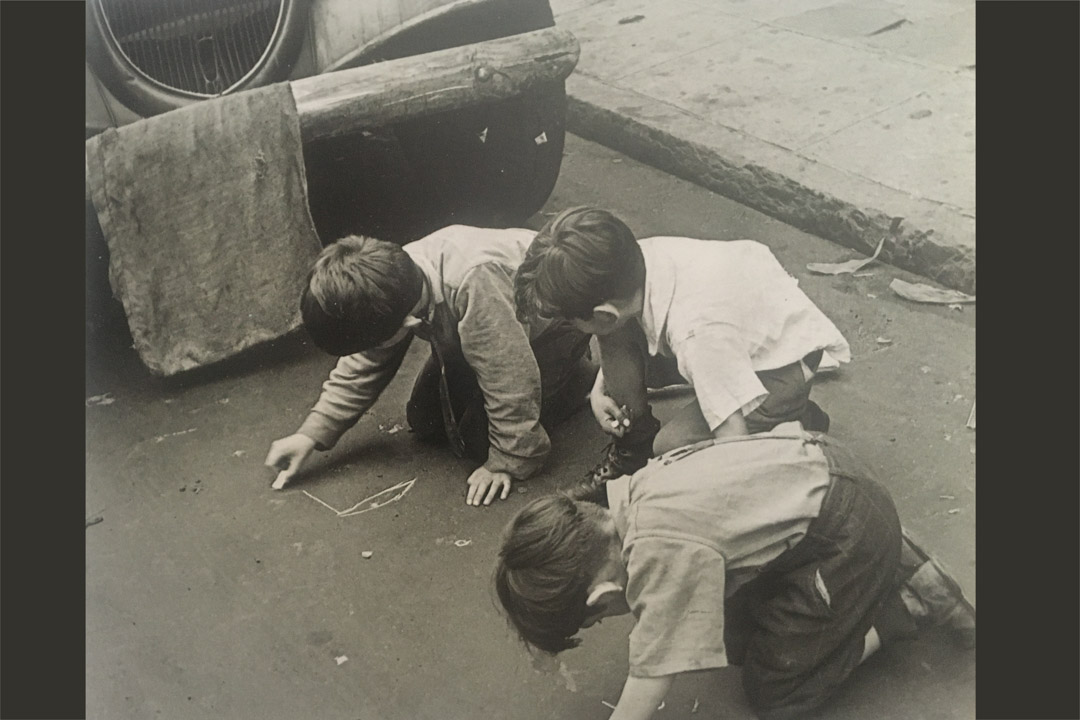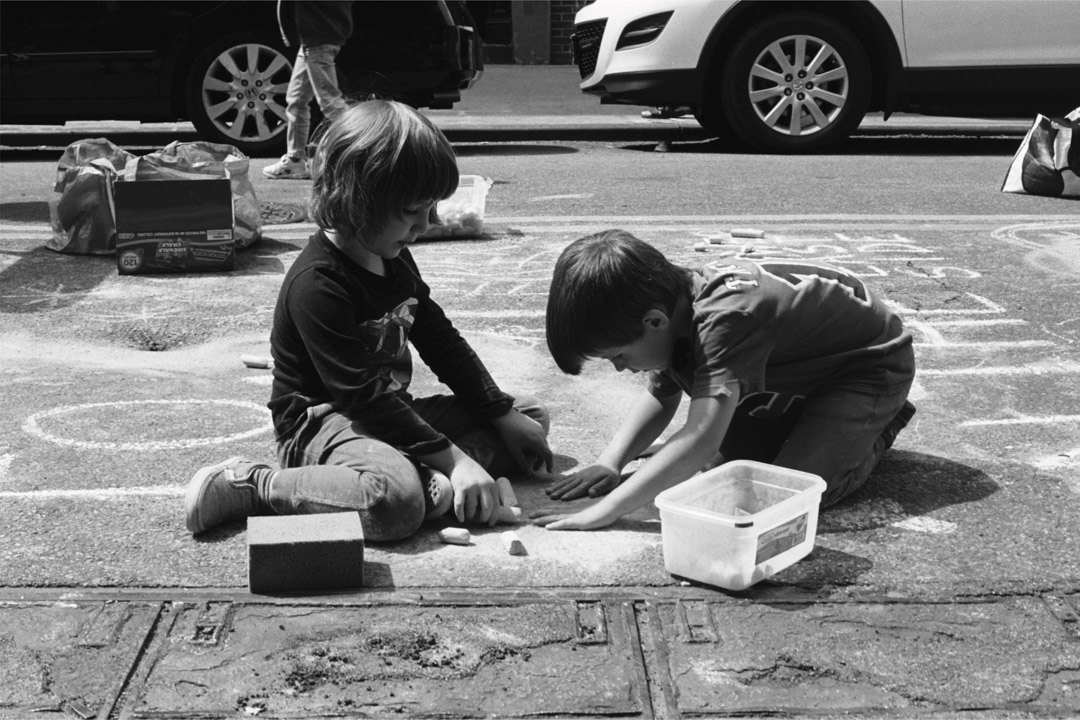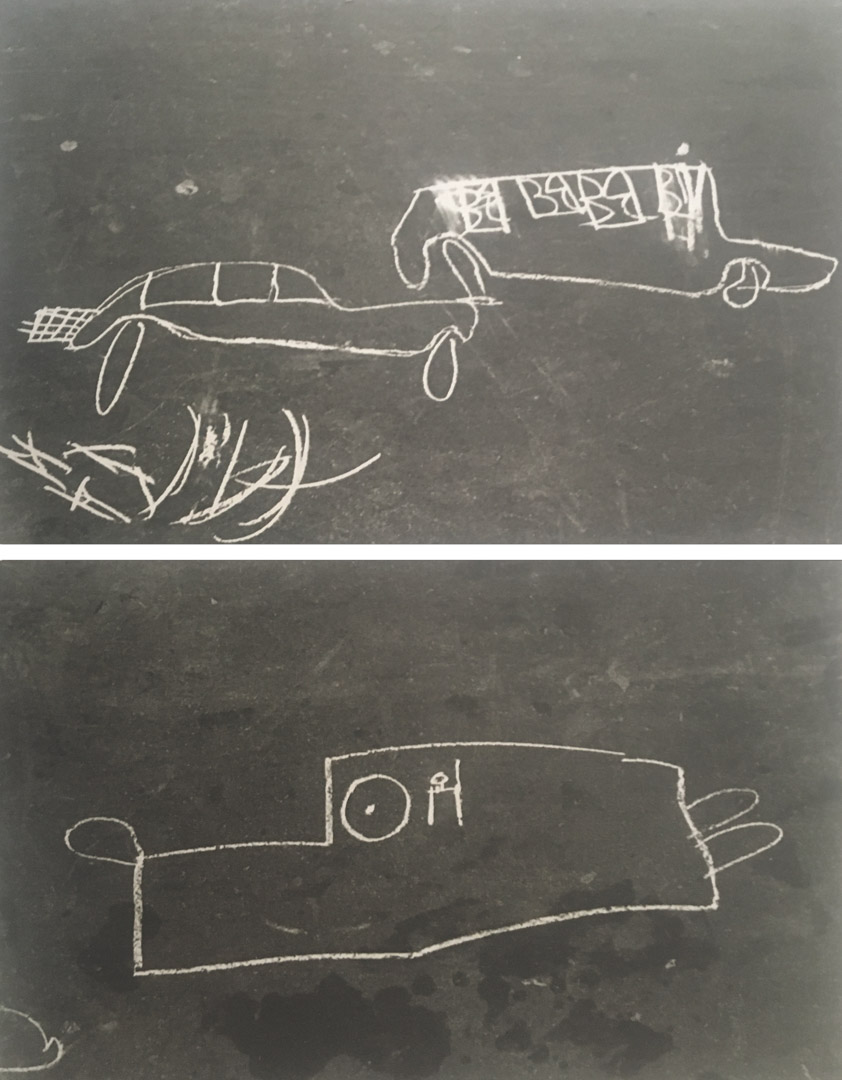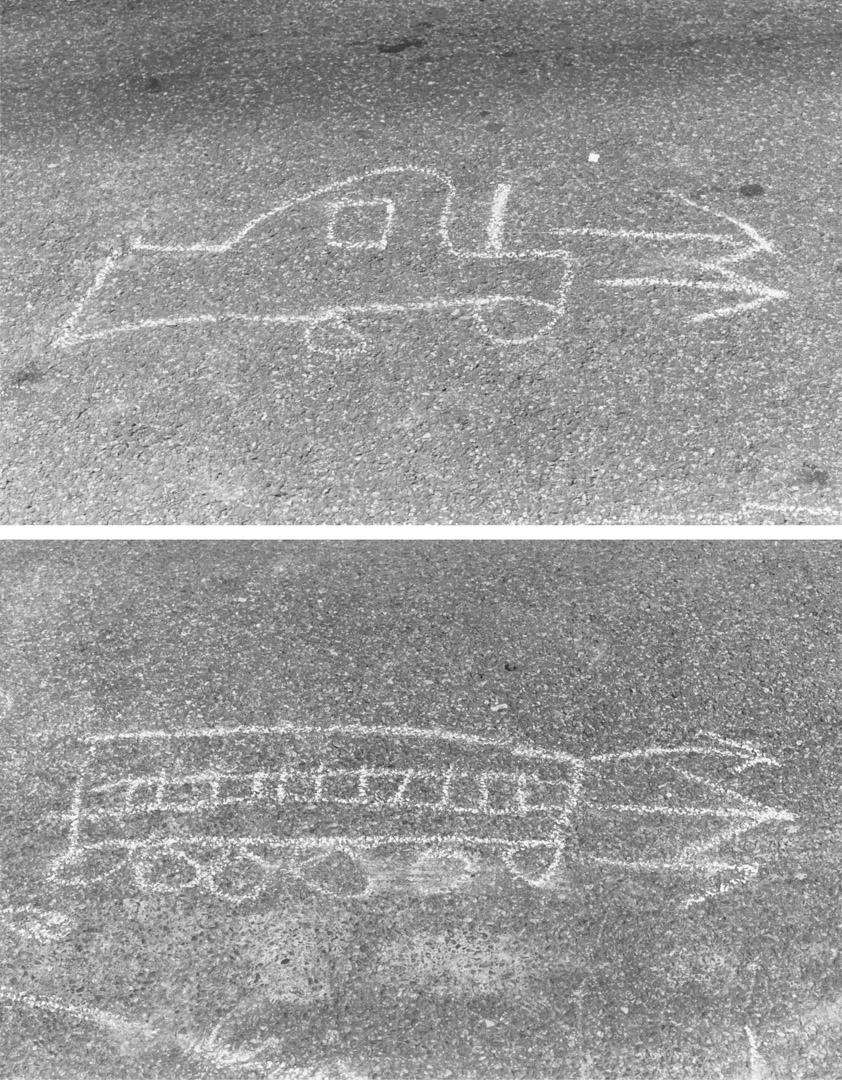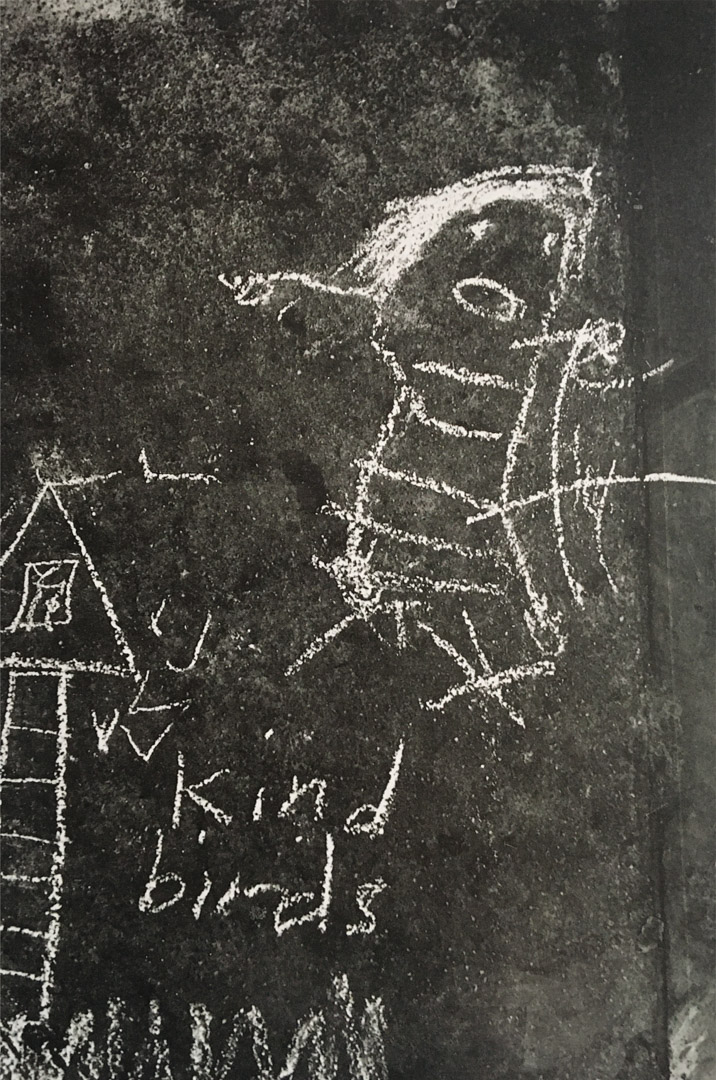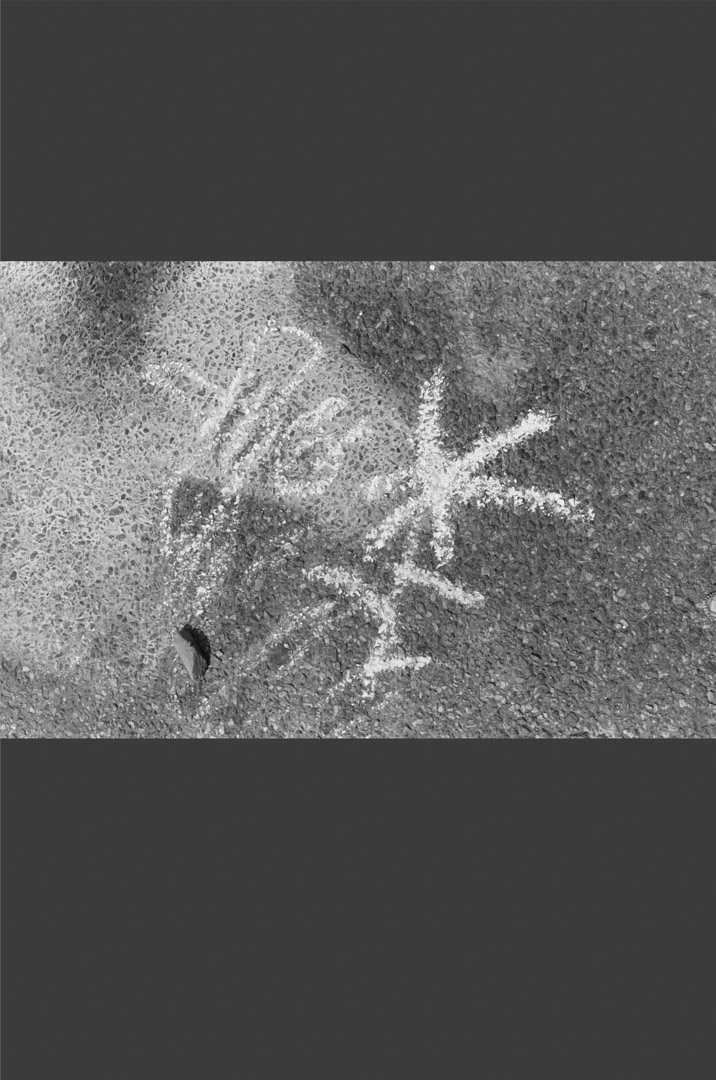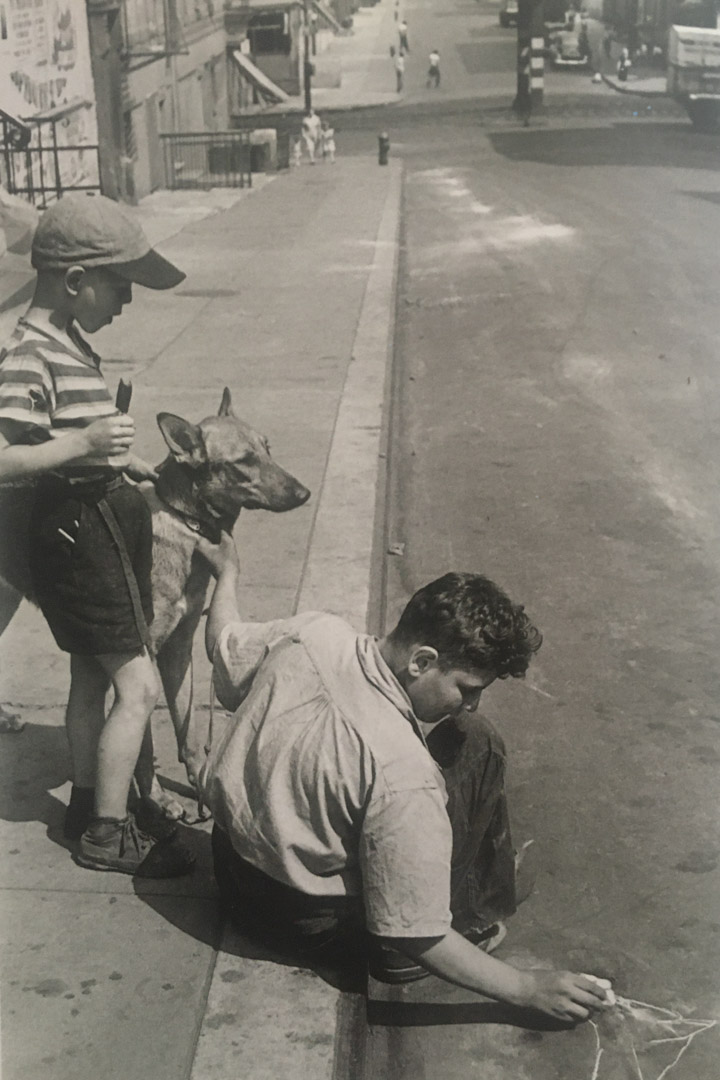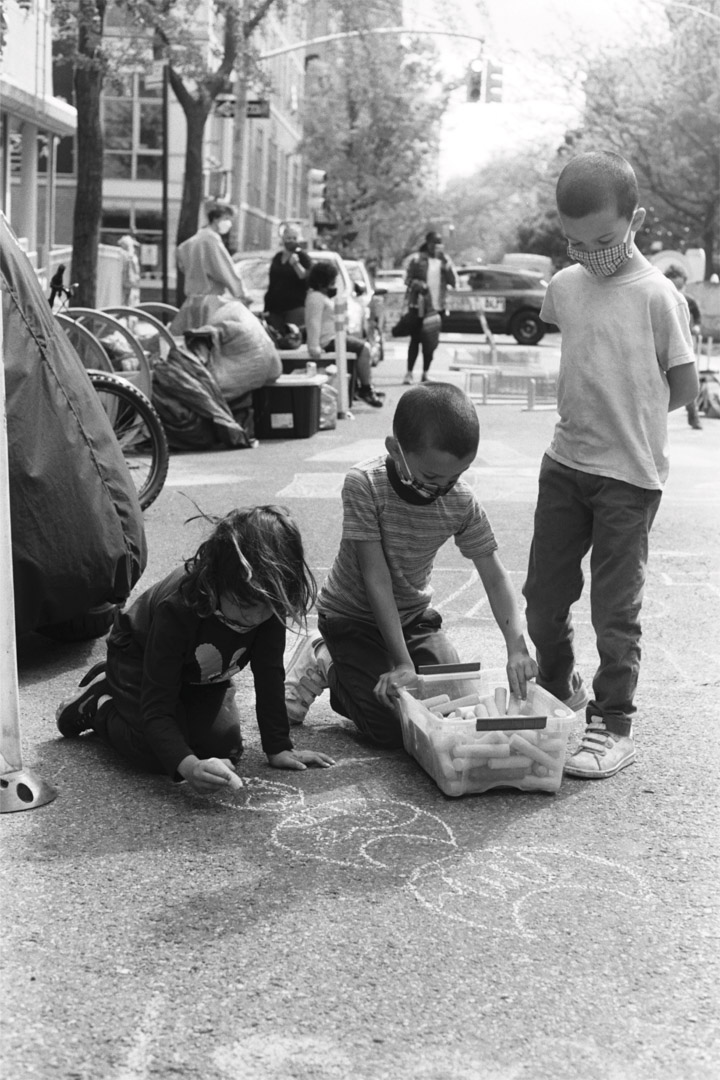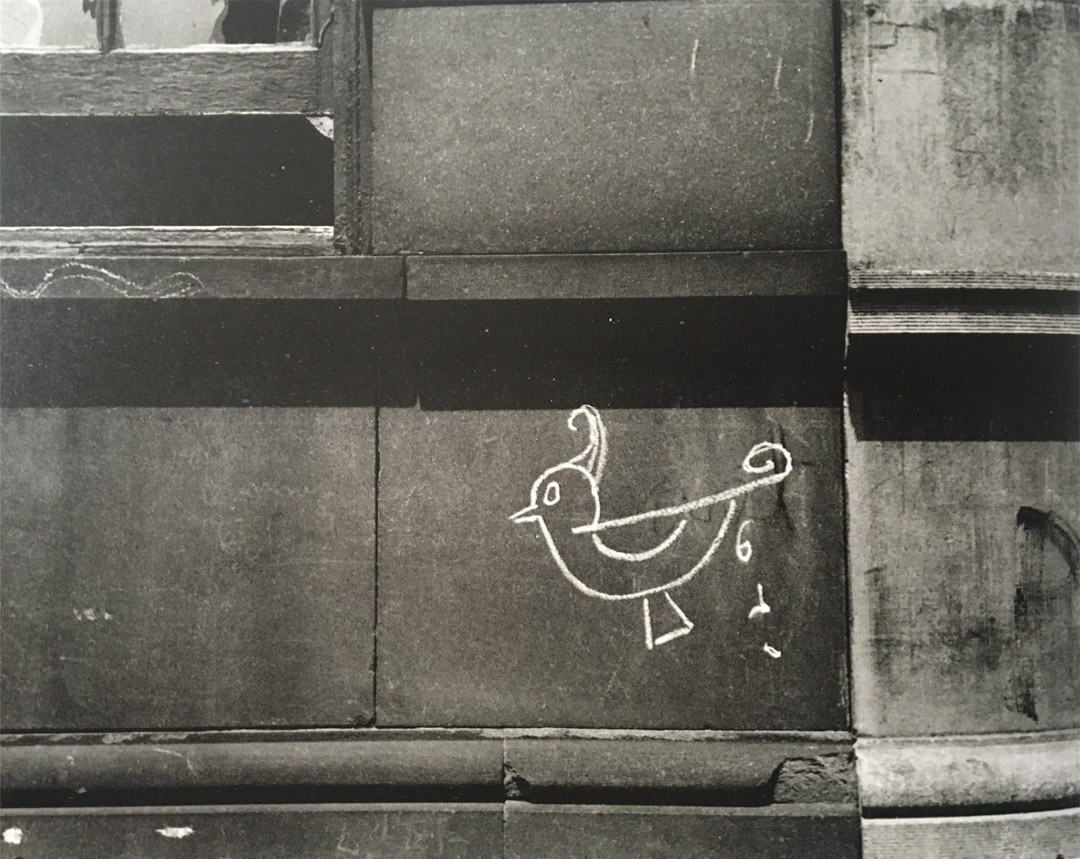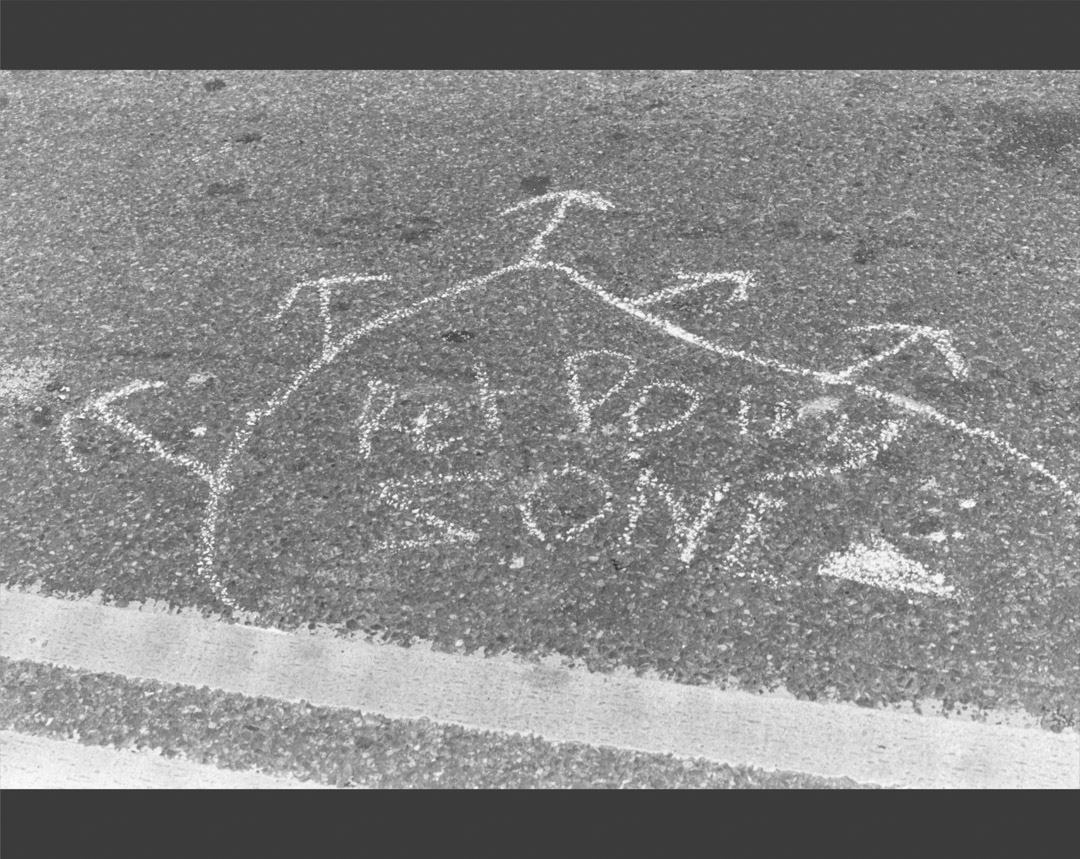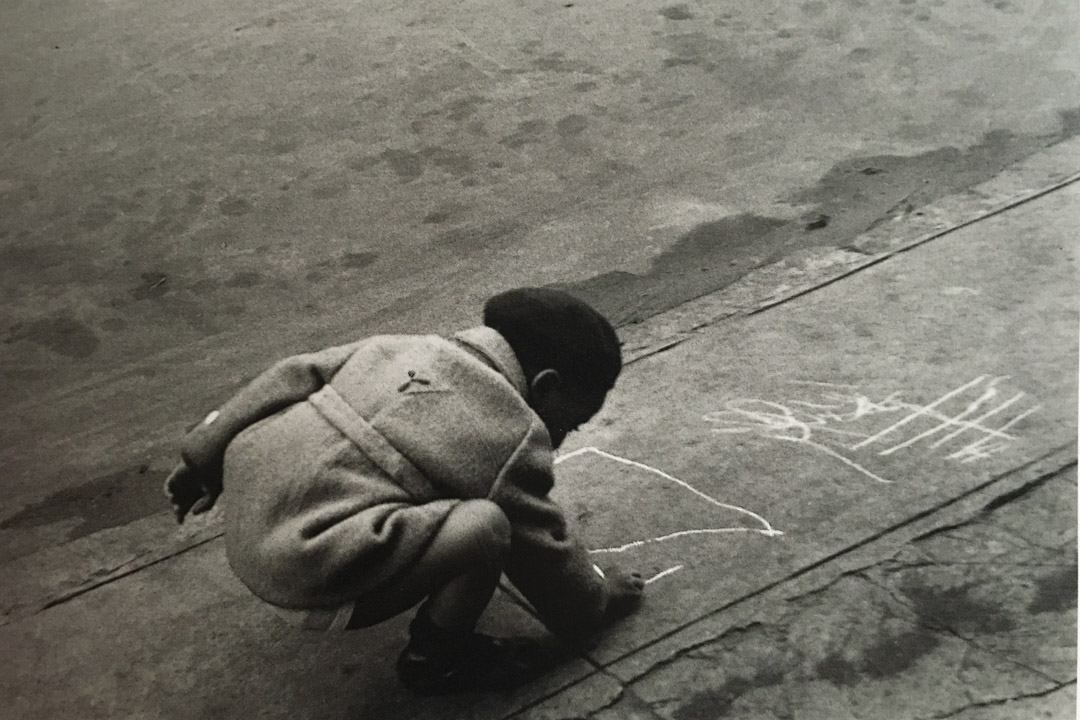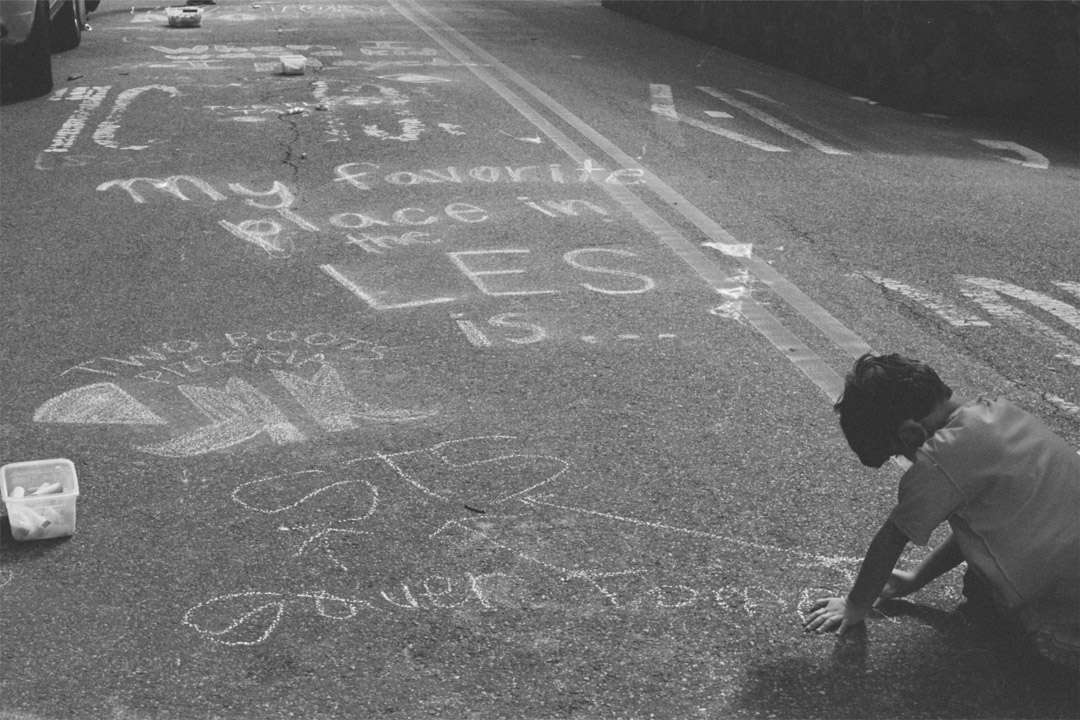 Helen Levitt photos in this post can be found in:
Levitt, Helen. ed. Alex Harris. In the Street: Chalk Drawings and Messages, New York City 1938-1948. Durham: Duke University Press, 1987.