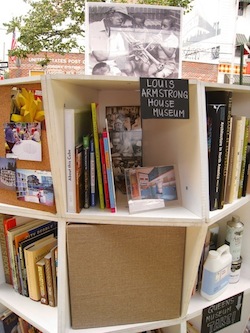 The Uni generally runs without electricity, but we made a special exception for an exceptional New Yorker and Queens resident, Louis Armstrong. We created a special cube, our first with audio, in partnership with the We debuted the cube on Corona Plaza yesterday, just steps from the Armstrongs' house.
New York is home to some of the largest museums in the world, but some of our favorites are the smallest. The Louis Armstrong House Museum hosts intimate summer concerts and tours of Louis and Lucille's row house in Corona, given in person by a guide and limited to about eight people at a time. If all 8 million New Yorkers take this beautiful and moving tour, it will take us some time to pass through, but let's do it! Thank you LAHM for what you do for Louis Armstrong's legacy and New York.
The founding father of jazz, Louis Armstrong, lived in Corona, Queens from 1943 until his death in 1971. The house where he and his wife, Lucille, lived, at 34-56 107th Street, Corona, NY, is now a museum.